Weagle-Epping stay on pace!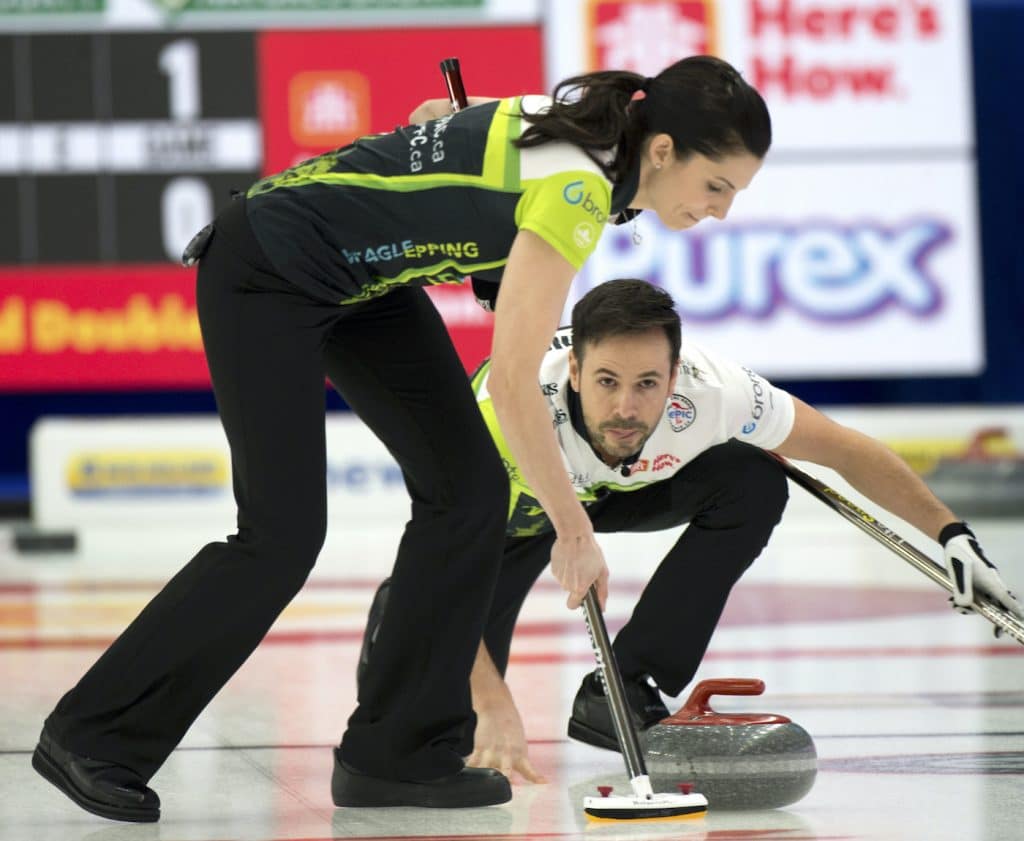 Weagle-Epping boost playoff hopes at Home Hardware Canadian Mixed Doubles
Four games into the 2021 Home Hardware Canadian Mixed Doubles Championship, presented by Nature's Bounty, Lisa Weagle and John Epping like their positioning.
Not just in the standings, although that situation is looking promising; the Ottawa/Toronto duo has a 3-1 record after a 6-4 win over Mackenzie Mitchell and Greg Smith (3-2; St. John's, N.L.) Sunday afternoon at WinSport Arena at Canada Olympic Park.
More importantly, though, has been the team's progress in those four games, said Epping.
"Definitely," he said "After the game, we said that we think that was probably our best performance of the week. I think I just missed a couple draws later (in the game), which kept the game closer than it would have been. But Lisa had a great game today; she made some big ones for us, a couple of saves, and that's her job now."
Well, truth be told, both Weagle and Epping were making their share of big shots against the young players from the Rock, who played a superb game themselves to hang tough against the Ontario duo.
But Weagle and Epping were very well aware of the importance of keeping their losses to a minimum, and played like their backs were to the wall on Sunday.
"We woke up this morning and just knew our fate was in our own hands," said Weagle. "We just had to play well; we had the one game today, one game tomorrow and one game the next day, and then we'll see how everything shakes down with the playoff situation."
"I think two losses is scary, especially when you're relying on (Last-Shot Draw totals, which will break ties if the head-to-head results aren't conclusive; no tiebreaker games will be played)," added Epping. "We want to stay at one loss; that's what needs to happen. We're feeling like we have to win out if we want to advance to the next round."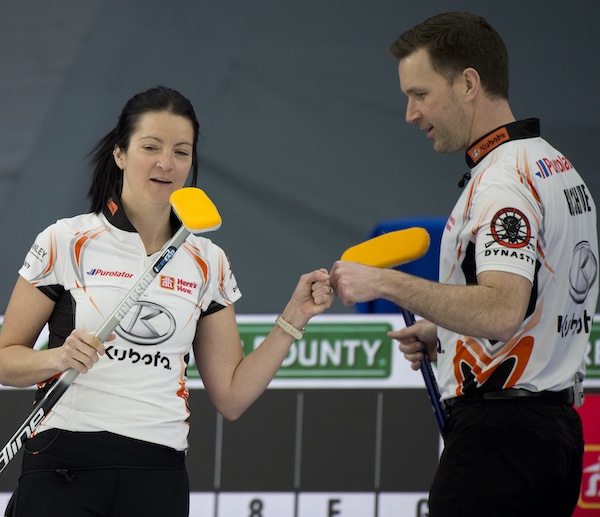 Weagle and Epping will close out their round-robin slate with games Monday against Oye-Sem Won and Trevor Bonot, and Tuesday against Kaitlyn Lawes and Connor Lawes.
"I think there's room for a little bit of improvement," said Epping. "There are a lot of things we want to continue to build on, but I actually think we're where we need to be right now, and if it keeps getting better, I think we'll be a tough team to compete against come the end of the week."
In other games, Kerri Einarson and Brad Gushue (4-1; Gimli, Man./St. John's, N.L.) knocked off Émilie Desjardins and Robert Desjardins (2-3; Chicoutimi, Que.) 7-3; Won made a draw to bite the button to score three in eighth end as she and Bonot (2-2; Thunder Bay, Ont.) shaded Dezaray Hawes and Tyler Tardi (2-3; Kelowna, B.C./Langley, B.C.) 6-5; and Lawes and Lawes (1-3; Winnipeg/Collingwood, Ont.) needed an extra end to beat Ashley Quick and Mike Armstrong (1-3; Saskatoon) 8-7.
The 2021 Home Hardware Canadian Mixed Doubles Championship continues with draws Sunday at 7:30 p.m. and 10:30 p.m. (all times Eastern).
Live scoring, standings and statistics for the 2021 Home Hardware Canadian Mixed Doubles Championship are available at www.curling.ca/scoreboard/
TSN and RDS2 (streamed on ESPN3 in the United States) will provide complete coverage of the 2021 Home Hardware Canadian Mixed Doubles Championship. CLICK HERE for the complete schedule.
This story will be available in French as soon as possible at www.curling.ca/2021mixeddoubles/nouvelles