Playoff berth in their sights!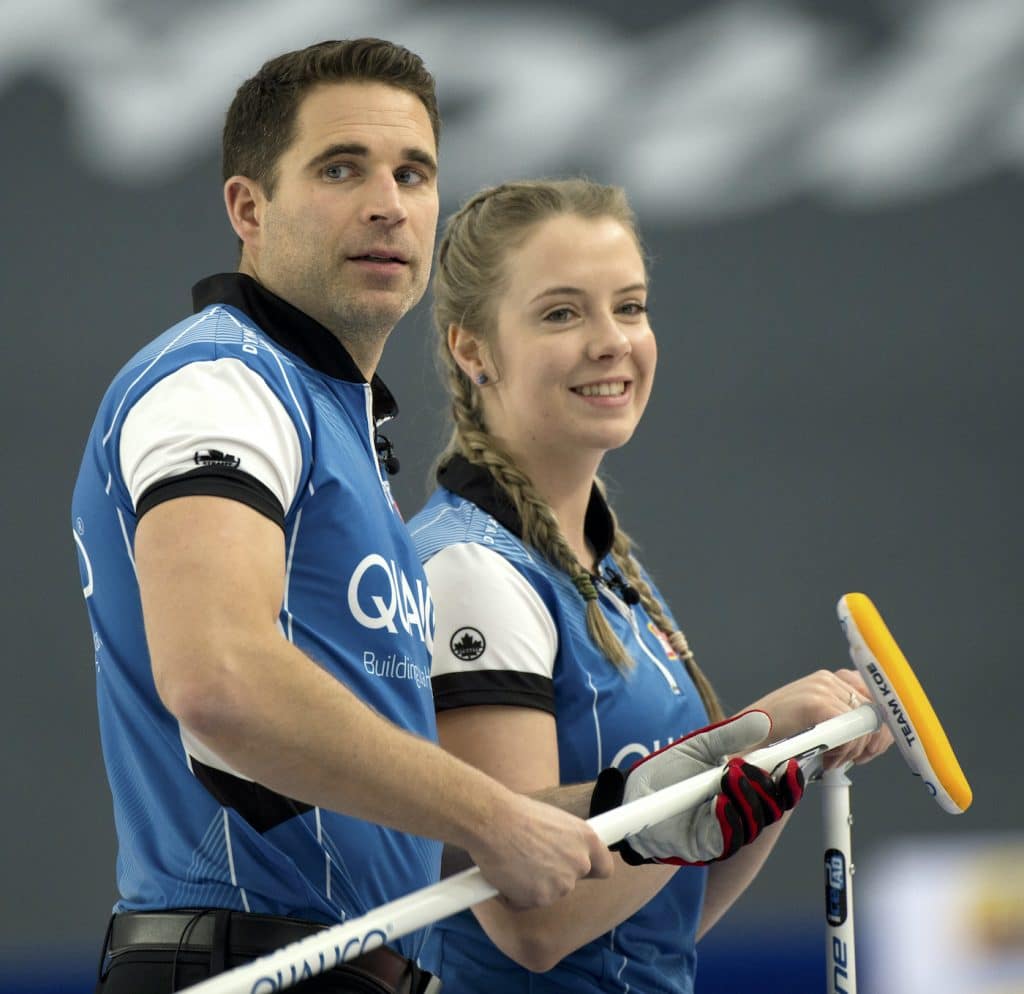 Schmiemann-Morris win fourth straight at Home Hardware Canadian Mixed Doubles
Way back on the opening day of the 2021 Home Hardware Canadian Mixed Doubles Championship, presented by Nature's Bounty, the newly formed duo of Danielle Schmiemann and John Morris did not exactly blow the roof off WinSport Arena at Canada Olympic Park.
"A little bit of a shaky start,"conceded a smiling Schmiemann, referring to a 10-8 loss to Mackenzie Mitchell and Greg Smith of Newfoundland/Labrador, seeded 31st of the 35 teams competing in the bubble in Calgary.
Since then? Nothing but W's for Schmiemann and Morris (Edmonton/Canmore, Alta.) — four of them, in fact, with the latest coming on Monday Afternoon, a 7-4 triumph over Ashley Quick and Mike Armstrong (1-4; Saskatoon).
"I think we've been getting continually better every game," said Schmiemann. "That was a good one; we finished on a really strong note, so carry that into our tomorrow and our last game."
The Schmiemann-Morris pairing came together when Morris's regular partner, Rachel Homan, had to pull out as she's due to give birth soon.
"I've played against Danielle (with her own regular partner Jason Ginter) a few times over the past few years and I've been very impressed," said Morris, a two-time Olympic gold-medallist (once in four-player, once in mixed doubles). "She's got all the shots in her bag, she won a world junior championship, and a Universiade. You don't win those easily, I'll tell you that. I played university curling for a lot of years and never had a sniff at that."
Schmiemann and Morris took control of their game against Quick and Armstrong with a steal of two in the third end, and scored three more in the fifth.
With the win, they sit tied for the lead in Pool E at 4-1 with Lisa Weagle and John Epping (Ottawa/Toronto), with Mitchell and Smith close behind at 4-2. Should Schmiemann and Morris win their round-robin finale Tuesday morning against Dezaray Hawes and Tyler Tardi (2-3; Kelowna, B.C./Langley, B.C.), they would finish first in the pool based on their head-to-head win over Weagle and Epping.
And depending on the records and Last-Shot Draw totals of the other four pool winners, Schmiemann and Morris could get a first-round bye in the playoffs.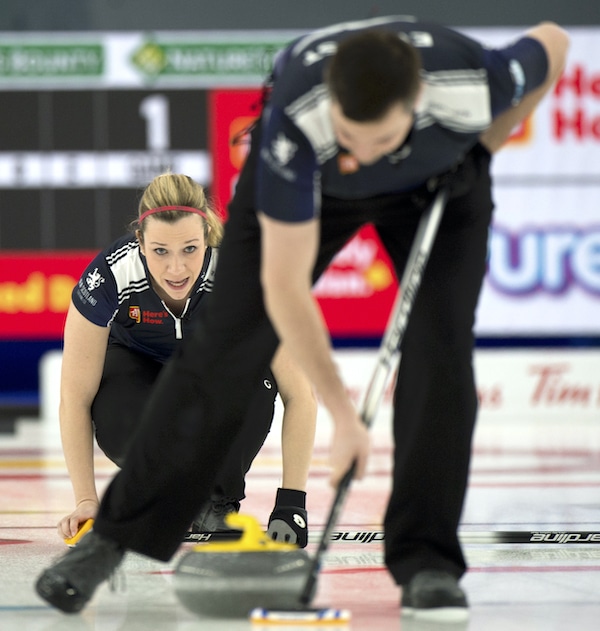 "We have one more big one," said Morris. This (event) has been a really good demonstration of great mixed doubles curling, in every pool. The weakest team, on paper, in our pool was our first game and they went out and crushed us, so that's how even our pool was. We've had to earn every victory here, and I think it's going to be a treat in the playoffs. This is why I love curling, these big stages. It's my favourite time of the event.
"I feel like our chemistry has been growing every game. We seem to be gaining some momentum, and I really like our chances. I think if we keep this up we have a really great chance to win this thing."
In other Draw 23 results on Monday, Val Sweeting and Marc Kennedy (4-1; Edmonton) took a big step toward locking down a playoff spot with a 7-3 win over Krysten Karwacki and Derek Samagalski (3-2; West St. Paul, Man.); Stephanie Jackson-Baier and Corey Chester (1-4; Victoria) picked up their first win and ended a win streak in the process with an 8-5 win over Nancy Martin and Tyrel Griffith (4-1; Saskatoon/Kelowna B.C.); and Karlee Jones and Bryce Everist (3-2; Halifax) kept their playoff hopes alive with a 9-5 win over Shannon Birchard and Catlin Schneider (3-2; Winnipeg/Regina).
The 2021 Home Hardware Canadian Mixed Doubles Championship continues with draws at 7:30 p.m. and 10:30 p.m. (all times Eastern).
Live scoring, standings and statistics for the 2021 Home Hardware Canadian Mixed Doubles Championship are available at www.curling.ca/scoreboard/
TSN and RDS2 (streamed on ESPN3 in the United States) will provide complete coverage of the 2021 Home Hardware Canadian Mixed Doubles Championship. CLICK HERE for the complete schedule.
This story will be available in French as soon as possible at www.curling.ca/2021mixeddoubles/nouvelles