Playoffs set in the bubble!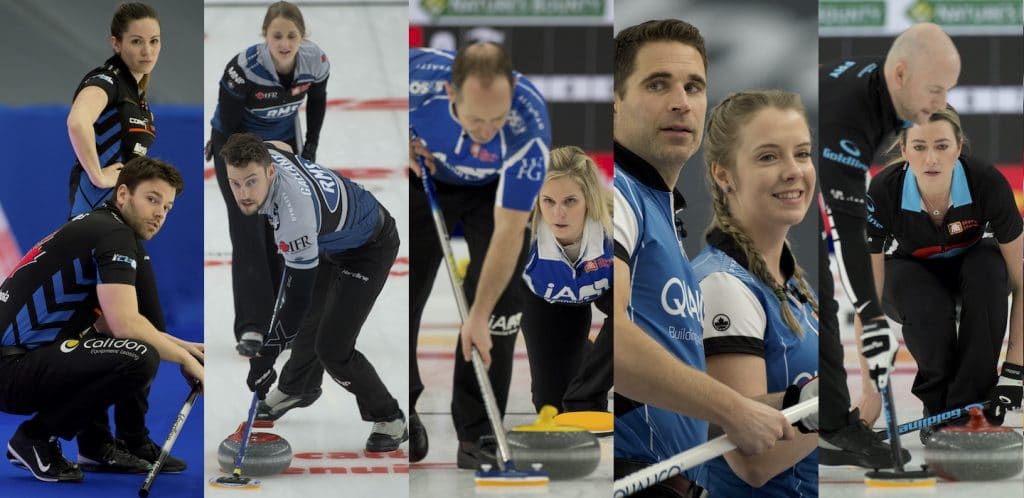 First-round playoff pairings set at Home Hardware Canadian Mixed Doubles
We are down to the final 12 at the 2021 Home Hardware Canadian Mixed Doubles Championship, presented by Nature's Bounty.
Round-robin play wrapped up Tuesday afternoon at WinSport Arena at Canada Olympic Park, and pairings are set for the first round of the playoffs, set for Tuesday at 8:30 p.m. (all times Eastern).
But four teams will have the night off, having earned byes into the quarter-final, which is set for Wednesday morning.
And leading that back will be the top seed for the playoffs, and the lone unbeaten entry of the 35 who began this championship last Thursday — 2018 champs Laura Walker and Kirk Muyres (Edmonton/Regina).
Walker and Muyres capped a 6-0 run through Pool C on Tuesday afternoon, recording a dramatic 7-6 win over Nancy Martin and Tyrel Griffith (4-2; Saskatoon/Kelowna, B.C.), a result that knocked out Martin and Griffith.
Muyres made a wonderful double-takeout with his final shot of the eighth end, a shot to sit two that had parallels to Greg Smith's TSN 1v1 Hall of Fame shot from the Tim Hortons Brier, presented by AGI. Martin couldn't remove the two Walker-Muyres counters and Walker didn't need to throw her final shot.
As a result, Walker and Muyres will have a night off.
"It's huge," said Walker. "I think we were prepared for however that game went, but to get right into that quarter-final and set yourself ahead like that and get a night to rest — I'm not getting the most rest these days, so for me that was really big. And Just to grind out a win like that is really big for us going into the playoffs."
Also earning first-round byes were No. 2 seed/Pool A winners (and reigning Canadian champions) Jocelyn Peterman and Brett Gallant (5-1; Winnipeg/St. John's, N.L.); No. 3 seed/Pool B winners Jennifer Jones and Brent Laing (5-1; Alliston, Ont.); and No. 4 seed/Pool E winners Danielle Schmiemann and John Morris (5-1; Edmonton/Canmore, Alta.).
The other Pool winner, Emma Miskew and Ryan Fry (5-1; Ottawa/Toronto) will be the fifth seed and will be in the qualifying round later Tuesday. The four 5-1 teams were seeded second through fifth based on their Last-Show Draw distances from the round robin.
In the qualifying round, Miskew and Fry will take on No. 12 seed Shannon Birchard and Catlin Schneider (4-2; Winnipeg/Regina); No. 6 Kerri Einarson and Brad Gushue (5-1; Gimli, Man.; St. John's, N.L.) will play No. 11 Brittany Tran and Aaron Sluchinski (4-2; Calgary/Aidrie, Alta.); No. 7 Kadriana Sahaidak and Colton Lott (5-1; Winnipeg Beach, Man.) will be up against No. 10 Mackenzie Mitchell and Greg Smith (4-2; St. John's, N.L.); and No. 8 Val Sweeting and Marc Kennedy (5-1; Edmonton) will take on No. 9 Lisa Weagle and John Epping (5-1; Ottawa/Toronto).
And while there's no shortage of talent in the playoffs, having the lone perfect record intact certainly puts the spotlight on Walker and Muyres. But, suggested Walker, the team was already in that position before play even got underway last Thursday.
"I think being a past Canadian champion has a target on our back already," she said. "I don't think anything that has happened changes that; teams want to beat teams that have won this thing before. So I feel like the target is there, and there to stay as long as we keep doing what we're doing. We'll just take the pressure and use it, instead of having it go the opposite way."
Both Walker (skip of Team Alberta) and Muyres (second for Team Saskatchewan) have already earned bronze medals in the bubble at the Scotties Tournament of Hearts and Tim Hortons Brier, presented by AGI, respectively.
So, asked a media member, are the Home Hardware Canadian Mixed Doubles playoffs a shot at redemption after the bronze-medal results?
"I don't think it's about redemption," said Muyres. "We just like playing mixed doubles, we like playing together, and we seem to strike a good dynamic out there. Quite honestly, the Brier and Scotties, we were quite happy with how we played there; there's really nothing to redeem. We're just enjoying our time out here — again, how lucky are we that we get to curl right now? We're just taking it day by day and enjoying our time on the ice."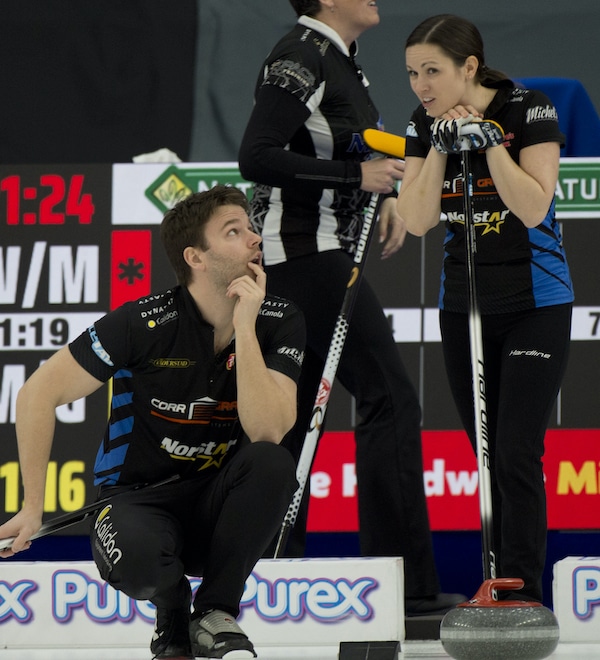 In the other Draw 28 results, Birchard and Schneider clinched the final playoff spot with an 8-6 win over Krysten Karwacki and Derek Samagalski (3-3; West St. Paul, Man.); Sweeting and Kennedy turned back Elizabeth King and Landon King (0-6; Yellowknife) 12-1; and Briane Meilleur and Mark Nichols (3-3; Petersfield, Man./St. John's, Man.) shaded Chaelynn Kitz and Kyler Kleibrink (2-4; Saskatoon/Calgary) 8-7.
Wednesday, playoff rounds are scheduled for 12:30 p.m., 4:30 p.m. and 8:30 p.m. (all times Eastern), when the final three teams will be determined.
On Thursday, the semifinal is scheduled for 4 p.m., with the gold-medal game to follow at 9 p.m.
The winning duo will collect $50,000 and have the chance to represent Canada at the World Mixed Doubles Championship in May (dates, location to be announced by the World Curling Federation).
The runner-up takes home $30,000 while the bronze-medal team pockets $20,000.
Live scoring, standings and statistics for the 2021 Home Hardware Canadian Mixed Doubles Championship are available at www.curling.ca/scoreboard/
TSN and RDS2 (streamed on ESPN3 in the United States) will provide complete coverage of the 2021 Home Hardware Canadian Mixed Doubles Championship. CLICK HERE for the complete schedule.
This story will be available in French as soon as possible at www.curling.ca/2021mixeddoubles/nouvelles