Playoffs taking shape!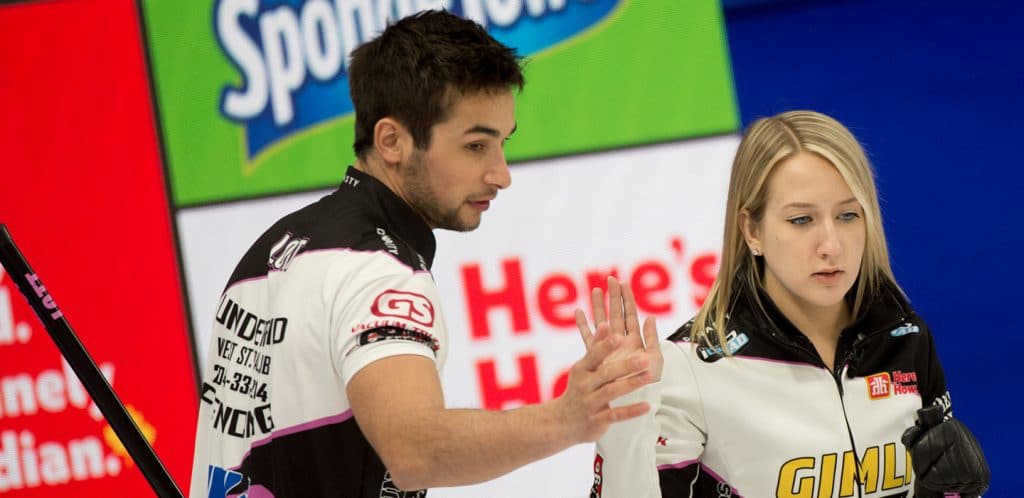 Playoff picture becoming more clear at Home Hardware Canadian Mixed Doubles Championship
With 35 teams vying for 12 playoff spots at the 2021 Home Hardware Canadian Mixed Doubles Championship, presented by Nature's Bounty, it was indeed anyone's guess which teams would be advancing early in the week.
But now, on Tuesday afternoon at WinSport Arena at Canada Olympic Park in Calgary, there is a little more clarity. 
Wins were necessary for all teams on the ice as the top twelve teams jockeyed for playoff position. Each of the five pool winners will be ranked seeds one through 5 and the top four will receive byes directly into the Round of 8. The remaining seven teams are ranked by record, followed by Last Stone Draw distances if necessary, regardless of pool.
Kadriana Sahaidak/Colton Lott (5-1; Winnipeg Beach, Man.) confirmed their spot in the playoffs following a 7-2 victory against New Brunswick's Melissa Adams/Alex Robichaud (1-5; Fredericton).
"It started off pretty well. I like when I start off with good draw weight, it just makes me feel comfortable for making that first shot and getting one in there," Sahaidak said. "For myself, I think that was one of my better games this week. We come out pretty strong and pretty comfortable."
The couple boasts plenty of mixed doubles experience, having won medals at every national mixed doubles event they've competed in: a silver in 2018 and bronze in 2019. They also won a leg of the Curling World Cup and competed in the Grand Final in Jönköping, Sweden, and Beijing.
However, the team did not earn one of the four available byes in the playoffs. That honour went to Winnipeg's Jocelyn Peterman and Brett Gallant of St. John's, N.L., who also finished the round robin at 5-1, but take the top spot by their head-to-head record. Peterman/Gallant defeated Nunavut's Angela Dale/Peter Van Strien (0-6; Iqaluit) 11-1.
"I think our confidence is high right now. It's kind of where we'd like it to be. The only thing is all 12 playoff teams are probably feeling the same way. So we have to play well and I think just getting that first round bye is really huge because there's no easy games at all now in the playoffs. Everyone's going to be top-notch," Gallant said.
Peterman/Gallant is the only team to win two Canadian mixed doubles titles and has their sites set on a third this week.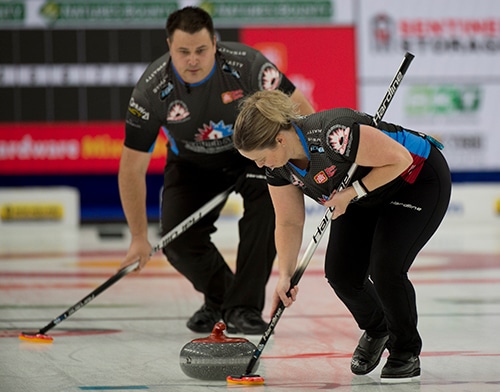 Jennifer Jones and Brent Laing of Horseshoe Valley, Ont., had secured their spot in the playoffs with a previously unbeaten record. However, the duo failed to capitalize on rising in the ranks following 9-8 extra-end loss to Kim and Wayne Tuck (2-4; St. Thomas, Ont.).
However, Jones/Laing – the 2017 mixed doubles bronze-medallists – retained their top spot in the pool and will receive a bye to the Round of 8.
Other teams with five wins that have locked up a playoffs spot so far are Kerri Einarson/Brad Gushue (5-1; Gimli, Man./St John's, N.L.); Laura Walker/Kirk Muyres (5-0; Edmonton/Regina); Emma Miskew/Ryan Fry (5-1; Ottawa/Toronto); Danielle Schmiemann/John Morris (5-1; Edmonton/Canmore, Alta.) and Lisa Weagle/John Epping (5-1; Ottawa/Toronto).
In the final game of the draw, Quebec's Laurie St-Georges and Félix Asselin (4-2; Glenmore, Que.) defeated Yukon's Bayly and Wade Scoffin (0-6; Whitehorse).
The 2021 Home Hardware Canadian Mixed Doubles Championship continues with a final round-robin draw at 4:30 p.m. (all times Eastern) on Tuesday, followed by the Qualifying Round at 8:30 p.m.
Live scoring, standings and statistics for the 2021 Home Hardware Canadian Mixed Doubles Championship are available at www.curling.ca/scoreboard/
TSN and RDS2 (streamed on ESPN3 in the United States) will provide complete coverage of the 2021 Home Hardware Canadian Mixed Doubles Championship. CLICK HERE for the complete schedule.
This story will be available in French as soon as possible at www.curling.ca/2021mixeddoubles/nouvelles