We're down to eight!
Quarter-final matchups set at Home Hardware Canadian Mixed Doubles
Kadriana Sahaidak and Colton Lott need just one more medal to complete their collection, and they got off to a good start Tuesday night as the playoffs got underway at the 2021 Home Hardware Canadian Mixed Doubles Championship, presented by Nature's Bounty.
The duo from Winnipeg Beach, Man., claimed bronze at the 2019 Canadian Mixed Doubles Championship in Fredericton, and lost the gold-medal game to Laura Walker and Kirk Muyres a year earlier at Leduc, Alta.
So the gold medal is firmly in their sights, and they took a step closer Tuesday night at WinSport Arena at Canada Olympic Park with an 8-3 win over Mackenzie Mitchell and Greg Smith (St. John's, N.L.) in the opening round of the 12-team playoffs.
With the win, Sahaidak and Lott advance to a quarter-final matchup with No. 2 seed, and defending champions, Jocelyn Peterman and Brett Gallant (Winnipeg/St. John's, N.L.) Wednesday at 12:30 p.m. (all times Eastern). Peterman and Gallant had a first-round bye.
"You know what? We said going into this, whatever happens, happens," saidSahaidak, who along with Lott won a gold medal at a Curling World Cup event in 2019 at Jönköping, Sweden. "We're just happy to get into the playoffs; it's where we wanted to be. We didn't feel nervous in the round robin; we just wanted to get into the playoffs, we made it, and we feel pretty comfortable."
They have reason to; they were in total control on Tuesday night, opening the game with three in the first end and adding stolen single points in the second and third ends en route to the victory.
And while there is plenty of work to do, there is no question that completing their collection of Canadian championship medals is on their minds.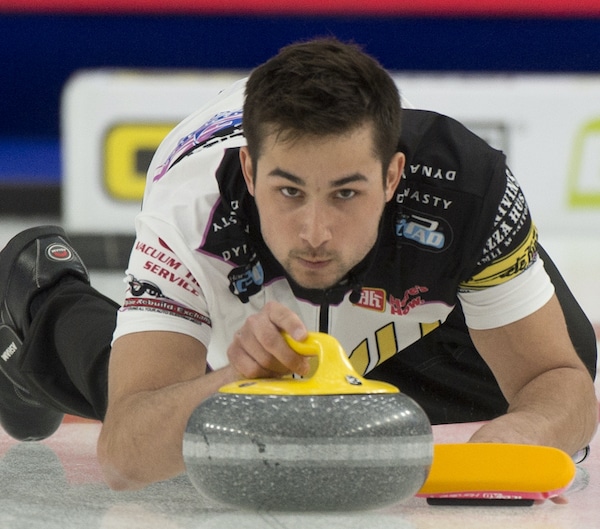 "Oh, yeah, for sure — that's the goal, right?" said Lott. "The goal at the end of any event is to capture that gold. But we're going to take it one game at a time and focus on being ready for that game tomorrow morning.
"I think we're in a good position," added Sahaidak. "We're curling pretty well, our (draw) weight is down pat. Obviously, any team will have a few misses, but we pick it up and we know what we did wrong, and get better as we go."
In the other first-round matchups, No. 12 seed Shannon Birchard and Catlin Schneider (Winnipeg/Regina) toppled No. 5 Emma Miskew and Ryan Fry (Ottawa/Toronto) 10-6; No. 6 Kerri Einarson and Brad Gushue (Gimli, Man./St. John's, N.L.) shaded No. 11 Brittany Tran and Aaron Sluchinski (Calgary/Airdrie, Alta.) 9-8; and Lisa Weagle and John Epping (Ottawa/Toronto) stole two in an extra end to beat Val Sweeting and Marc Kennedy (Edmonton) 7-5.
In the other quarter-finals, Einarson and Gushue will take on No. 3 seed Jennifer Jones and Brent Laing (Alliston, Ont.); Birchard and Schneider will be up against No. 4 Danielle Schmiemann and John Morris (Edmonton/Canmore, Alta.); and Weagle and Epping will be pitted against top-seeded Laura Walker and Kirk Muyres (Edmonton/Regina).
The four quarter-final winners will then go into the Page Playoff seeding round at 4:30 p.m. The two winners will meet in the Page 1-2 game, from which the winner will go straight to Thursday's 9 p.m. gold-medal game while the loser will play in the semifinal Thursday at 4 p.m.
The two losers of the Page Playoff seeding round games will meet in the Page 3-4 game, the winner of which will advance to Thursday's semifinal.
The Page Playoff 1-2 and 3-4 games will be played Wednesday at 8:30 p.m.
Live scoring, standings and statistics for the 2021 Home Hardware Canadian Mixed Doubles Championship are available at www.curling.ca/scoreboard/
TSN and RDS2 (streamed on ESPN3 in the United States) will provide complete coverage of the 2021 Home Hardware Canadian Mixed Doubles Championship. CLICK HERE for the complete schedule.
This story will be available in French as soon as possible at www.curling.ca/2021mixeddoubles/nouvelles