Closing in on gold!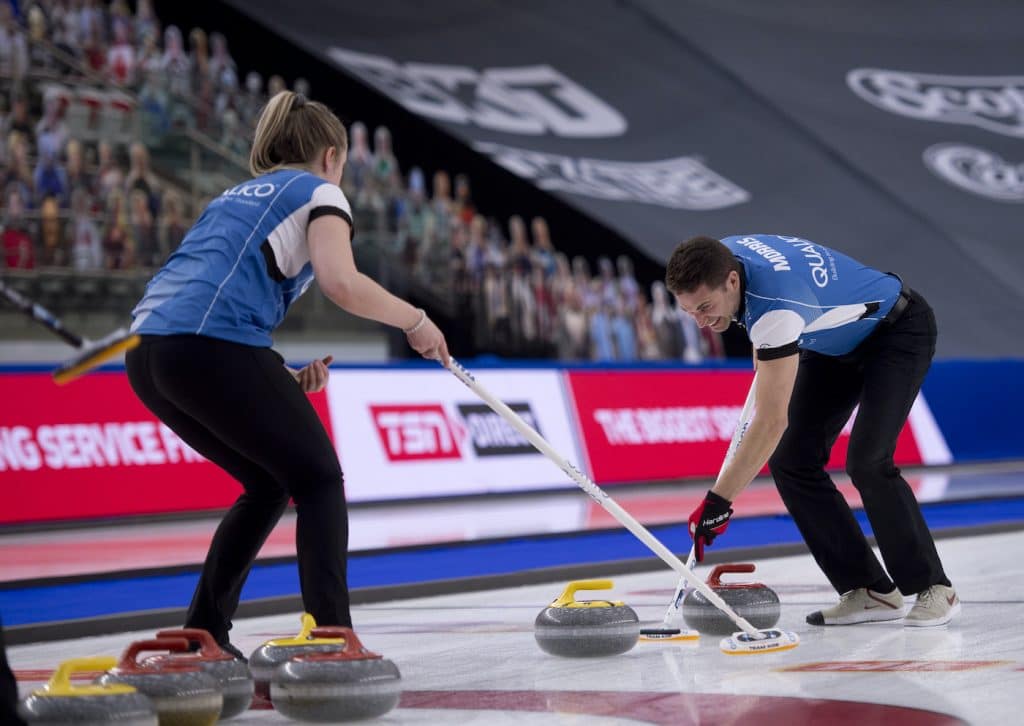 Page playoff matchups set at Home Hardware Canadian Mixed Doubles
A pair of teams find themselves just two wins away from a gold medal at the 2021 Home Hardware Canadian Mixed Doubles Championship, presented by Nature's Bounty.
The pairings of Kadriana Sahaidak/Colton Lott and Danielle Schmiemann/John Morris will go head to head later on Wednesday (8:30 p.m., all times Eastern) in the Page playoff 1-2 game, the winner of which will move into Thursday's 9 p.m. gold-medal game at WinSport Arena at Canada Olympic Park, while the loser will get another shot at reaching the final in Thursday afternoon's semifinal (4 p.m.).
They both won their Page Seeding Round games on Wednesday afternoon to advance. Sahaidak and Lott (Winnipeg Beach, Man.) were 8-5 winners over Kerri Einarson and Brad Gushue (Gimli, Man./St. John's, N.L.) while Schmiemann and Morris (Edmonton/Canmore, Alta.) shaded 2018 Canadian champs Laura Walker and Kirk Muyres (Edmonton/Regina) 6-5.
And in the case of Sahaidak and Lott, it was an even more notable win — it clinched them a berth in the Canadian Mixed Doubles Olympic Trials, beginning Dec. 28 (location TBA), where Canada's mixed doubles team for the 2022 Winter Olympics in Beijing will be decided.
"Are you serious?" said a surprised Lott. "We weren't aware of that actually. Thank you very much!"
Sahaidak and Lott earned the berth, and clinched a top-three finish and a medal, with a superb effort against Einarson and Gushue, coming back from an early 4-1 deficit by scoring four in the sixth end and adding stolen points in the seventh and eighth ends.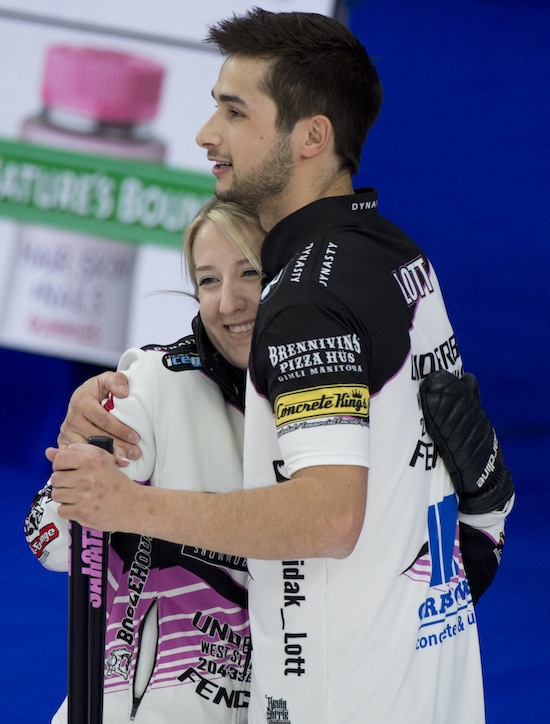 Suffice it to say, they're a confident team heading into the Page 1-2 team with Schmiemann and Morris.
"We've played a few top teams already so far, and that was another one," said Sahaidak, referring to Einarson and Gushue. "I think going into the next game, we're pretty comfortable doing what we're doing. We're both playing really well; when we have to make key shots, we make them, and I feel pretty confident going into this next game."
Schmiemann and Morris, meanwhile, scored a pair of three-enders — in the third and sixth ends — and held the previously unbeaten Walker and Muyres to nothing but single points en route to winning their win streak to seven.
And Schmiemann, who took the place of a pregnant Rachel Homan as Morris's partner for this event, couldn't be more thankful to be two wins away from a national championship.
"The approach I've tried to take this week is that I'm just really grateful to be here," said Schmiemann, a former world junior women's and Winter Universiade gold-medallist playing with skip Kelsey Rocque. "It's taken me a little bit to get going and feel comfortable out here, just because it's been a long time since I've been on the ice. But we've been continually getting better in every game, and just in time, I guess, for the playoffs. Pretty happy with how things are going."
Walker/Muyres and Einarson/Gushue are still in the hunt for gold; they'll play in the Page 3-4 Wednesday at 8:30 p.m., with the winner going into the semifinal Thursday against the Page 1-2 loser.
Also on the line — the winning team will clinch a berth in the Mixed Doubles Olympic Trials. The top two not-previously-qualified finishers at the 2021 Home Hardware Canadian Mixed Doubles Championship earn Trials berths. Morris already has qualified with Homan, meaning Sahaidak/Lott and the Page 3-4 winners earn the berths.
In addition to the top prize of $50,000, the gold-medal game winner will represent Canada at the World Mixed Doubles Championship in Aberdeen, Scotland.
Live scoring, standings and statistics for the 2021 Home Hardware Canadian Mixed Doubles Championship are available at www.curling.ca/scoreboard/
TSN and RDS2 (streamed on ESPN3 in the United States) will provide complete coverage of the 2021 Home Hardware Canadian Mixed Doubles Championship. CLICK HERE for the complete schedule.
This story will be available in French as soon as possible at www.curling.ca/2021mixeddoubles/nouvelles