Two wins to go!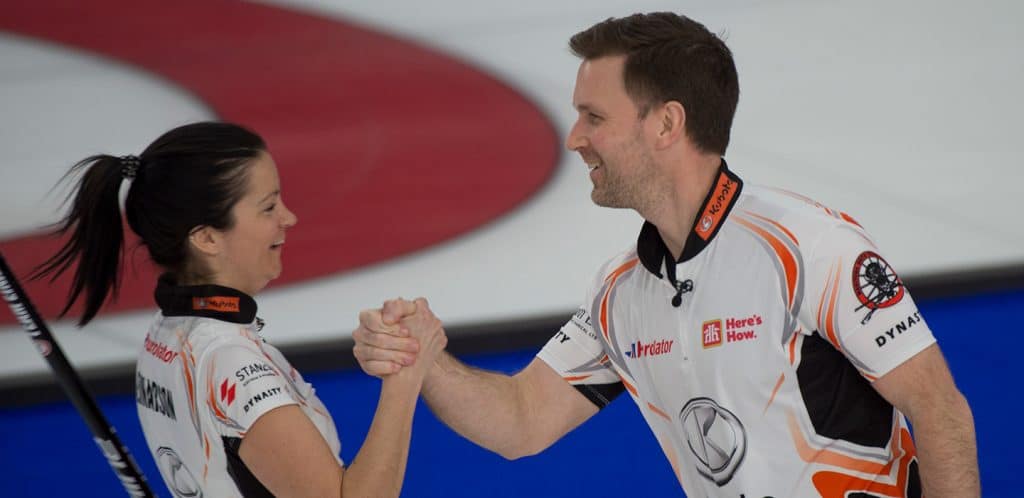 Einarson and Gushue earn top-three finish and trials berth at Home Hardware Canadian Mixed Doubles
They are only 10 games into their mixed doubles career as a team and Kerri Einarson and Brad Gushue have already notched a few accomplishments that many teams would love to have.
The pair from Gimli, Man., and St. John's, N.L., have guaranteed themselves a place on the podium at the 2021 Home Hardware Canadian Mixed Doubles Championship, presented by Nature's Bounty.
Einarson/Gushue defeated Laura Walker and Kirk Muyres (Edmonton/Regina) in the Page 3v4 game 8-6 on Wednesday night. The team took advantage of a three-ender in the sixth end to help launch them into the semifinal. It guarantees the multiple-time winners of the Scotties Tournament of Hearts and Tim Hortons Brier a new medal for their collection as the team is now guaranteed at least third place.
"I think at the beginning of the week we would have taken still being on the ice on Thursday. Obviously would love to be in the final, but we played a good game tonight," Gushue said. "We played a good game earlier too. We're looking forward to tomorrow, it's going to be another battle and another long day. This is certainly a bit of an experience after playing one game a day for so long and then all of a sudden going back-to-back-to-back. So I'm certainly feeling it right now."
As a bonus, the pairing earned a berth into the Canadian Mixed Doubles Olympic Trials, beginning Dec. 28 (location TBA), where Canada's mixed doubles team for the 2022 Olympic Winter Games in Beijing will be determined.
Kadriana Sahaidak and Colton Lott of Winnipeg Beach, Man. earned the first of two available berths to the event after winning the Page seeding game and guaranteed themselves a top-three finish. John Morris already qualified with Rachel Homan, meaning the final berth available went to tonight's Page 3v4 winner.
"I think it's great to have it. I think both of us our first goal and intentions are to win it with our teams. But if that doesn't pan out, I like our chances and the fact that we don't have to worry about that now is good," Gushue said.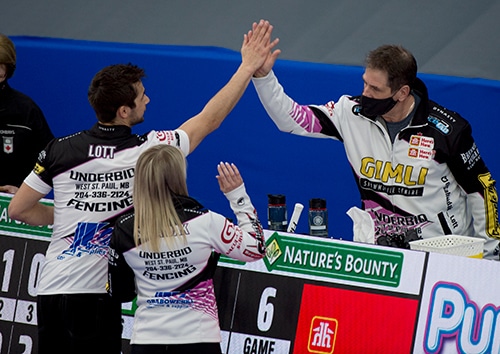 It was a busy day on the schedule for the top four teams in the 35-team field. Each team played three games in WinSport Arena at Canada Olympic Park in Calgary, but only one could win all three.
That honour went to Sahaidak and Lott of Winnipeg Beach, Man., who capped off the mentally and physically gruelling day with a 7-6 win against Danielle Schmiemann/John Morris (Edmonton/Canmore, Alta.). Sahaidak/Lott capitalized with a steal of two in the fifth end of the game and managed to hold off the 2018 Olympic mixed doubles gold-medallist Morris and his partner Schmiemann, who had an opportunity to tie the game with the last shot, but a burned stone limited their scoring opportunity to two.
"It's just huge. We wanted to make the playoffs and here we are in the final. It's a great, great feeling," Sahaidak said.
The pair get to rest up with their direct path to the final and are one win away from a first Canadian mixed doubles championship after winning silver in 2018 and bronze in 2019.
Einarson and Gushue will now square off against Schmiemann and Morris in the semifinal at 4 p.m. (all times Eastern) on Thursday. The winner of the semifinal takes on Sahadiak/Lott in the final at 9 p.m.
In addition to the top prize of $50,000, the gold-medal game winner will represent Canada at the World Mixed Doubles Championship in Aberdeen, Scotland.
Live scoring, standings and statistics for the 2021 Home Hardware Canadian Mixed Doubles Championship are available at www.curling.ca/scoreboard/
TSN and RDS2 (streamed on ESPN3 in the United States) will provide complete coverage of the 2021 Home Hardware Canadian Mixed Doubles Championship. CLICK HERE for the complete schedule.
This story will be available in French as soon as possible at www.curling.ca/2021mixeddoubles/nouvelles