Doubles delight!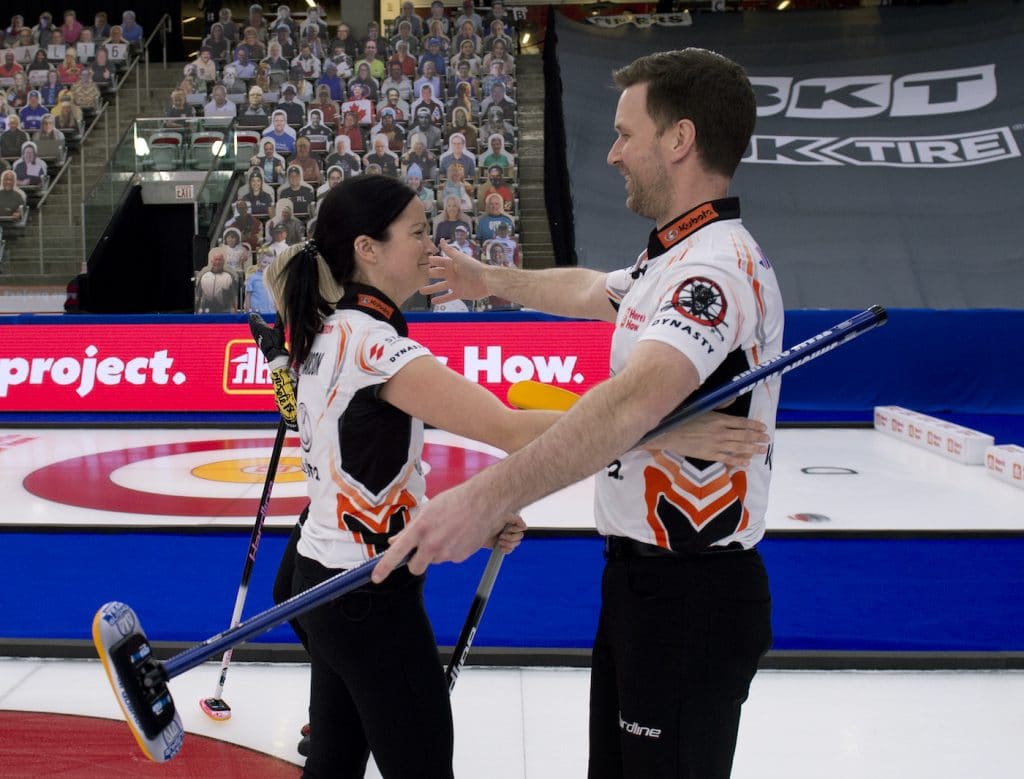 Einarson-Gushue capture gold at Home Hardware Canadian Mixed Doubles
They entered as two skips who were adjusting on the fly to the always evolving nuances of and sweeping requirements of mixed doubles curling.
Thursday night at WinSport Arena at Canada Olympic Park, they exited the 2021 Home Hardware Canadian Mixed Doubles Championship, presented by Nature's Bounty, as champions.
Kerri Einarson and Brad Gushue (Gimli, Man./St. John's, N.L.) rolled to a 9-6 win over Kadriana Sahaidak and Colton Lott (Winnipeg Beach, Man.) in the gold-medal game — the first time two full-time skips in four-player competition have ever combined to win the Canadian mixed doubles title.
"Wow; it's crazy," said an ecstatic Einarson after the game. "I never thought I would win a mixed doubles title in the same year (as a Scotties), and it feels absolutely amazing."
With the victory Einarson and Gushue collect the top prize of $50,000 — the biggest cash prize ever offered at a mixed doubles event — and will have the opportunity to represent Canada at the 2021 World Mixed Doubles Championship, May 17-23 in Aberdeen, Scotland.
There, the top seven finishing countries will secure spots in the field for the 2022 Winter Olympics mixed doubles competition in Beijing.
It was a shaky start for Sahaidak and Lott; they actually had a shot at four with the hammer in the first end, but Sahaidak's relatively routine double-takeout failed to curl enough, resulting in a jam and a stolen single for Einarson and Gushue.
Einarson and Gushue took control in the third and fourth ends. Tied 1-1, Einarson made a stunning triple-takeout with her final stone of the third to score two, with Sahaidak and Lott sitting two biting the button.
And in the fourth, Sahaidak was wide with a raise attempt, and it left Einarson and Gushue with a steal of four.
Sahaidak and Lott would fight back, scoring a four in the seventh end, but with a three-point lead and last rock in the eighth, it was just a matter of time before Einarson and Gushue could celebrate.
"At this level you can't afford to come out flat," said Lott. "If you come out flat, you're not going to win. You have to be on your toes, every game.
"But the teams that we had top beat to even get to this point? It's huge. It shows that we can compete and we're there with the best of them."
For Einarson, it will be a busy May spent with the Maple Leaf on her back; she will skip her Scotties Tournament of Hearts Canadian championship team at the LGT World Women's Championship, presented by BKT Tires, April 30-May 9 in the bubble in Calgary before heading to Scotland.
It comes a year after both Einarson and Gushue had trips to the 2020 World Women's and World Men's championships cancelled due to COVID-19.
"I was probably more disappointed for Kerri and her team, and then to see them come back and win the Scotties, and then for (women's) worlds to be part of the bubble, and then to win this — it just seems appropriate with them having missed the opportunity last year," said Gushue. "I'm super excited for her.
"The last year has been a challenge for everybody, and to come here and have a disappointing performance at the Brier, and then follow it up with a good performance here, it kind of makes up for a lot of the crappy stuff that's happened in the last year. I had a ton of fun this week; I really enjoyed playing with Kerri, and even off the ice, telling stories, teasing each other, laughing. It's been a ton of fun."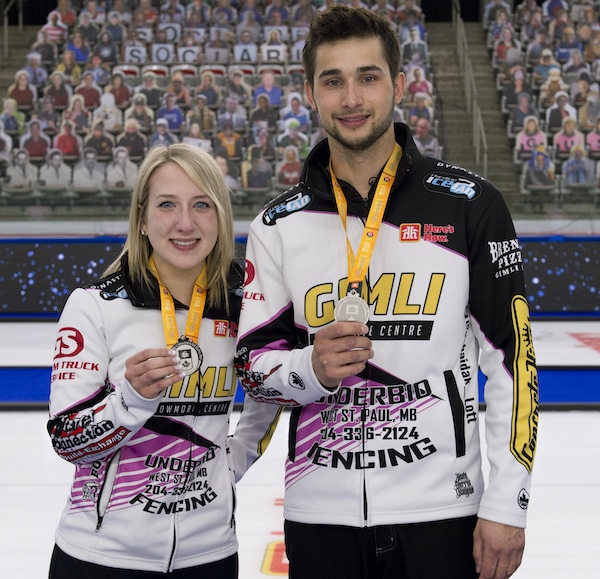 Einarson is just the third player to win a Canadian four-player and mixed doubles championship in the same season; Jocelyn Peterman (2016) and Joanne Courtney (2017) are the others.
Gushue will become one of just three who have represented Canada at a World Juniors, a World Championship and a World Mixed Doubles Championship; the others are his men's teammate Brett Gallant, and Gallant's fiancé and mixed doubles teammate Jocelyn Peterman.
It was the third straight podium finish for Sahaidak and Lott, who were silver-medallists in 2018 at Leduc, Alta., and claimed bronze in 2019 at Fredericton; the 2020 championship was cancelled due to the COVID-19 pandemic. Sahaidak and Lott will take home $30,000 for finishing second, and they also clinched a berth in the 2021 Olympic Mixed Doubles Curling Trials.
"We had a great week, earning that Olympic Trials spot was huge, and we're just going to come out of this even stronger, and hopefully next year we'll come back again," said Sahaidak. "We're looking forward to the Trials and hopefully we can come out with a win there."
Einarson and Gushue will head to Scotland not only chasing Canada's first gold medal at the World Championship but also the Olympic berth for Canada. Yes, that means pressure, but Gushue is not unfamiliar with the concept.
"When you go to the Olympics, you understand the pressure of having the Maple Leaf on your back," said a smiling Gushue, who won Olympic gold in 2006. "That's far greater than I think anybody's going to face at a mixed doubles world championship. I've certainly dealt with it and done OK."
There will be a pause in the bubble as the ice crew prepares the facility for next week's practice sessions leading up to the 2021 BKT Tires & OK Tire World Men's Curling Championship, presented by New Holland, which starts on April 2.
This story will be available in French as soon as possible at www.curling.ca/2021mixeddoubles/nouvelles