Gold in their sights!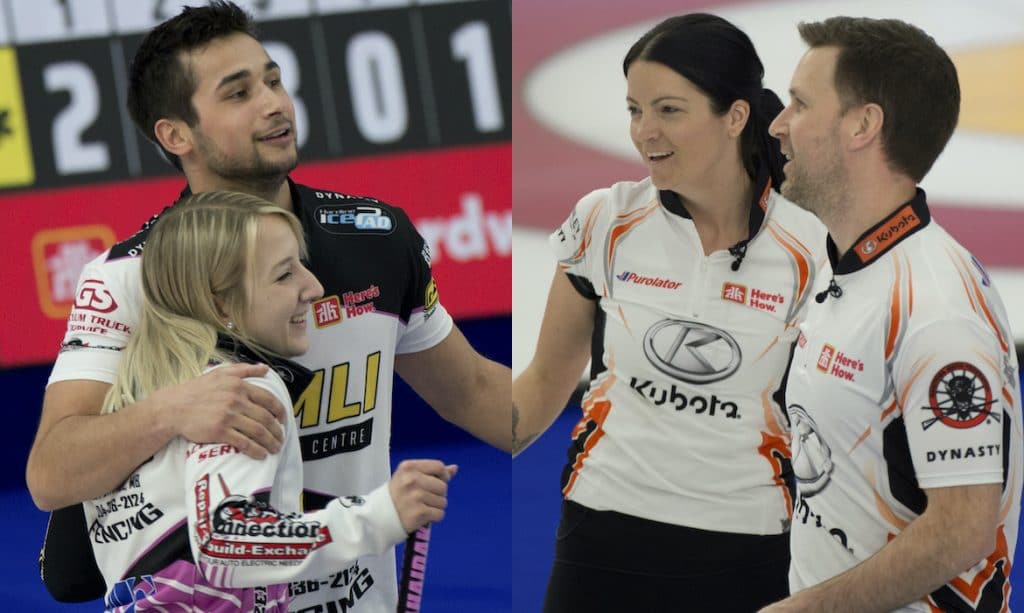 Einarson-Gushue to take on Sahaidak-Lott for Home Hardware Mixed Doubles gold!
It's a battle between experience and youth to decide the winner of the 2021 Home Hardware Canadian Mixed Doubles Championship, presented by Nature's Bounty.
Kerri Einarson, who's captured the past two Scotties Tournament of Hearts titles, and Brad Gushue, who's won three Tim Hortons Brier titles in the past five years, will take on the youthful pairing of Kadriana Sahaidak (21) and Colton Lott (25) Thursday at p.m. ET at WinSport Arena at Canada Olympic Park.
The winner will collect the top prize of $50,000 — the most lucrative cash prize ever offered at a mixed doubles event — as well as the right to represent Canada at the 2021 World Mixed Doubles Curling Championship next month in Aberdeen, Scotland.
Einarson and Gushue (Gimli, Man./St. John's, N.L.) reached the final on Thursday afternoon with a 7-6 win over Danielle Schmiemann and John Morris (Edmonton/Canmore, Alta.) in the semifinal.
Einarson coolly drew to the four-foot for the winning point in the eighth end after Schmiemann and. Morris had tied the game with a stolen single in the seventh.
The gold-medal game will be a rematch of their Page Seeding Round clash on Wednesday afternoon, where Sahaidak and Lott rallied from a 5-2 deficit after five ends to record an 8-5 win.
And Gushue already knows what his team has to do differently in the gold-medal game.
"Not give up four (in the sixth end) on the power play," said Gushue with a laugh. "That was really it. Colton made a great shot, and we missed our last one, and that was really the difference in the game, and we had a power play right after that that we didn't execute very well. It just came down to four or five shots that allowed them to go on and win."
Those shots weren't being missed against Schmiemann and Morris; Einarson, in particular, made the tide-turning shot in the fourth end, a hit and roll to the button to score a deuce.
"As soon as Danielle was throwing (her last stone), I was already eyeing it up," said Einarson of her own shot. "I knew exactly where I was going to need to hit it, so I felt very comfortable throwing it."
She and Gushue would add a stolen single in the sixth end, and even though Schmiemann and Morris would rally to tie it, the stage was effectively set for the win when Gushue removed a centre guard and a buried Schmiemann-Morris stone with a runback.
"Percentage-wise, that was the best a team played against us all week," said Morris. "They were probably a few percentage points better than us. It was a very well-curled game, I think it was entertaining, a lot of shots made. But when you're going up against 90 per cent curling in mixed doubles, we're in for a battle and we have to match them shot for shot, and we didn't quite do that."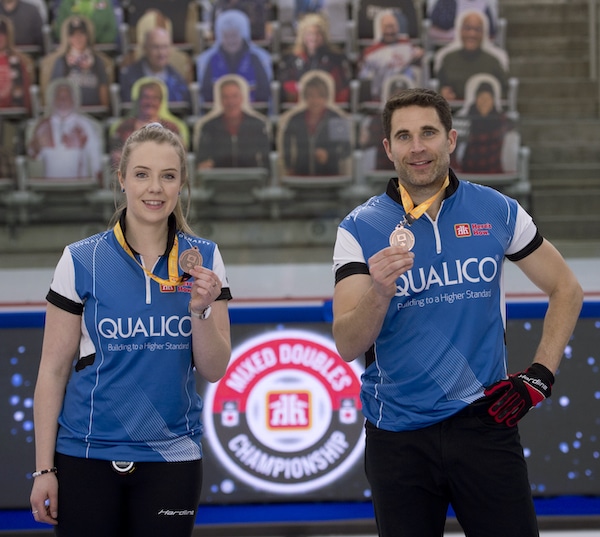 In addition to bronze medals, Schmiemann and Morris collected third-place prize money of $20,000.
"It feels like a little bit of a whirlwind," said Schmiemann, who joined Morris as a teammate because his regular partner Rachel Homan is about to give birth. "It feels like John and I just met, and then seven days later, we've accomplished all of this together. It's been a really good learning experience, I had a lot of fun, and I was really glad to be back on the ice, play well and give us a chance to do well at this thing. I can walk away from this happy with that."
Regardless of what happens in the final, Gushue has enjoyed the experience of the Home Hardware Canadian Mixed Doubles Championship.
"I've just had a lot of fun; I've really enjoyed playing with Kerri, spending time with her off the ice," said Gushue. "She's an incredible drawer, an incredible shooter. We haven't tried to put too much pressure on ourselves; we don't have the experience as some of these teams we're playing in the playoffs have; we're just relying on our execution. Probably making some mistakes as far as strategy and timing goes; we'll find out after because no one will tell us now. Flying by the seat of our pants, really — just making stuff up as we go."
Live scoring, standings and statistics for the 2021 Home Hardware Canadian Mixed Doubles Championship are available at www.curling.ca/scoreboard/
TSN and RDS2 (streamed on ESPN3 in the United States) will provide complete coverage of the 2021 Home Hardware Canadian Mixed Doubles Championship. CLICK HERE for the complete schedule.
This story will be available in French as soon as possible at www.curling.ca/2021mixeddoubles/nouvelles