One Sweet win!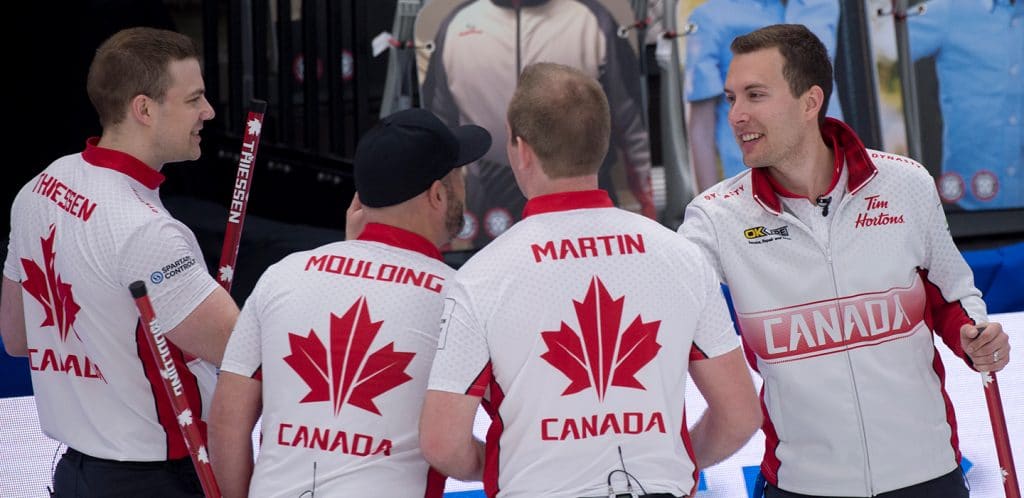 Canada's comeback against Scotland results in first win at world Men's
It likely didn't matter what team Canada defeated for its first victory at the 2021 BKT Tires & OK Tire World Men's Curling Championship, presented by New Holland; it was going to feel quite sweet. But the fact that it came in the opening draw on Friday against a medal-contending team did, in fact, make it a bit sweeter.
Bottcher, vice-skip Darren Moulding, second Brad Thiessen, lead Karrick Martin, alternate Marc Kennedy, coach Don Bartlett, national coach Jeff Stoughton and team support Patrick Janssen received a quintessential taste of what world championship curling is about in their opening game against Scotland's Bruce Mouat. The Canadians bested the Scots 9-6 by mounting a second-half comeback.
"We've won a lot of games like that over the years. We're pretty good at coming back. We win probably more than our share of games in that situation," Moulding said. "Brad and I, after the fifth end, we started laughing and we looked at each other and we're like 'this is going to be a sweet win when we get it', and that's just the attitude that we have."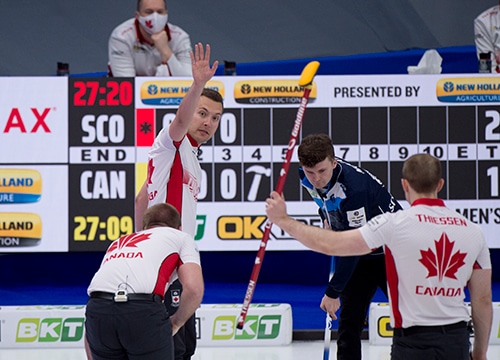 In the final end, Canada maintained a two-point lead and packed the four-foot circle with three Canadian stones for Scotland's last shot. It left Mouat with a difficult angle-raise triple attempt that just wasn't possible and resulted in a Canadian win.
While all of Canada's competition hopped on planes for flights across the oceans or due north, Canada has made itself at home inside the Calgary bubble. The Edmonton-based team has remained either in the bubble or in-province since their first competition, the Tim Hortons Brier, presented by AGI. But jet lag certainly wasn't an issue for Scotland, nor any of the other six teams on the ice in WinSport Arena at Canada Olympic Park.
The winning result wasn't always a guarantee for Canada. Team Bottcher opened the game with a steal and hoped to set the tone early, but by the fifth end Scotland took a 5-2 lead after Mouat made a delicate tap-weight hit around a guard, which led to a score of three and 5-2 lead at the halfway mark. On the other hand, Canada was yet to put up a crooked number on the board, scoring no more than one point in an end during the first half of the game.
"For what it's worth I actually thought that it wasn't a bad start. Maybe a little bit of jitters out of the gate but I thought the guys were throwing it well and we were just coming up a little short on ourselves there in a few ends," Bottcher said. "It took us a few ends to get there, but I was really proud of the guys. That would have been an easy one to write-off as a loss, try to build and move into the game tonight and we found a way to battle back and win it and I think that's huge."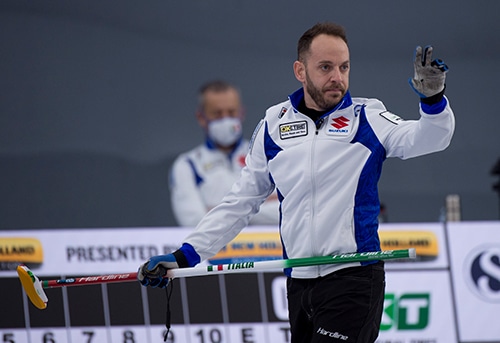 After the fifth-end break, Canada procured its first multi-point end with a hit for two in the sixth end. Trailing by one in the seventh, Canada took control of the game after a precise in-turn tap to sit three. Mouat's miss on the final shot in the end gave Canada another two points and its first lead of the game since the first end.
The Canadians weren't the only team to secure wins in the opening draw. Italy's Joel Retornaz started things off with a 7-1 victory against South Korea's Yeong Seok Jeong (0-1); Skip Sergey Glukhov led the Russian Curling Federation team (1-0) to an 8-5 win against skip Jaap Van Dorp of the Netherlands (0-1); Norway's Steffen Walstad (1-0) needed an extra end to take down Denmark's Mads Nørgaard (0-1) by score of 7-6.
The 2021 BKT Tires & OK Tire World Men's Curling Championship continues with draws at 2 p.m. and 7 p.m. (all times Eastern).
Live scoring, standings and statistics for the 2021 BKT Tires & OK Tire World Men's Curling Championship are available at worldcurling.org/events/wmcc2021?pageType=results
TSN and RDS2 will provide complete coverage of all Team Canada games at the 22021 BKT Tires & OK Tire World Men's Curling Championship. CLICK HERE for the complete schedule.
This story will be available in French as soon as possible at www.curling.ca/2021worldmen/nouvelles/?lang=fr