Another win for Canada!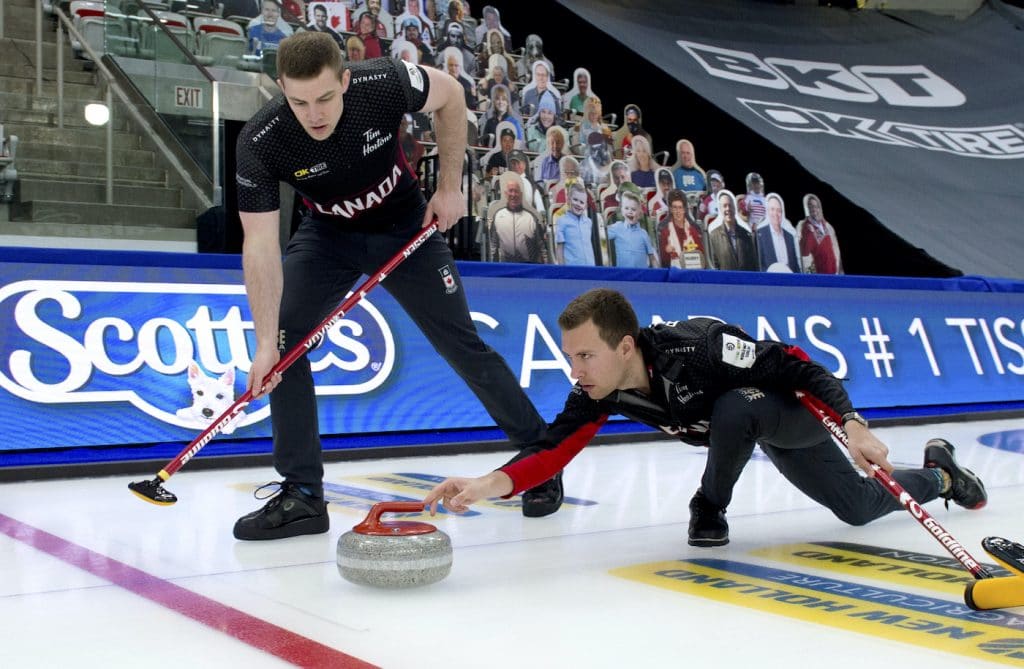 Team Canada improves to 3-0 with victory over Denmark
There's plenty of work yet to be done, but the early results look promising, indeed, for Team Canada at the 2021 BKT Tires & OK Tire World Men's Curling Championship, presented by New Holland.
The latest evidence was provided on Saturday morning at WinSport Arena at Canada Olympic Park in Calgary, where Brendan Bottcher's Canadian champs cruised to a 7-5 win over Denmark's Mads Nørgaard.
With the victory, Edmonton's Bottcher, vice-skip Darren Moulding, second Brad Thiessen, lead Karrick Martin, alternate Marc Kennedy, team coach Don Bartlett, team support Patrick Janssen and national coach Jeff Stoughton improved to 3-0, taking over sole possession of first place in the 14-team round-robin standings.
"It feels great; that's what we're trying to come out here and do," said Bottcher. "Really trying hard not to focus on the bigger picture — just come out there and play our best in every game. That's going to be our best formula, and I think up until now we've done a pretty good job of that. The first couple of games, we were building some momentum, and then today, I thought we came out of the gate really strong."
It was a textbook break from the gates for the home team, which is seeking Canada's first World Men's Championship gold medal since Brad Gushue's 2017 triumph in Edmonton.
After forcing the Danes to a single point in the first end, Canada bounced back with well-crafted deuces in the second and fourth ends, and a stolen deuce in the fifth when Nørgaard couldn't find a needed piece of the button to score.
After Canada stole another point in the seventh end to go up 7-2, Denmark, which remained winless in three outings, did scrap back with a deuce in the eighth and a stolen point in the ninth before Canada ran the Danes out of rocks in the 10th.
And while Canada shot 88 per cent as a team (led by Martin at 90, including some perfectly executed tick shots late in the game), there were still some points in the game where Canada was not on top of its game — not unlike the early stages of the Tim Hortons Brier, presented by AGI, and we all know how that ended up for Bottcher and Co.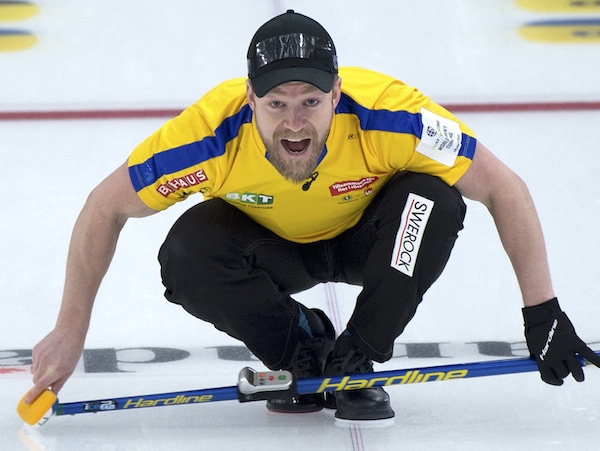 "I think it's great," said Bottcher, always the optimist. "It's always easy to win when all four of you come out and play 90-plus per cent, you've nailed the ice, you know what to expect on every shot, it feels easy. It's a lot harder to win when there are some ups and downs, a little bit of adversity and you have to scrap through it a little bit, and I think, in different ways, in all three of these games we've had a little bit of that. Which is good; I think we build on that through the next few days, hopefully pick up some momentum and start bringing our best game a little more often. I really like where we're at right now."
Canada has the rest of the day off, and returns to action Sunday with a pair of games — at 11 a.m. (all times Eastern) for a showdown with Switzerland's Peter de Cruz (2-0) and at 4 p.m. against Jaap van Dorp of the Netherlands (0-3)
"I think we'll use the time to rest up and get feeling really good,: said Bottcher. "Tomorrow is the start of four long days for us, so as much as we can take care of ourselves, be ready to go, I think that's what we have to get out of today. And hopefully we can relax and watch a little bit of curling."
In other games Saturday morning, Sweden's Niklas Edin (1-1) turned back John Shuster of the U.S. 8-5; Switzerland knocked off Germany's Sixten Totzek (0-2) 8-5; and Scotland's Bruce Mouat (2-1) scored four in the eighth end for a 9-4 triumph over the Netherlands.
Italy's Joel Retornaz (2-0), Norway's Steffan Walstad (2-0), Russian Curling Federation's Sergey Glukhov (2-0), Japan's Yuta Matsumura (1-1), China's Qiang Zou (0-2) and South Korea's Yeong-Seok Jeong (0-2) had byes on Saturday morning.
The 2021 BKT Tires & OK Tire World Men's Curling Championship continues on Saturday with draws at 4 p.m. and 9 p.m. (all times Eastern).
Live scoring, standings and statistics for the 2021 BKT Tires & OK Tire World Men's Curling Championship are available at worldcurling.org/events/wmcc2021?pageType=results
TSN and RDS2 will provide complete coverage of all Team Canada games at the 22021 BKT Tires & OK Tire World Men's Curling Championship. CLICK HERE for the complete schedule.
This story will be available in French as soon as possible at www.curling.ca/2021worldmen/nouvelles/?lang=fr