Canada gets back on track!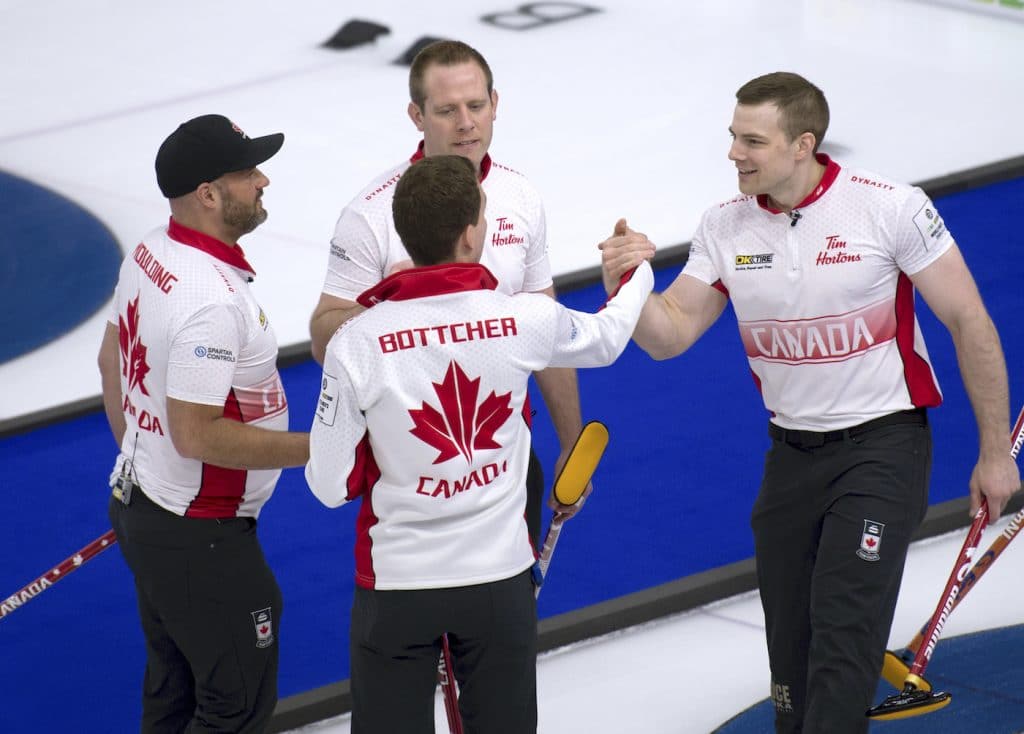 Canada rebounds from morning setback to defeat Netherlands
There wasn't a lot of time between games for Team Canada on Sunday at 2021 BKT Tires & OK Tire World Men's Curling Championship, presented by New Holland.
But the time spent following an extra-end loss to Switzerland's Peter de Cruz Sunday morning, and preceding an afternoon tilt with Jaap van Dorp of the Netherlands was evidently well-spent by Team Canada skip Brendan Bottcher, vice-skip Darren Moulding, second Brad Thiessen, lead Karrick Martin, alternate Marc Kennedy, team support Patrick Janssen, team coach Don Bartlett and national coach Jeff Stoughton.
The Canadians shot a collective 91 per cent Sunday at WinSport Arena at Canada Olympic Park in Calgary en route to a 7-6 win over the Netherlands, leaving the orange-clad challengers winless at 0-5.
It was a nice bounce-back from the morning disappointment, but there wasn't a lot of doom and gloom in the wake of the loss, said Bottcher, whose team improved to 4-1 with the victory.
"I didn't think we played that bad of a game this morning, especially the second half," he said. "I thought we played quite well. So you take that momentum (into the win over the Netherlands). It's a long week; you're going to have good games, you're going to have bad games. I was really proud of the guys; we came out there this afternoon and did what we needed to do."
They did, indeed — nothing spectacular, but just effective, consistent shotmaking and communicating, which was a perfect tonic after the occasional frustrations of the morning draw.
Canada manufactured deuces in the second, fourth and seventh ends, and added a key steal of one in the eighth to effectively put the game out of reach for the Netherlands, which is a better team than its winless record to date would indicate.
Bottcher and Co. will enjoy Sunday night off before a pair of big games on Monday — at 11 a.m. (all times Eastern) against John Shuster of the U.S. (3-1) and at 4 p.m. against Yeong-Seok Jeong of South Korea (0-5)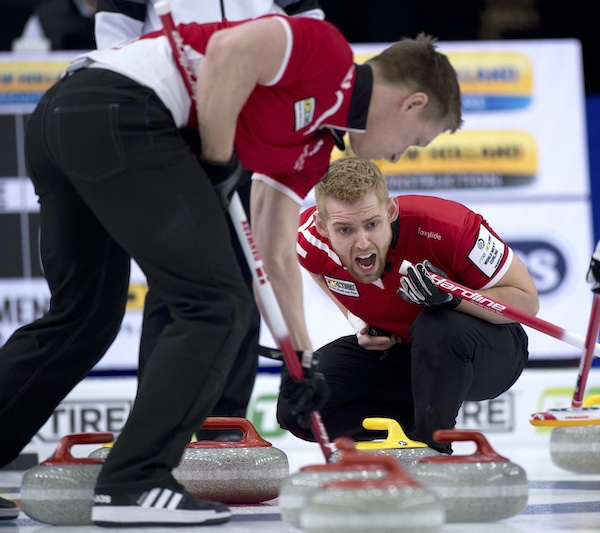 "I think right now it's just about building momentum," said Bottcher. "We've had a good start to the event, but we definitely have to keep it going. I'm just looking forward to getting out there tomorrow. We've got two more games, morning and afternoon, and hopefully we can play well in them.
"I think you have to find positives, regardless of what the schedule is. For us, the schedule is heavy, early, and we get a lot of games out of the way, and then hopefully we're in a good spot, hunting for the playoffs, and we have a couple of days to rest, relax and prepare for that battle. So right now, we're 4-and-1, I'm happy to be here, and looking forward to two good games tomorrow."
In other Sunday afternoon games, Norway's Steffen Walstad assumed sole possession of first place with a 5-0 record, drawing for a stunning three in the 10th end to beat Sweden's Niklas Edin (3-2) 9-8; Denmark's Mads Nørgaard stole single points in the eighth and 10th ends for a 4-3 win over South Korea; and Scotland's Bruce Mouat (4-1) was a 10-1 winner over China's Qiang Zou (0-5).
Switzerland (4-0), the U.S., Italy's Joel Retornaz (3-1), RCF's Sergey Glukhov (3-1), Japan's Yuta Matsumura (1-3) and Germany's Sixten Totzek (0-4) had byes.
The 2021 BKT Tires & OK Tire World Men's Curling Championship continues on Sunday with the late draw at 9 p.m. On Monday, draws are scheduled for 11 a.m., 4 p.m. and 9 p.m.
Live scoring, standings and statistics for the 2021 BKT Tires & OK Tire World Men's Curling Championship are available at worldcurling.org/events/wmcc2021?pageType=results
TSN and RDS2 will provide complete coverage of all Team Canada games at the 22021 BKT Tires & OK Tire World Men's Curling Championship. CLICK HERE for the complete schedule.
This story will be available in French as soon as possible at www.curling.ca/2021worldmen/nouvelles/?lang=fr