Canada wins border battle!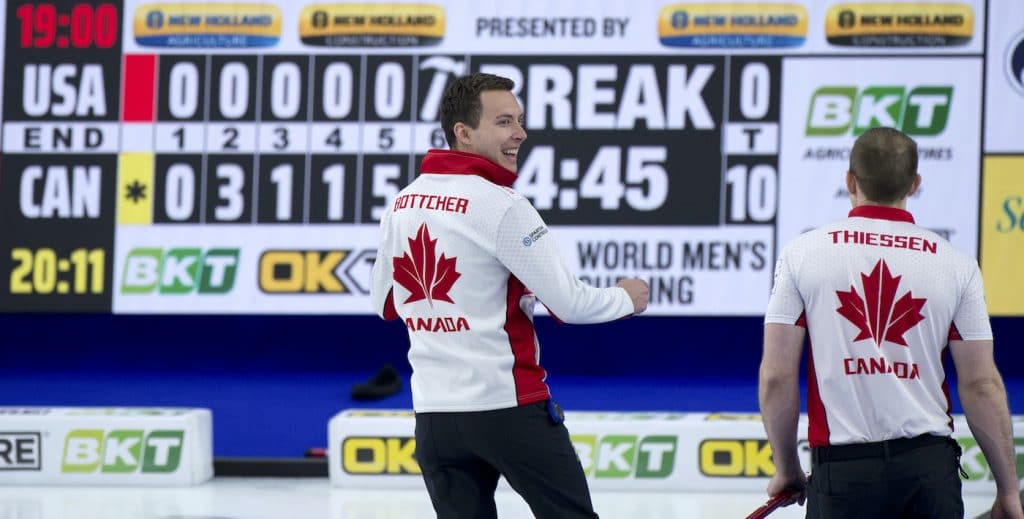 Team Canada cruises to victory over southern neighbour
It was a battle of North American that, in the end, really wasn't a battle.
Team Canada's Brendan Bottcher had just one career victory in seven attempts against John Shuster's U.S. team, based in Duluth, Minn.
But that run of disappointing outcomes was put to an emphatic, and unexpectedly early, end on Monday morning at the 2021 BKT Tires & OK Tire World Men's Curling Championship, presented by New Holland.
Bottcher's Canadian team from Edmonton — vice-skip Darren Moulding, second Brad Thiessen, lead Karrick Martin, alternate Marc Kennedy, team support Patrick Janssen, team coach Don Bartlett and national coach Jeff Stoughton round out the lineup — stole seven points en route to a 10-1 victory over the U.S. at WinSport Arena at Canada Olympic Park in Calgary.
The win left Canada with a 5-1 record and tied for first place with Norway's Steffen Walstad (5-0) and RCF's Sergey Glukhov (5-1).
"I don't think you ever go into a game expecting a big blow-out," said Bottcher after a game that took just six ends before the U.S. conceded defeat. "I was going into the game just hoping that we were going to hit our stride, play that extra half gear higher today than we have been, and I was really proud of the guys for doing that. I thought we came out and played a really solid game; not just in terms of the scoreboard, but we communicated well, we managed rocks well, we threw the rock really well, and all of that came together in a really good win for us, and that's something to be proud of."
Canada blanked the first end before unleashing its offence in the second end, with Bottcher making an open draw for three.
Canada would then proceed to steal single points in the third and fourth ends before exploding for a stolen five in the fifth when Shuster couldn't make an angle raise into a pile of Canadian stones clustered in the four-foot.
The U.S. (4-2) broke the shutout with one in the sixth end and then conceded against their former coach, Bartlett, who was behind the bench for Team Shuster at the 2019 World Men's Championship in Lethbridge, Ont.
"I'd say the only intel he gave us was that they're good. They're real good," said Bottcher of Bartlett's pre-game advice. "You can't underestimate them at all; you're going to have to go out there and play your very best. I think Don really set the tone right out of the gate. We had a really good practice, we had a real good start to the game, and we did what he said we needed to do — we put some pressure on them early, and we got a couple half-shots from them, and I think that was the difference."
Well, that, and of course it didn't hurt matters that Bottcher threw a perfect 100 per cent game.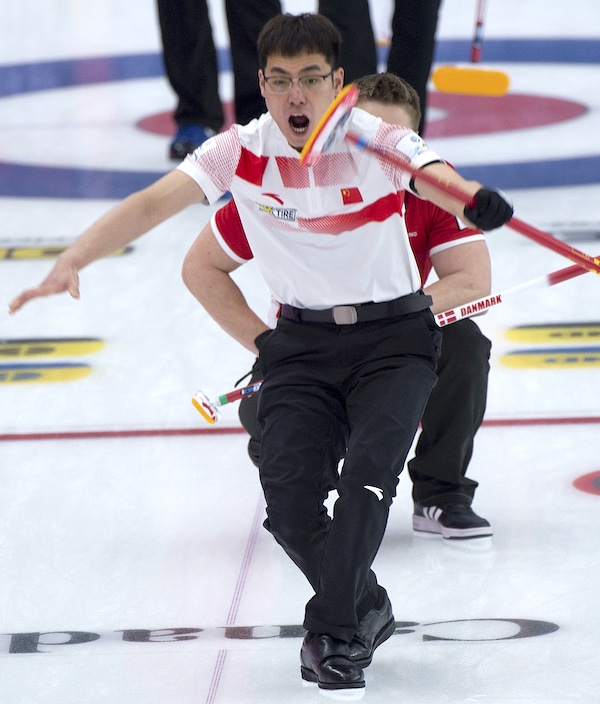 "It's awesome; any time you can throw out a really great game, you have to be proud of that," said Bottcher with a smile. "But it's a whole variety of things; lots of my shots were 100 per cent team shots. We made them on the line call, we made them on the sweeping, the communication was really solid, and that's why we got the results. And that's what we have to keep doing. Every team we play from here on out is going to be gunning for us, strapping for playoff spots, trying for Olympic qualification — everyone has a reason to win, and we'll have to keep doing that. Whether that means we can put together another 100 per cent game, a 90 per cent game, that's what it takes to win out there."
Canada is back in action later Monday against South Korea's Yeong-Seok Jeong (1-5) at 4 p.m. (all times Eastern).
In other Monday morning results, RCF doubled Japan's Yuta Matsumura (2-4) 10-5; Sweden's Niklas Edin (4-2) drew to the four-foot for an extra-end 6-5 win over Scotland's Bruce Mouat (4-2); and China's Qiang Zou (1-5) picked up his first win, a 6-5 triumph over Denmark's Mads Nørgaard.
Norway, South Korea, Switzerland's Peter de Cruz (4-1), Italy's Joel Retornaz (3-2), Germany's Sixten Totzek (0-5) and Jaap van Dorp of the Netherlands (0-6) all had byes on Monday morning.
The 2021 BKT Tires & OK Tire World Men's Curling Championship continues on Monday with draws at 4 p.m. and 9 p.m. (all times Eastern).
Live scoring, standings and statistics for the 2021 BKT Tires & OK Tire World Men's Curling Championship are available at worldcurling.org/events/wmcc2021?pageType=results
TSN and RDS2 will provide complete coverage of all Team Canada games at the 22021 BKT Tires & OK Tire World Men's Curling Championship. CLICK HERE for the complete schedule.
This story will be available in French as soon as possible at www.curling.ca/2021worldmen/nouvelles/?lang=fr