Grinding out the victories!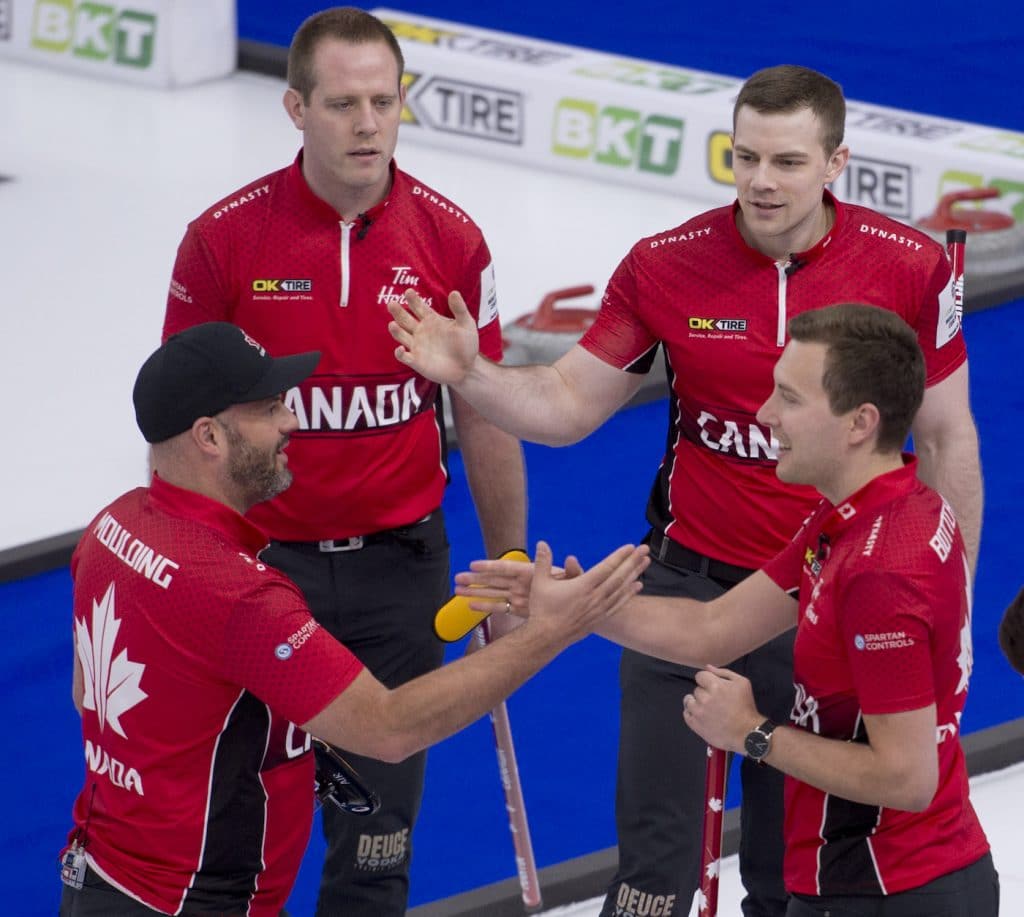 Team Canada caps two-win day with victory over China
Heading into the home stretch of round-robin play at the 2021 BKT Tires & OK Tire World Men's Curling Championship, presented by New Holland, Team Canada continues to rack up wins, if not style points.
Brendan Bottcher's Tim Hortons Brier champs from Edmonton improved to 7-2 with a pair of victories on Tuesday at WinSport Arena at Canada Olympic Park in Calgary, the latest being a hard-fought 6-5 win over China's Qiang Zou.
With the win, Bottcher, vice-skip Darren Moulding, second Brad Thiessen, lead Karrick Martin, alternate Marc Kennedy, team support Patrick Janssen, team coach Don Bartlett and national coach Jeff Stoughton, find themselves in a four-way tie for second place in the 14-team standings with RCF's Sergey Glukhov, Sweden's Niklas Edin and Scotland's Bruce Mouat, with Norway's Steffen Walstad continuing to set the pace at 7-1.
Bottcher was forced to make two high-pressure draws to the side of the four-foot in the 10th end to complete the victory against the stubborn Chinese, who dropped to 2-7 with the loss.
"It's always nice where you have one where you just threw it, or even within a few ends, you threw down that path," said Bottcher of his 10th-end dandies. "You get a good feel for it, and just as much for me, (it's important) for my guys as well. They just saw a rock travel down there, they know what it needs to look like, they know what my release needs to look like, and that really helps. I was really glad we nailed it on the first one, and that was a good practice one for my second."
As has been the case in the middle of the round robin for Canada, it was a struggle at times to take momentum. Canada found itself down 2-1 after giving up a stolen point in the third end but cracked a three in the fourth to take a 4-2 lead.
After forcing China to a single in the fifth and then blanking the next two ends, Canada had a chance to deliver a decisive blow, but Bottcher's last-rock open hit overcurled and barely rubbed on a guard. The shot still removed the Chinese counter but Bottcher's shooter rolled out.
China bounced back to tie it with a deuce in the ninth end, setting the stage for Bottcher's game-winner in the 10th.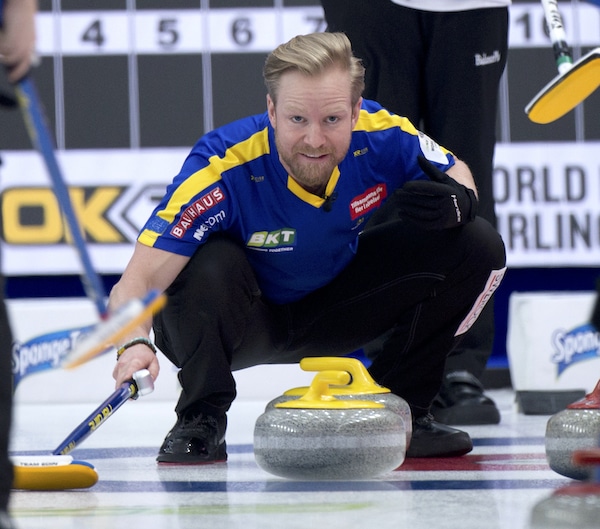 "There are certainly no easy games out here; we had control for most of the game, and that carried through to hammer in the last end," said Bottcher. "But they played really well, they definitely put some pressure on us there. And I gave them half a miss there in the eighth end; that extra point would have been nice to hang on the scoreboard. But they brought it all the way down to the end and left me a really tough shot to win. So props to them as well."
Canada has Wednesday morning off before taking on a pair of teams they're tied with — RCF at 4 p.m. (all times Eastern) and Sweden at 9 p.m.
"I think right now, we just have to focus on the first game," said Bottcher. "I'm fully intending to go out there and play a really good game; certainly we're going to battle as much as we can and try to grind out that first win. To be honest, that's all I'm really focusing on right now; they won't let me play two games at a time. So I'll just do what I can while I'm out there and hopefully we can get that first win down, and then we can start talking about the next one (against Sweden)."
In other Tuesday night games, RCF shaded Italy's Joel Retornaz (4-5) 8-7; Scotland was a 7-4 winner over Switzerland's Peter de Cruz (5-4); and Sweden hammered South Korea's Yeong-Seok Jeong (2-7) 10-2.
Norway, John Shuster of the United States (5-3), Denmark's Mads Nørgaard (2-6), Germany's Sixten Totzek (2-6), Japan's Yuta Matsumura (2-6) and Jaap van Dorp of the Netherlands (1-7) all had byes.
The 2021 BKT Tires & OK Tire World Men's Curling Championship continues on Wednesday with draws at 11 a.m., 4 p.m. and 9 p.m. (all times Eastern).
Live scoring, standings and statistics for the 2021 BKT Tires & OK Tire World Men's Curling Championship are available at worldcurling.org/events/wmcc2021?pageType=results
TSN and RDS2 will provide complete coverage of all Team Canada games at the 22021 BKT Tires & OK Tire World Men's Curling Championship. CLICK HERE for the complete schedule.
This story will be available in French as soon as possible at www.curling.ca/2021worldmen/nouvelles/?lang=fr