Swedes stun Team Canada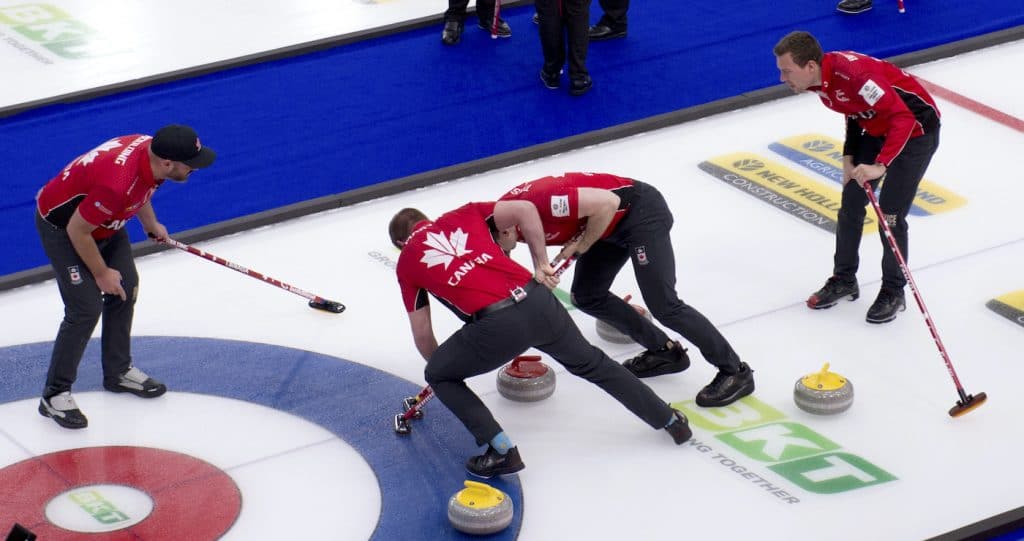 Sweden scores four in 10th end to defeat Team Canada
Everything that went right for Team Canada over the first half of the game against Sweden's Niklas Edin Wednesday night at WinSport Arena at Canada Olympic Park in Calgary went wrong in the final five ends.
And the end result was a crushing 9-7 win for Sweden, capping a disappointing two-loss day for Canadian skip Brendan Bottcher at the 2021 BKT Tires & OK Tire World Men's Curling Championship, presented by New Holland.
With the loss, Bottcher, vice-skip Darren Moulding, second Brad Thiessen, lead Karrick Martin, alternate Marc Kennedy, team support Patrick Janssen, team coach Don Bartlett and national coach Jeff Stoughton fall to 7-4, while the Swedes took over sole possession of first place in the 14-team round-robin standings with a 9-2 record.
Trailing 7-5 going into the final end, Edin made a wonderful precision tap to push a Canadian stone through a port in the four-foot and score four for the victory, capping a superb comeback as Sweden trailed 6-2 through seven ends.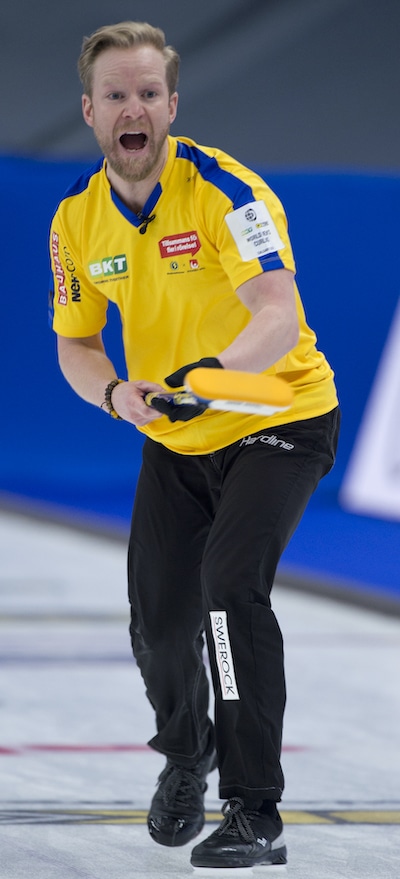 "We definitely were in control of that game" acknowledged Bottcher. "We had a great first half, but they made a lot of real good shots in the second half, to be honest. They put a lot of pressure on us, we gave them a few half-misses, and against a team that strong, they capitalized."
They absolutely did. Sweden would pull to within one by scoring three in the eighth end, and then forcing Canada to a single in the ninth before Edin's game-winner in the 10th.
"We really struggled with the ice at the beginning," said Edin, the reigning world champion. "My team was playing well, but I just missed all my shots in the first half of the game. That was the big difference, and then we found the speed and tracks a little better, and I started playing curling again."
While the two losses on Wednesday were sobering, Canada still has its fate firmly within its own hands. The Canadians close out round-robin play with games Thursday at 9 p.m. (all times Eastern) against Norway's Steffen Walstad (7-3) and Friday at 11 a.m. against Germany's Sixten Totzek (3-7). Wins in both will clinch a playoff spot for Canada, and will guarantee a berth for a Canadian team in men's curling at the 2022 Winter Olympics in Beijing.
"If we can play well tomorrow, get that win, and hopefully carry through a little bit of momentum, I think that's what we need going forward," said Bottcher. "Right now everyone's emotions are still a bit raw, but we don't play until tomorrow night, which is probably a good thing. But we really need to compartmentalize today. We actually played quite a few ends of really good curling as a team; I thought we made a lot of really good shots, got some good deuces with hammer, and that's the kind of momentum we need to carry into tomorrow. And when we get back on the ice, it's going to be a brand new game. We'll be out there to win, with the same intensity as usual."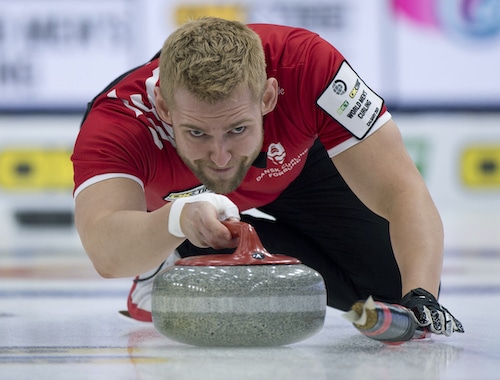 "All of our losses here could have been wins — just cut down on a couple mistakes," added Moulding. "I don't think any of the confidence is gone. I believe we'll be able to come back tomorrow and get a big win. We're still in good shape."
In other Wednesday night games, Denmark's Mads Nørgaard (3-7) took two in the 10th end for a 9-8 win over Switzerland's Peter de Cruz (5-5), Germany knocked off South Korea's Yeong-Seok Jeong (2-8) 12-5; and Scotland's Bruce Mouat was a 7-2 winner over Italy's Joel Retornaz (5-6).
Norway, RCF's Sergey Glukhov (8-2), John Shuster of the United States (7-3), Japan's Yuta Matsumura (3-6), China's Qiang Zou (2-8) and Jaap van Dorp of the Netherlands (2-8) all had byes on Wednesday night.
The 2021 BKT Tires & OK Tire World Men's Curling Championship continues on Thursday with draws at 11 a.m., 4 p.m. and 9 p.m. (all times Eastern).
Live scoring, standings and statistics for the 2021 BKT Tires & OK Tire World Men's Curling Championship are available at worldcurling.org/events/wmcc2021?pageType=results
TSN and RDS2 will provide complete coverage of all Team Canada games at the 22021 BKT Tires & OK Tire World Men's Curling Championship. CLICK HERE for the complete schedule.
This story will be available in French as soon as possible at www.curling.ca/2021worldmen/nouvelles/?lang=fr