Off to the playoffs!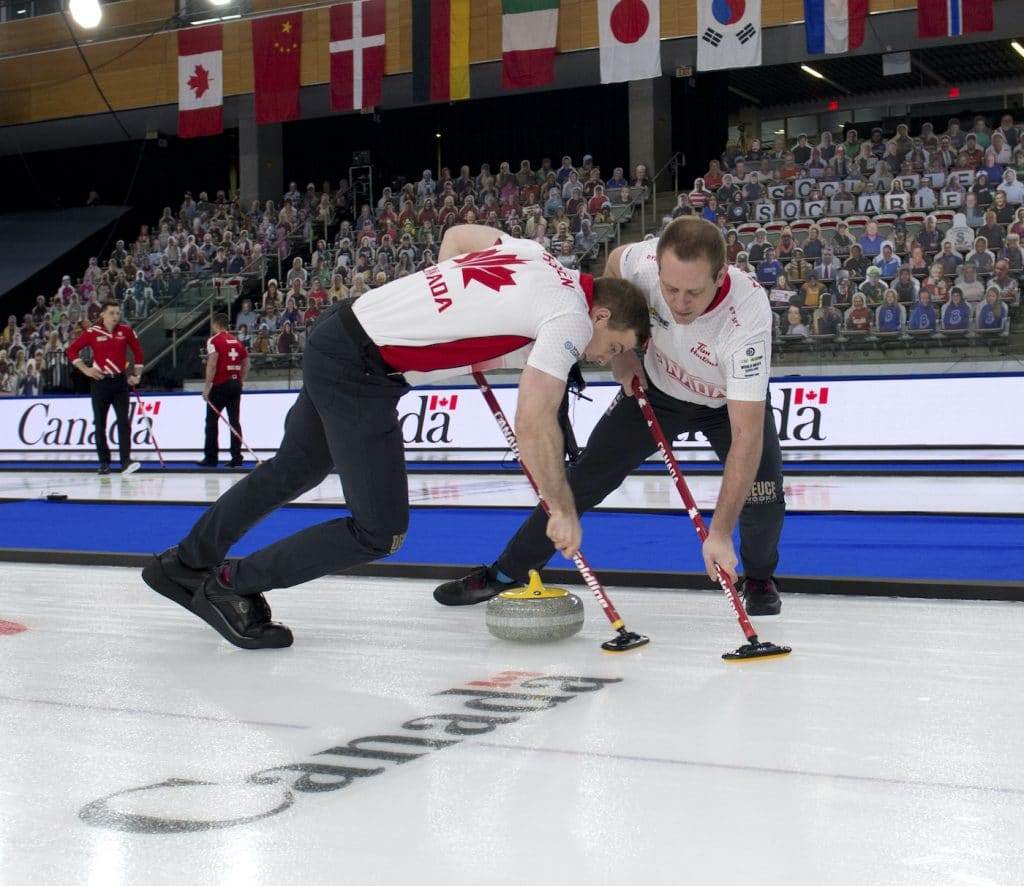 Team Canada closes round-robin schedule with win over Germany
Two jobs have been done, and one remains for Brendan Bottcher's Team Canada crew at the 2021 BKT Tires & OK Tire World Men's Curling Championship, presented by New Holland.
Bottcher's Edmonton team — he's backed up by vice-skip Darren Moulding, second Brad Thiessen, lead Karrick Martin, alternate Marc Kennedy, team support Patrick Janssen, team coach Don Bartlett and national coach Jeff Stoughton — clinched a playoff berth on Thursday night, and also secured a spot for a Canadian team at the 2022 Winter Olympics in Beijing by virtue of making the six-team playoffs.
Now, the focus is firmly on the medal podium — specifically the top step — as the playoffs get underway on Friday night at WinSport Arena at Canada Olympic Park in Calgary.
Canada closed out its round-robin assignments on Friday morning with a 9-6 win over Germany's Sixten Totzek (4-9) and will begin the sudden-death playoffs Friday at 9 p.m. (all times Eastern) against either Bruce Mouat of Scotland (9-4) or Peter de Cruz of Switzerland (8-5).
"You have to be proud of where you're at, but our work here isn't done, by any stretch," said Bottcher. "We need to go out there and play well. We certainly all have expectations, and we all have the drive to keep playing well in the playoffs, and I think there's no reason why we can't do that. We just have to stay calm and focused."
Canada's first-round opponent is dependent on the outcome of Friday afternoon's game between John Shuster's U.S. team (9-3) and Yeong-Seok Jeong of South Korea (2-10). A U.S. win would lock up third place in the standings and drop Canada to fourth, resulting in a matchup with fifth-place Scotland, with the U.S. playing sixth-place Switzerland Saturday at 11 a.m. Should the South Koreans prevail, Canada would finish third and play Switzerland Friday night, while the U.S. plays Scotland on Saturday morning.
The top two teams in the round robin — Sweden's Niklas Edin and RCF's Sergey Glukhov, both 10-2 — have first-round byes and go straight to the semifinals, set for 5 p.m. and 9 p.m. on Saturday.
The semifinal losers will play for bronze Sunday at 1 p.m., while the winners play for gold at 6 p.m. Sunday.
Canada, meanwhile, simply will focus on the task at hand — Friday's playoff opener.
"The preliminary round, there were a lot of tough games," said Thiessen. "But we learned a lot about the ice and the rocks. We learned a lot about the teams as well; we know whoever we play is going to give us a really good game. We've faced quite a bit of adversity this week, I think, so I think all of that is going to help us in the playoffs. I think we'll be ready to go."
"It's just awesome," added Bottcher. "We're out here playing our absolute hearts out, and I'm really proud of the guys for that. The last couple of days haven't been easy; we've had to play two really good teams and play quite well to get those last couple wins, and I think we have a little bit of momentum now and I hope we can carry that through into the game this evening. If we can keep playing well, I like our chances."
Based on the final two performances heading into the playoffs, Canada seems to be in good shape. In a must-win over Norway's Steffen Walstad on Thursday night, the Canadians shot 91 per cent as a team. Friday against Germany, they were at 90 per cent.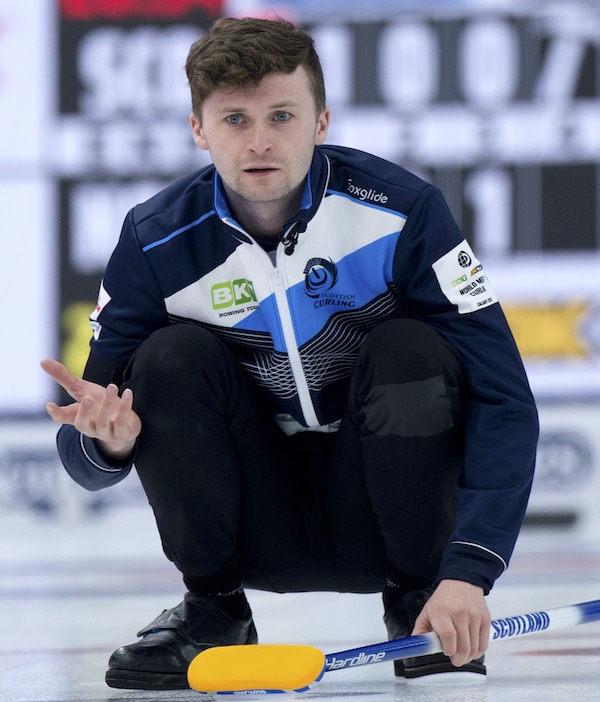 That's a similar performance trajectory to what they did as Team Alberta at the 2021 Tim Hortons Brier, presented by AGI, last month in the Calgary bubble, where they won their final four games — all must-win affairs — to claim their first Canadian championship.
"After a 13-game round robin, I think we've done about as much tinkering as can be done," said Bottcher. "At this point, we just have to settle in, stay calm, and hopefully bring our best here this evening. I've been really proud of the guys. We've built on quite a few things this week; there were a few things early that I thought we needed to tidy up, and we were able to accomplish that, so that's excellent."
In other action on Friday morning, Switzerland clinched its playoff spot with a 9-4 win over China's Qiang Zou (2-11), combined with Scotland's 7-6 win over Norway (7-6) that knocked Norway out of the playoff hunt. The Scots rallied from a 5-2 deficit through seven ends by cracking a four in the eighth end. Norway lost its final five games in the round robin.
In the other game, Italy's Joel Retornaz (6-6) was a 10-4 winner over Denmark's Mads Nørgaard (3-9).
RCF, Sweden, the United States, South Korea, Japan's Yuta Matsumura (6-6) and Jaap van Dorp of the Netherlands (2-10) all had byes on Friday morning.
Round-robin play at the 2021 BKT Tires & OK Tire World Men's Curling Championship concludes with Friday afternoon's draw at 4 p.m. (all times Eastern).
Live scoring, standings and statistics for the 2021 BKT Tires & OK Tire World Men's Curling Championship are available at worldcurling.org/events/wmcc2021?pageType=results
TSN and RDS2 will provide complete coverage of all Team Canada games at the 22021 BKT Tires & OK Tire World Men's Curling Championship. CLICK HERE for the complete schedule.
This story will be available in French as soon as possible at www.curling.ca/2021worldmen/nouvelles/?lang=fr