Bounceback for Canada!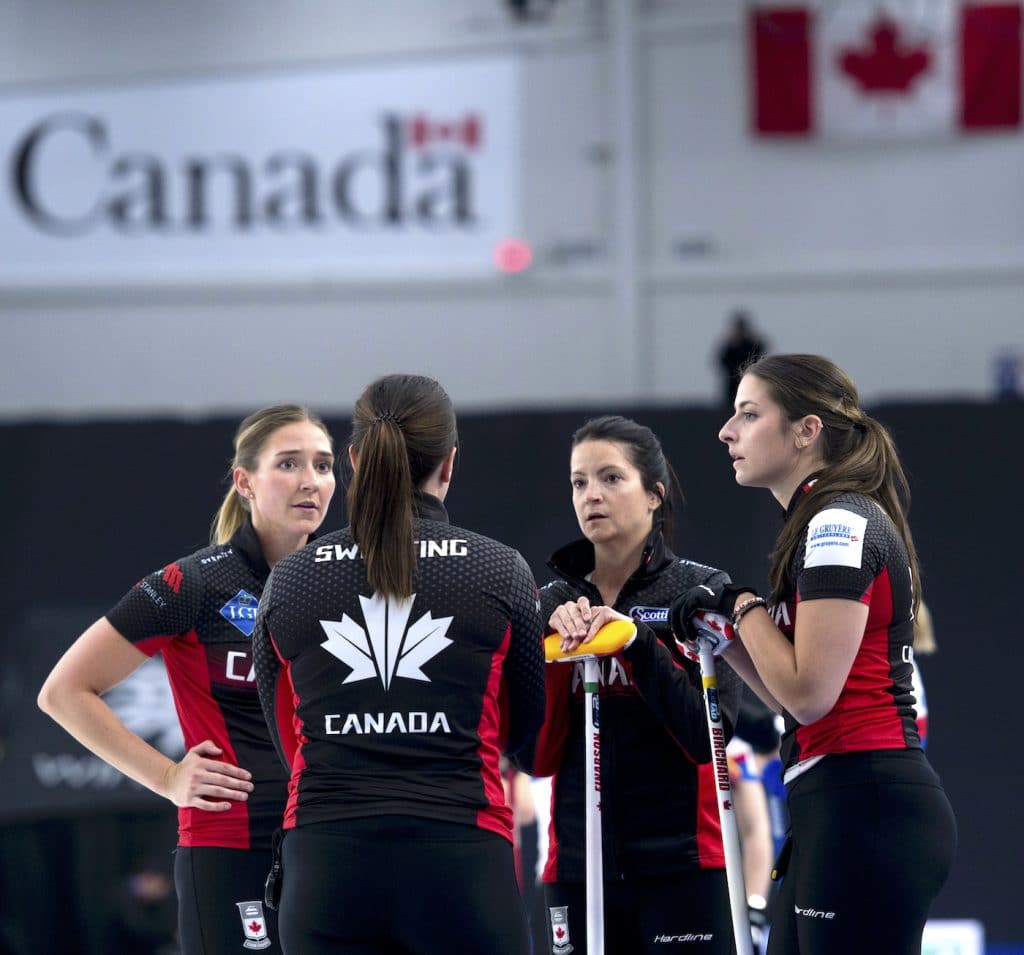 Canada topples Czechs to hit win column at World Women's
It didn't take long for Team Canada to get back its confidence after a tough Friday afternoon loss at the 2021 LGT World Women's Curling Championship, presented by BKT Tires.
Kerri Einarson's team from Gimli, Man., only had a couple hours to recover from losing to Sweden's Anna Hasselborg, who recorded steals in the ninth and 10th end for the victory.
But those two hours were evidently put to good use, as Canada cracked a three in the first end, another three in the third and, and cruised to a 9-2 win over the Czech Republic's Anna Kubešková (0-2) Friday night at WinSport Arena at Canada Olympic Park in Calgary.
The win left Einarson, vice-skip Val Sweeting, second Shannon Birchard, lead Briane Meilleur, alternate Krysten Karwacki, team coach Heather Nedohin and national coaches Elaine Dagg-Jackson and Renee Sonnenberg with a 1-1 record after the opening day of action.
"It was very important to come out with a good, solid game, and not let that loss this afternoon get us down," said Einarson. "We came out firing in this game, got some rocks in some great spots and put some pressure on them."
They did indeed, and Kubešková's team was in chase mode for just about the entire game, and they weren't helped by the fact that Einarson was scored at a blazing 95 per cent for the evening — not bad for a skip making her world championship debut.
"A lot of the teams have been here numerous times, and this is our first time," noted Einarson. "But we know what it takes and what we have to do for ourselves to play well. Just making sure that we're doing the small things that help us, and improve each and every game."
Even though Team Einarson entered the LGT World Women's Championship on a high note after winning the Pinty's Grand Slam Players' Championship last Sunday, they already have noticed the change in atmosphere in the bubble.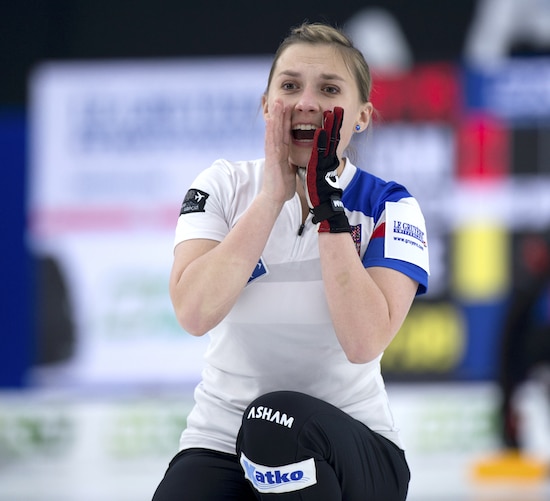 "We just came off two weeks that are pretty relaxed out on the ice in the Slams," said Birchard. "Obviously, things are a little bit more structured, high intensity, high pressure, so that's probably the biggest adjustment. I think we're right in there and doing everything we can out there."
Canada will have Saturday morning off before getting back on the ice with a pair of tough assignments: at 4 p.m. (all times Eastern) against Switzerland's Silvana Tirinzoni (2-0) and 9 p.m. against RCF's Alina Kovaleva (2-0).
"We have two big games coming up," said Einarson. "They're playing well, but so are we. We know what we need to do. We'll just focus on ourselves."
In other games, Scotland's Eve Muirhead (2-0) scored two in the seventh end and three more in the ninth to finish off a 10-5 win over Japan's Sayaka Yoshimura (1-1); RCF scored three in the 10th end for an 8-7 win over South Korea's Eunjung Kim (0-2); and a stolen fourth-end deuce proved pivotal as Germany's Daniela Jentsch (1-1) shaded Tabitha Peterson of the United States (0-2) 8-7).
Switzerland's Silvana Tirinzoni (2-0), China's Yu Han (1-0), Sweden (1-0), Denmark's Madeleine Dupont (0-1), Estonia's Marie Turmann (0-1) and Italy's Stefania Constantini (0-2) had byes on Friday night.
The 2021 LGT World Women's Curling Championship continues with draws Saturday at 11 a.m., 4 p.m. and 9 p.m. (all times Eastern).
Live scoring, standings and statistics for the 2021 LGT World Women's Curling Championship are available at worldcurling.org/events/wwcc2021?pageType=results
TSN and RDS2 will provide complete coverage of all Team Canada games at the 2021 LGT World Women's Curling Championship. CLICK HERE for the complete schedule.
This story will be available in French as soon as possible at www.curling.ca/category-all-posts-fr/?lang=fr