Tough loss in opener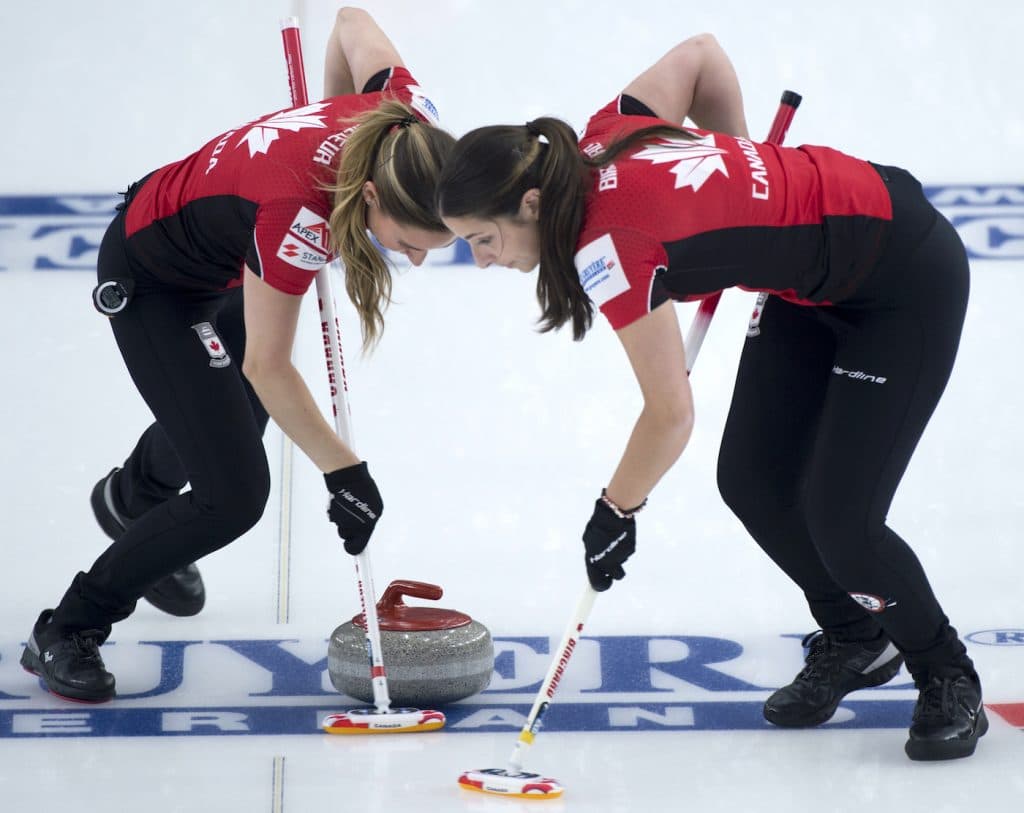 Canada falls short to Sweden to open World Women's
After 10 ends of back-and-forth curling between two of the finest women's curling teams on the planet, it's only fitting that it was decided by a couple centimetres.
And those centimetres favoured Sweden's Anna Hasselborg Friday afternoon at WinSport Arena at Canada Olympic Park, who stole points in the ninth and 10th ends for a 6-5 victory over Canada's Kerri Einarson in the opening game for both teams at the 2021 LGT World Women's Curling Championship, presented by BKT Tires.
Einarson's draw to cover the button with her final stone of the 10th end slid a couple of centimetres too far, allowing Sweden to steal the victory with its shot stone biting the side of the button.
It was a disappointing outcome for Einarson, vice-skip Val Sweeting, second Shannon Birchard, lead Briane Meilleur, alternate Krysten Karwacki, team coach Heather Nedohin and national coaches Elaine Dagg-Jackson and Renee Sonnenberg. The Canadians never trailed until the last stone of the game.
"We started off really strong and put some pressure on them early, and in the middle of the game, just missed a couple of key shots here and there," said Einarson. "But I still felt very in control in that last end and I wasn't worried."
Canada had opportunities early in the game to put a win in the bank. A first-end hit for three was just wide and Einarson's shooter rolled out of the rings, leaving Canada with a deuce to open the game.
But Einarson's team from Gimli, Man., did take a 4-1 lead through five ends with single points in the fourth and fifth ends before the Swedes cut into the lead with a deuce in the sixth.
In the ninth, leading 5-4 with last rock, Einarson had another shot at three — a delicate inturn tap on a mostly buried Swedish stone in the four-foot. But Einarson wrecked on a rock in the 12-foot and the Swedes stole one to tie the game, setting the stage for the 10th-end drama.
"I thought we played really great; we definitely can't get down," said Einarson. "I thought we played really well; we had an opportunity to win and just slid by, by literally an inch."
"We thought the speed was good; it just carried a bit more (than expected)," added Sweeting. "Kerri threw it really good; she threw it really good the whole game, and I thought it was a really good first game out there. We got caught a couple times, but I think we learned a lot. Ultimately, we had control in the end. But it's all good."
There were, in fact, many positives for the Canadians to take out of the opening showdown with Sweden, and they will look to build on those positives when they return to the ice later Friday at 9 p.m. (all times Eastern) to take on Anna Kubešková (0-1) of the Czech Republic.
"I think we got a good handle on the speeds; there were a couple spots where had some different results, but it was still a really good game overall," said Sweeting. "I thought Kerri read the ice really well and there were a lot of positives to carry forward after this quick turn-around."
It was, of course, a long-awaited opportunity for Team Einarson to play at the world championship after last year's event in Prince George, B.C., was cancelled in the early stages of the COVID-19 pandemic.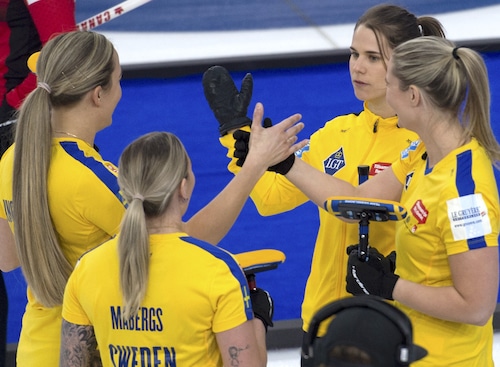 "It felt amazing to step onto the ice and finally get this opportunity to play on the world stage," said Einarson. "It's a long week, and we knew this game was going to be a big game. They played really well, they put some pressure on us, but we know we have to come back out and play well in our next one, too."
In other Draw 2 games, Switzerland's Silvana Tirinzoni (2-0) capped a perfect opening day with a 9-2 triumph over Italy's Stefania Constantini (0-1); China's Yu Han (1-0) toppled Estonia's Marie Turmann (0-1) 10-3; and Japan's Sayaka Yoshimura (1-0) was a 9-4 winner over Denmark's Madeleine Dupont (0-1).
Anna Kubeskova of the Czech Republic (1-0), RCF's Alina Kovaleva (1-0), Scotland's Eve Muirhead (1-0), Germany's Daniela Jentsch (0-1), South Korea's Eunjung Kim (0-1) and Tabitha Peterson of the United States (0-1) all had afternoon byes.
Live scoring, standings and statistics for the 2021 LGT World Women's Curling Championship are available at worldcurling.org/events/wwcc2021?pageType=results
TSN and RDS2 will provide complete coverage of all Team Canada games at the 2021 LGT World Women's Curling Championship. CLICK HERE for the complete schedule.
This story will be available in French as soon as possible at www.curling.ca/category-all-posts-fr/?lang=fr