Canada back in the hunt!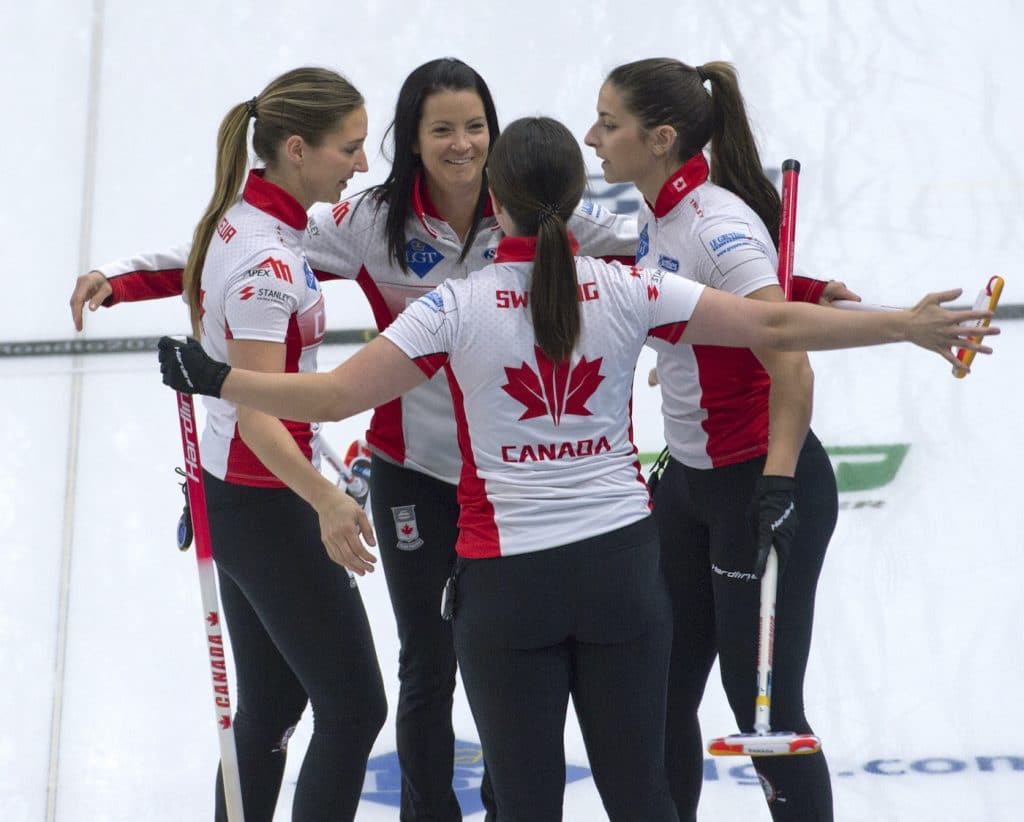 Team Canada finds its form to beat Scotland at World Women's
Don't look now, but Team Canada is getting on a roll at the 2021 LGT World Women's Curling Championship, presented by BKT Tires.
Left for dead in the standings by many after a 1-5 start at WinSport Arena at Canada Olympic Park in Calgary, Kerri Einarson and her team from Gimli, Man., find themselves on a three-game win streak — the latest win coming Tuesday night, a nailbiting 6-5 extra-end win over Scotland's Eve Muirhead (5-3).
With the victory, Einarson, vice-skip Val Sweeting, second Shannon Birchard, lead Briane Meilleur, alternate Krysten Karwacki, team coach Heather Nedohin and national coaches Elaine Dagg-Jackson and Renee Sonnenberg improved to 4-5 and are firmly in the race for one of the six available playoff positions.
Important in the standings, important for the confidence — just all-around important, said Einarson.
"Well, it kept us alive," said Einarson with a smile. "We're still kicking. We desperately needed it. We came out and played — even in the first few ends, we had them and they made some really great shots. But we turned the tables in eight, made some really great shots and they got unfortunate on some runbacks, and we capitalized on those mistakes."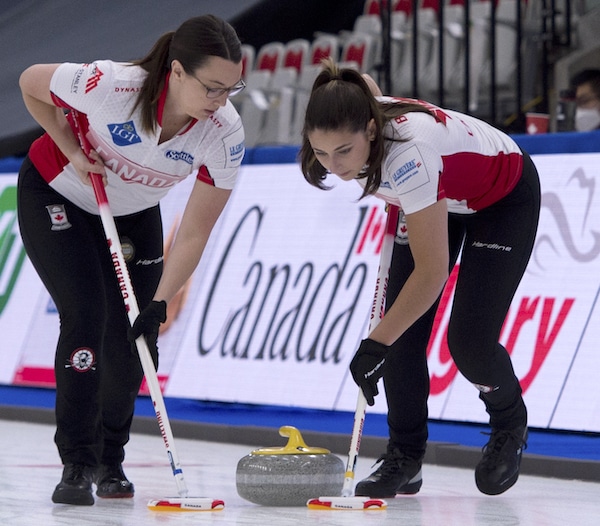 That eighth end was the difference, as Einarson noted. Trailing 3-2 and with the Scots holding last rock, Team Canada was sitting first, third and fourth shot, all in the four-foot circle, with the Scots laying second at the side of the button.
After a timeout, the team agreed to throw a guard. But as she settled in the hack, Einarson changed her mind, electing to throw a tap to push the Scottish stone back and sit four. Thanks to a brilliant sweep by Meilleur, the shot was made, and Muirhead's Hail Mary takeout could only remove one Canadian stone, resulting in a Canadian steal of three.
"I knew we needed a big steal. One would have been huge, but when I got in the hack and saw that she could play a double (raise takeout), I was like, no, we can't leave her that because she's going to make it," said Einarson. "You want to make them think of a couple options. I was confident in putting down that broom, my sweepers managed it absolutely perfect, and it was definitely the turning point in that game."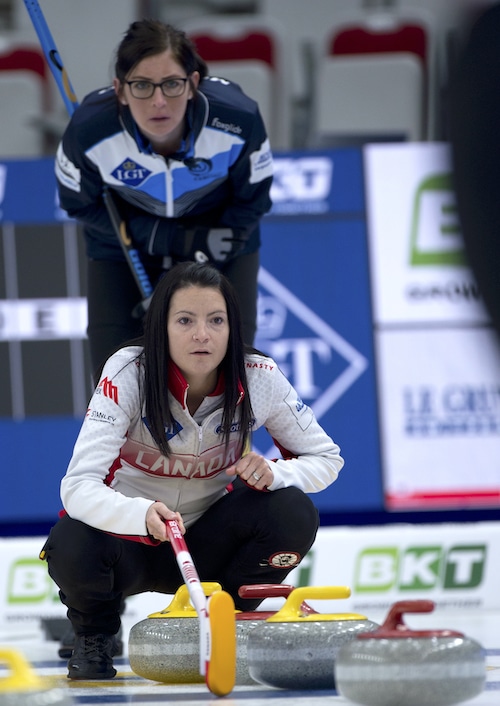 The Scots managed to force an extra end, taking one in the ninth and stealing one in the 10th when Einarson was wide on her open takeout for the win. But Canada played a textbook 11th and Einarson made a precise pick on a Scottish shot rock for the win.
The winning feeling is back, and so is the confidence, says Birchard.
"It's night and day, honestly," she said. "We've continued to climb back to where we want to be. We had some dark days, but sticking together as a unit, as a family, here in the bubble, helped us get out of it. Now we're ready for the last few, and ready to push on."
Canada will play just once on Wednesday, at 11 a.m. (all times Eastern) against Estonia's Marie Turmann (1-7).
In other games Tuesday night, Switzerland's Silvana Tirinzoni needed just six ends to beat Anna Kubešková of the Czech Republic (2-6) 9-1; Italy's Stefania Constantini (2-7) cruised to an 11-5 win over Estonia; and Tabitha Peterson of the United States (6-3) doubled Yu Han of China (4-4) 6-3.
RCF's Alina Kovaleva (8-0), Sweden's Anna Hasselborg (6-1), Denmark's Madeleine Dupont (3-4), Germany's Daniela Jentsch (3-5), South Korea's Eunjung Kim (3-5) and Japan's Sayaka Yoshimura (2-5) all had byes on Tuesday night.
The 2021 LGT World Women's Curling Championship continues Wednesday with draws at 11 a.m., 4 p.m. and 9 p.m. (all times Eastern).
Live scoring, standings and statistics for the 2021 LGT World Women's Curling Championship are available at worldcurling.org/events/wwcc2021?pageType=results
This story will be available in French as soon as possible at www.curling.ca/category-all-posts-fr/?lang=fr