Four-game win streak!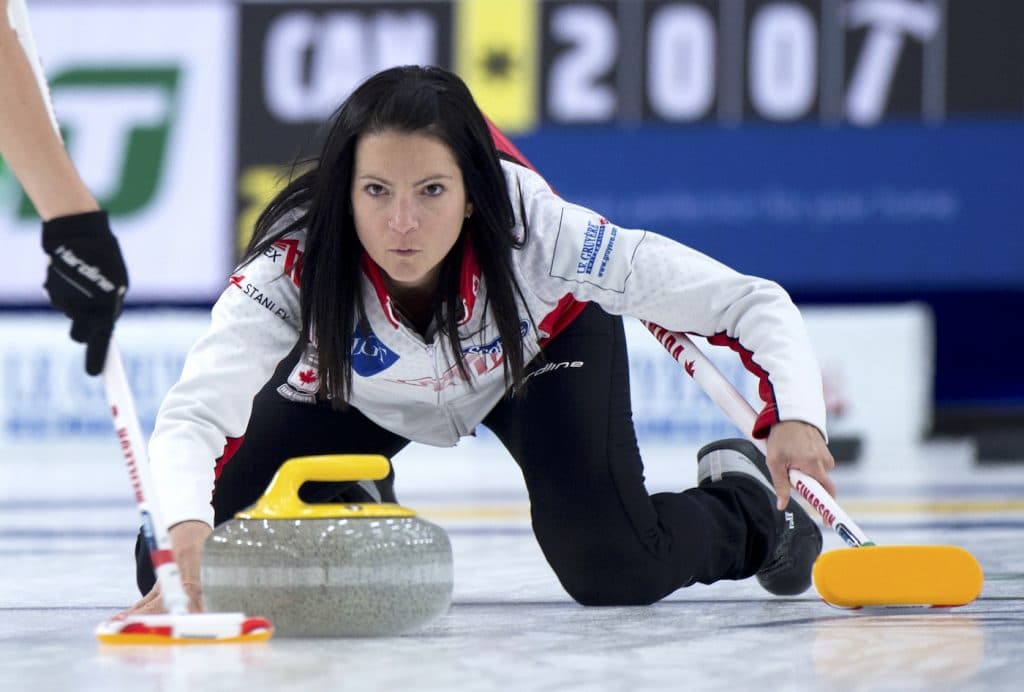 Canada charges back to the .500 plateau at World Women's
What a difference 48 hours make.
Two days ago at WinSport Arena at Canada Olympic Park in Calgary, Team Canada was stepping off the ice following a disheartening 6-2 loss to Germany's Daniela Jentsch in the Monday morning draw at the 2021 LGT World Women's Curling Championship, presented by BKT Tires. The loss dropped Canada's record to 1-5, tied for 12th place in the 14-team standings, and the outlook was gloomy.
Wednesday, almost exactly 48 hours after that setback, it was a charged-up Canadian team coming off the ice, 10-4 winners over Estonia's Marie Turmann (1-8), riding a four-game win streak and in sole possession of sixth place in an event in which the top six will not only make the playoffs but secure berths for their countries in the 2022 Winter Olympics in Beijing.
Skip Kerri Einarson, vice-skip Val Sweeting, second Shannon Birchard, lead Briane Meilleur, alternate Krysten Karwacki, team coach Heather Nedohin and national coaches Elaine Dagg-Jackson and Renee Sonnenberg now hold a 5-5 record, and with the rest of Wednesday off for some R&R, the doom and gloom of Monday around lunchtime has been long forgotten.
"It feels good; we have some work to do, still, but I'm really proud of where we are right now," said Meilleur. "We have some games left, and we can keep bringing that good vibe into the next game."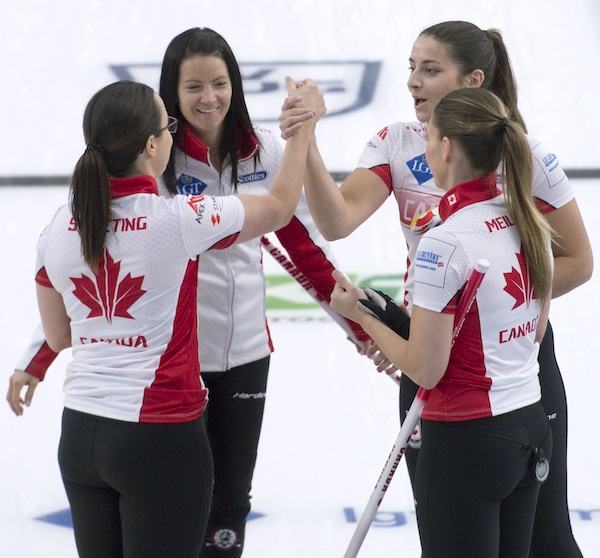 After an emotional win over Scotland's Eve Muirhead on Tuesday night, it perhaps wasn't a surprise that Canada had a slow start against a country that is making its world women's championship debut.
Estonia led 3-2 through four ends, stealing a pair in the fourth, and Canada could only manage a single in the fifth as Einarson was short on her draw for two.
But as has been the case in the four straight wins, Canada turned up the heat after the fifth-end break. A steal of one in the sixth gave Canada the lead and they stole two more in the seventh, and put the win in the bank in the ninth on a draw for four from Einarson.
Even during the struggles of that 1-5 start, Einarson felt the team was still in the mix.
"We were always so close. All the games we lost, we didn't play badly," said Einarson. "So we knew we weren't far off. We just had to capitalize on our opportunities when we got them. And that's what we've been doing — just taking that extra second in the hack and really thinking of where our tolerance is. We just feel more dialled in right now."
"It wasn't like we were fighting a losing battle out there," added Meilleur. "We know how to win games; we just had to do that for the rest of the event. I think we've been doing a good job so far, but hopefully we can finish it off in the last bit here."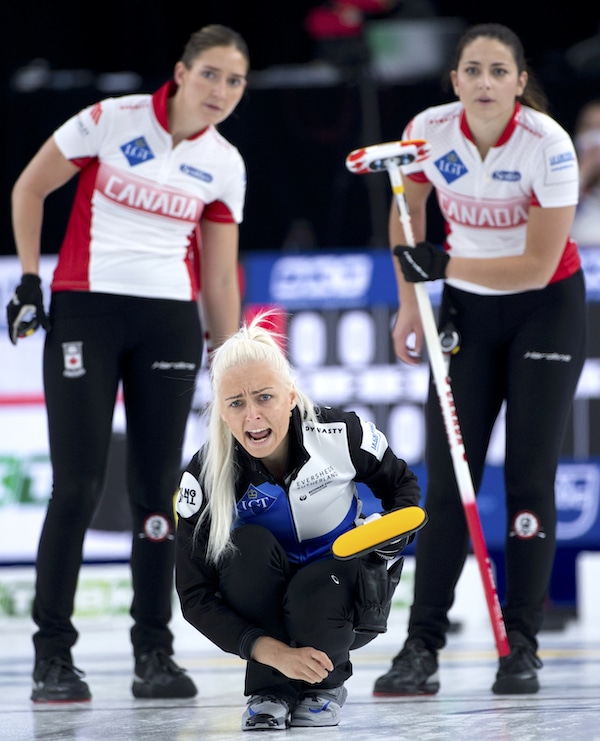 The support from their families, their fans, and their Canadian curling peers has had a positive effect on the team during its rally.
"It's a gruelling long week; we've been in the bubble for a long time, but I'm so thankful for my teammates, coach, Curling Canada, everyone who's supporting us — this is our family in here and we're supporting each other in every way possible," said Einarson. "Taking it one day at a time, one game at a time, and it's been a lot of fun."
Canada will be back in action on Thursday with games at 11 a.m. (all times Eastern) against Denmark's Madeleine Dupont (4-4) and at 4 p.m. against Japan's Sayaka Yoshimura (2-6) before closing out round-robin play on Friday at 11 a.m. against China's Yu Han (4-4).
As for the rest of the day Wednesday?
"We'll go back and relax," said Einarson. "Maybe sit on the balcony, maybe get a tan — just enjoy the fresh air. And definitely get some rest because these girls need it. They have been absolute beasts out there. They've been giving it their all, from throwing to sweeping — everything."
In other Wednesday morning games, RCF's Alina Kovaleva (9-0) won her ninth straight game, holding off Sweden's Anna Hasselborg (6-2) 10-8; Germany (4-5) needed a rare 12th end to defeat Japan 7-6; and Denmark turned back South Korea's Eunjung Kim (3-6) 6-4.
Switzerland's Silvana Tirinzoni (7-1), Tabitha Peterson of the United States (6-3), Scotland (5-3), China, Anna Kubešková of the Czech Republic (2-6) and Italy's Stefania Constantini (2-7) all had byes on Wednesday morning.
Broadcasting of the event is still on hold as the World Curling Federation and Alberta Health assess testing results of the broadcast production unit. Further announcements will be made by the World Curling Federation.
The 2021 LGT World Women's Curling Championship continues Wednesday with draws at 4 p.m. and 9 p.m. (all times Eastern).
Live scoring, standings and statistics for the 2021 LGT World Women's Curling Championship are available at worldcurling.org/events/wwcc2021?pageType=results
This story will be available in French as soon as possible at www.curling.ca/category-all-posts-fr/?lang=fr