Another step closer!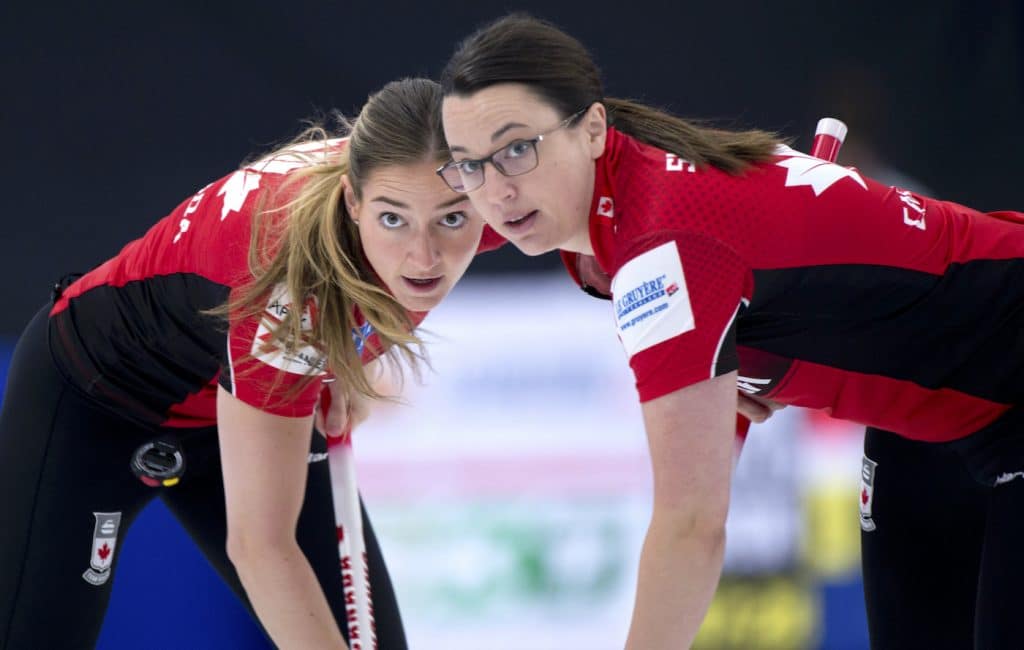 Team Canada stretches win streak to five at World Women's
A five-game win streak has Canada's Kerri Einarson team closing in on a coveted playoff berth at the 2021 LGT World Women's Curling Championship, presented by BKT Tires.
Einarson's team from Gimli, Man., continued its winning ways on Thursday morning at WinSport Arena at Canada Olympic Park in Calgary, turning back Denmark's Madeleine Dupont (5-5) 10-8.
With the victory, Einarson, vice-skip Val Sweeting, second Shannon Birchard, lead Briane Meilleur, alternate Krysten Karwacki, team coach Heather Nedohin and national coaches Elaine Dagg-Jackson and Renee Sonnenberg improved to 6-5 and now have sole possession of the sixth and final playoff berth in the 14-team round-robin standings.
The 1-5 start to this championship has been long forgotten, said Nedohin after the win.
"A lot of heart, a lot of grit. They are putting all of that out there on every shot," said Nedohin. "I wish you could see what Renee and I are seeing (from their seats behind the scoreboard) — it's all heart. The more I get to know these girls, (I see) they're determined to lay it all on the line, and I think that's what's so impressive with these ladies. We know we're in the 'C' event of a little bonspiel, and we know we have to win. They're playing with all their heart."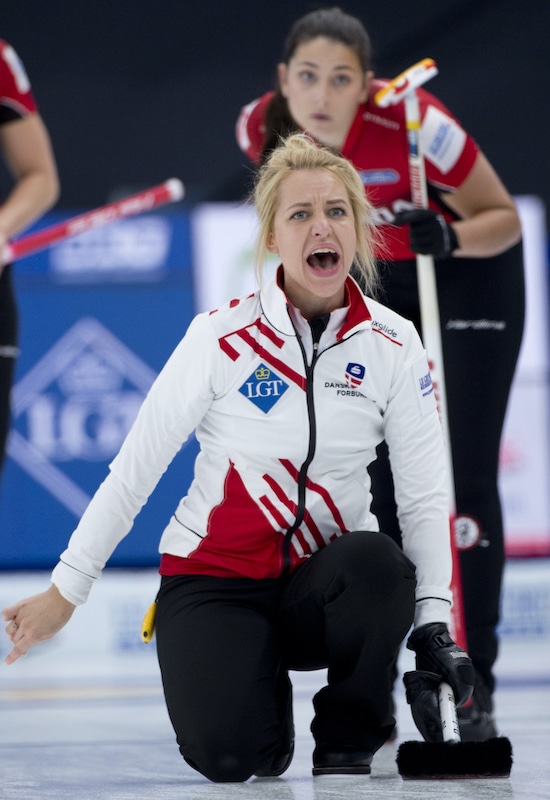 That was never more evident than during a wild first half of Thursday morning's game. The Danes, who like Canada were on a four-game win streak coming into the game, scored three-enders in both the first and third ends, sandwiched around a marvellous five from Canada in the second.
"There were a lot of great shots made out there, and a lot of pressure shots," said Einarson. "Giving up that three early kind of stunk, but we came back and responded with a five. It was back and forth, it was a battle.
"We just kept fighting out there, battling, giving it all our all. Even when we gave up that second three, we were like, 'Nope. It's still early. We don't give up. Just keep battling and doing our thing out there, and the results will come.' "
They did indeed, and it was largely thanks to the recent trend of Canada ramping up its game after the fifth-end break. The Canadians closed out the first half with singles in the fourth and fifth ends, gave back a deuce in the seventh, and then Einarson made the shot of the game in the eighth. The Danes had shot rock buried behind a centre guard on the button, roughly a foot in front of a Canadian stone. All Einarson had was a 14-foot angle-raise, which she made to perfection for a go-ahead deuce.
"Oh you mean the Bruce Mouat shot?" said a smiling Einarson, referring to a similar shot made by the Scottish skip to beat Brad Gushue in the semifinal of the Grand Slam Champions Cup. "Actually I thought about that in my head. I was like, 'If Bruce can do it, I can do it, right?' That was my only shot. Sometimes when it's your only shot, you'll make it. I threw it really well, and no one touched it. I think that was a big game-saver."
Canada would steal one in the ninth the Danes conceded in the 10th.
Canada is back in action Thursday at 4 p.m. (all times Eastern) against Japan's Sayaka Yoshimura (3-7), and will complete its round-robin slate Friday at 11 a.m. against China's Yu Han (4-6).
In other Thursday morning games, Switzerland's Silvana Tirinzoni (9-1) took over first place in the standings and qualified for the playoffs with an 8-6 win over RCF's Alina Kovaleva (9-2), who already has a playoff spot locked up; Japan toppled Italy's Stefania Constantini (2-9) 8-2; and South Korea's Eunjung Kim 5-6) rolled to a 7-1 win over China.
Sweden's Anna Hasselborg (7-2), Tabitha Peterson of the United States (7-4), Scotland's Eve Muirhead (6-4), Germany's Daniela Jentsch (5-5), Anna Kubešková of the Czech Republic (3-7) and Estonia's Marie Turmann (1-9) had byes on Thursday morning.
The 2021 LGT World Women's Curling Championship continues with draws Thursday at 4 p.m. and 9 p.m. (all times Eastern).
Live scoring, standings and statistics for the 2021 LGT World Women's Curling Championship are available at worldcurling.org/events/wwcc2021?pageType=results
Broadcasting of the event is still on hold as the World Curling Federation and Alberta Health assess testing results of the broadcast production unit. Further announcements will be made by the World Curling Federation.
This story will be available in French as soon as possible at www.curling.ca/category-all-posts-fr/?lang=fr