Sights set on Mixed Doubles!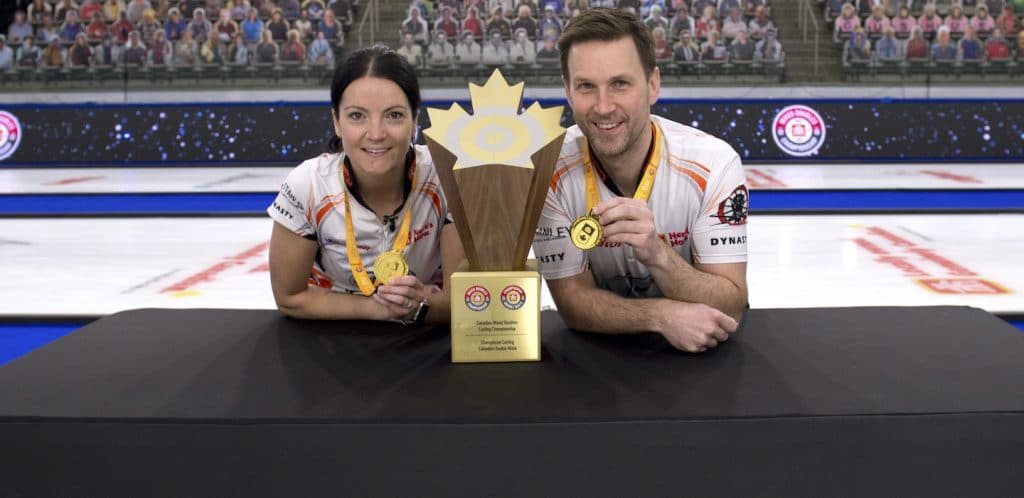 Einarson and Gushue on the hunt for Canada's first gold at World Mixed Doubles
The 2021 calendar has flipped into May, but one major curling championship is still on the upcoming schedule. Curl Aberdeen in Scotland will host the 2021 World Mixed Doubles Curling Championship. Canada's Kerri Einarson and Brad Gushue aim to do something that a Canadian duo has never accomplished – win a mixed doubles world title.
Einarson of Camp Morton, Man., and Gushue of St. John's, N.L., earned the right to represent Canada by winning the 2021 Home Hardware Canadian Mixed Doubles Championship, presented by Nature's Bounty, the third of seven events staged in Calgary's curling bubble, in late March. The duo has its sights set on becoming the first Canadian team to earn gold in the event's 12-year history, which gets underway Monday.
Coaches Scott Pfeifer and Heather Nedohin are in Aberdeen supporting the team. Pfeifer is the national mixed doubles program coach, and Nedohin is finishing her first year as the coach of Einarson's four-player team. Nedohin joining the team creates gender equity within Curling Canada's national mixed doubles team.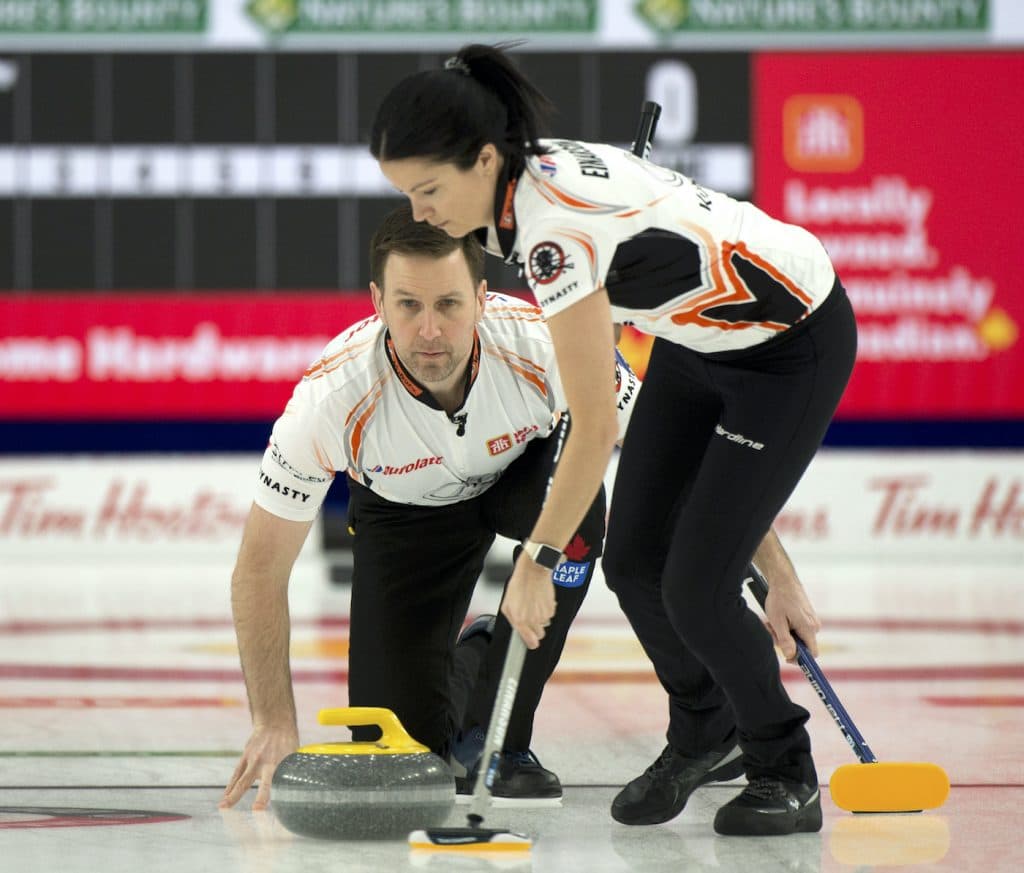 As was the case at the BKT Tires & OK Tire World Men's Curling Championship, presented by New Holland, and LGT World Women's Curling Championship, presented by BKT Tires, Olympic qualification spots are on the line next week in Scotland. The top seven teams will qualify their nation for the mixed doubles discipline at the 2022 Olympic Winter Games in Beijing. In a situation where China finishes within the top seven, the eighth-ranked team will qualify because China has earned its spot as the host nation.
Canada has earned three consecutive trips to the podium over the past three world mixed doubles events (silver in 2017 [Joanne Courtney/Reid Carruthers], bronze in 2018 [Laura Walker/Kirk Muyres], silver in 2019 [Jocelyn Peterman/Brett Gallant]). Still, a spot in the top three would be a well-earned accomplishment by Einarson/Gushue in the most concentrated and talented 20-team field in the history of the event. The event was formerly an open-entry event and had 48 entries in 2019. The 2020 event, scheduled for Kelowna, B.C., was cancelled due to the Covid-19 pandemic.
There are two groups of 10 teams. Each team plays nine round-robin games, with teams vying for one of six available playoff spots.
There are numerous talented mixed doubles duos in the running at the world championship. Some curling fans will be familiar with after watching them compete in Calgary's curling bubble, while other teams are mixed doubles specialists that are bound to make an impact at the event.
Within Canada's pool, Einarson and Gushue will prepare for some big games on the docket, including against host nation Scotland represented by Jennifer Dodds and Bruce Mouat. Dodds played second for Scotland's Eve Muirhead at the recently finished world women's championship. Mouat is coming off an incredible run in Calgary with a world men's silver medal and winning both Grand Slam of Curling events, the Players' Championship and Champions Cup.
Other notable games within Canada's group, Pool A, include Tahli Gill/Dean Hewitt of Australia. The Australian duo was one win away from a bronze medal in 2019, losing the game to the United States in an extra end. Canada also faces Hungary's Dorottya Palancsa/Zsolt Kiss, the 2013 and 2015 world mixed doubles gold-medallists and perennial playoff contenders.
Canada also faces Spain (Oihane Otaegi/Mikel Unanue), Germany (Pia-Lisa Schoell/Klaudius Harsch), South Korea (Ji Yoon Kim/Si Woo Moon), Italy (Stefania Constantini/Amos Mosaner), Czech Republic (Zuzana Paulova/Tomas Paul) and RCF (Anastasia Moskaleva/Aleksandr Eremin).
With the country of Russia serving a two-year World Anti-Doping Agency ban, Moskaleva/Eremin's team is formally listed as representing RCF.
Pool B contains a slate of talented teams that could potentially face Canada come playoffs, including Norway's Kristin Skaslien/Magnus Nedregotten (2018 Olympic bronze-medallists), Sweden's Almida De Val/Oskar Eriksson (Eriksson is one half of the reigning mixed doubles champion and coming off a 2021 world men's gold-medal win this season), Switzerland's Jenny Perret/Martin Rios (2017 world champions, 2018 Olympic silver-medallists), and Tabitha Peterson/Joe Polo of the United States (Peterson skipped the U.S.A. to bronze at the 2021 world women's championship).
The top team in each pool advances to the semifinals, and the second and third-place teams in each pool will cross over and play in qualification games. Winners of the semifinal games advance to the gold-medal game, and losing teams will compete for the bronze medal.
Here's a look at Canada's schedule (all times ET):
May 17
vs. Spain (12:30 p.m.)**
May 18
vs. Germany (4 a.m.)
vs. Hungary (11 a.m.)**
May 19
vs. Australia (4 a.m.)
vs. South Korea (11 a.m.)*
May 20
vs. Italy (7:30 a.m.)
vs. Scotland (2:30 p.m.)*
May 21
vs. Czech Republic (7:30 a.m.)*
vs. RCF (2:30 p.m.)*
May 22
Qualification games (5 a.m.)*
Semifinal (11 a.m.)*
Semifinal (2:30 p.m.)*
May 23
Bronze-medal game (5 a.m.)*
Gold-medal game (10 a.m.)*
*Game to be broadcasted on TSN/RDS2
** Game to be broadcasted on World Curling TV
TSN/RDS 2, the official broadcast partners of Curling Canada's Season of Champions, will provide live coverage of select Canada round-robin games, in addition to all playoff games. CLICK HERE for their complete broadcast schedule.
The list of teams, schedule information and live scoring can be found on the event website, https://worldcurling.org/events/wmdcc2021.