Debut victory!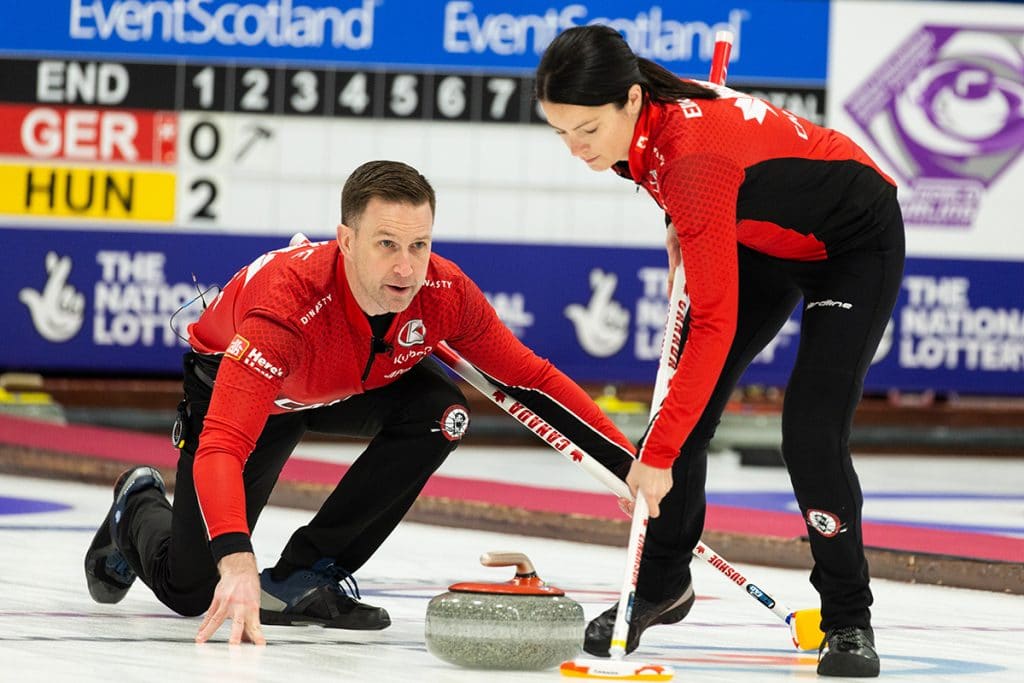 Canada's Einarson and Gushue steal victory from Spain at 2021 World Mixed Doubles Curling Championship
Canada's Kerri Einarson and Brad Gushue came back from a four-point deficit to steal an 8-6 win from Spain in its first game at the 2021 World Mixed Doubles Curling Championship at Aberdeen, Scotland.
Einarson (Camp Morton, Man.), Gushue (St. John's, N.L.) and coaches Scott Pfeifer and Heather Nedohin managed a steal of two in the eighth end for the win against Spain's Oihane Otaegi and Mikel Unanue on Monday. It was Canada's first lead in the game at Curl Aberdeen, where Einarson and Gushue had to play catch-up from the opening end.

"I thought the Spanish team played really well early, and we didn't get the ends set up to start. But they played a really good couple of ends in the first two ends…and we started to execute a whole lot better in the last six ends of the game," Gushue said.
Spain is an untraditional nation at the four-player game but is a staple in the mixed doubles discipline, having competed at every world mixed doubles championship since the first one in 2008 and won a bronze medal in 2014.
Otaegi and Unanue dealt Canadians a big blow in the first two ends, stealing three points to open the game due to a failed raise attempt from Canada on the last shot. Spain widened the lead in the second end with a steal of one.
"I struggled a little bit early just trying to figure out some of the paths, and once I got a handle on that and started making my first shot that made Brad's shots maybe a little easier," Einarson said.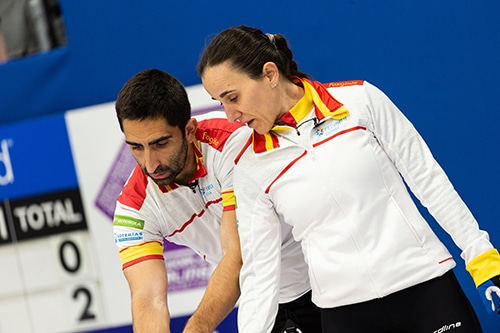 Einarson and Gushue showed signs of life in the third end, capitalizing on a missed draw from Spain and had a shot for three with the last shot. However, Einarson was forced to play a wide path to the button and was light, keeping Canada to two points.
By the fourth-end break, Spain tacked another point and had a 5-2 lead halfway through the game.
Canada erased the four-point deficit from the start of the game by the fifth end. Spain's Otaegi was light on her final shot of the end, a freeze attempt, and it left Einarson with an open hit for three to tie the game.
The teams used their power plays in the sixth and seventh ends, and each scored a point. However, Canada saw an opportunity for three in the seventh shrink to a single point.
Einarson and Gushue had a choice of playing a hit for three or a draw for two. The duo elected for the hit, which over-curled and clipped a guard into the house, removing Canada's second shot and leaving them with just a score of one and a 6-6 tie heading into the final end without hammer.
"I was just a little bit snug [on the line], but I couldn't hold it out there. It was really close for whose shot was second and in hindsight maybe I should have drawn for two," Einarson said.
Gushue agreed that, in hindsight, the draw would have been the right call this early into the event as the Canadian team gets more comfortable with the rocks and ice.
"I think later in the week, when we know what that spot is doing, it's a whole lot easier of a shot, but we were kind of guessing on the ice," he said.
Canada must finish in the top seven to qualify for the mixed doubles discipline at the 2022 Olympic Winter Games in Beijing. Einarson most recently accomplished the feat in the women's field by leading her team to a playoff appearance at the 2021 LGT World Women's Curling Championship, presented by BKT Tires.
"If we play the way we're capable of playing, then we should be okay. It's just doing everything we can to make sure we play to the best of our abilities," Gushue said. "A little scary start, but I thought the last six ends we were playing like we can play and how we did play at our Canadian championship."
Canada's next game is against Germany's Pia-Lisa Schoell and Klaudius Harsch on Tuesday at 4 a.m. (all times ET), followed by a game against Hungary's Dorottya Palancsa and Zsolt Kiss at 11 a.m, which will be broadcasted on World Curling TV's YouTube channel.
TSN/RDS 2, the official broadcast partners of Curling Canada's Season of Champions, will provide live coverage of select Canada round-robin games, in addition to all playoff games. CLICK HERE for their complete broadcast schedule.
For Team Canada updates, go to www.curling.ca. Follow us on Twitter, @curlingcanada.
For live scoring, standings and team lineups from the 2021 World Mixed Doubles Curling Championship, go to https://worldcurling.org/events/wmdcc2021
The French version of this story will be posted as soon as possible at www.curling.ca/?lang=fr