Strong effort from Canada!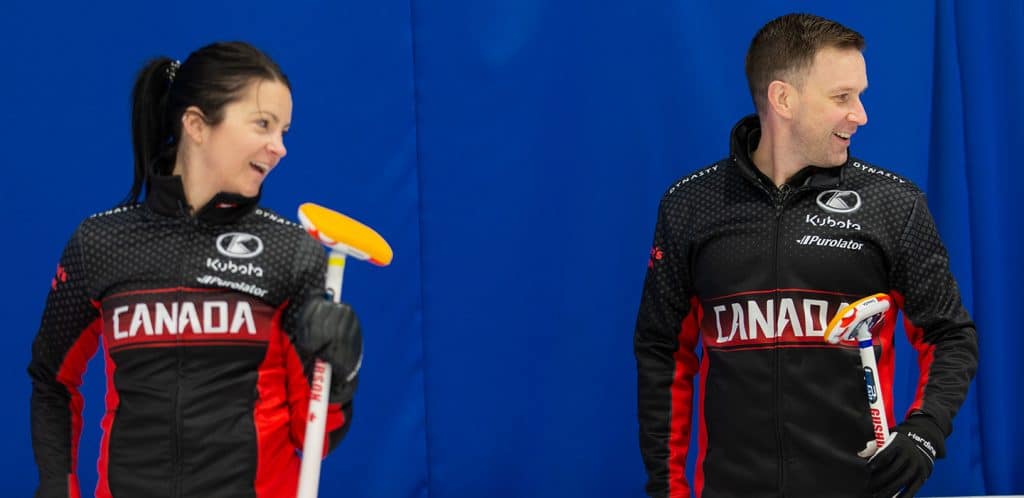 Canada with second-straight win at 2021 World Mixed Doubles
A strong start and finish was all it took for Canada to earn its second victory at the 2021 World Mixed Doubles Curling Championship in Aberdeen, Scotland. Canada defeated Germany 9-6 on Tuesday morning at Curl Aberdeen and improved to 2-0.
Unlike in their previous game, Canada's Kerri Einarson (Camp Morton, Man.) and Brad Gushue (St. John's, N.L.), with coaches Scott Pfeifer and Heather Nedohin, took control of the game from the get-go and didn't relent any of the pressure applied to Germany.
Canada started the game with the hammer and scored a deuce, followed by keeping Germany's Pia-Lisa Schoell and Klaudius Harsch (1-1) to a single point in the second.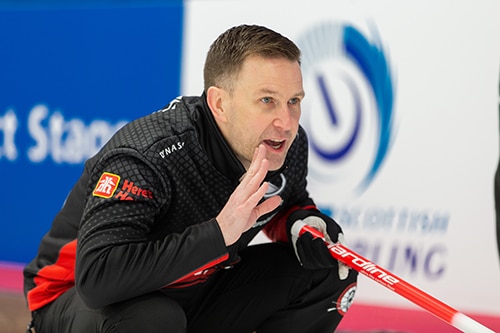 Einarson and Gushue increased the lead in the third end. Germany guarded its shot stone on the button with two Canadian counters surrounding it in the four-foot. Einarson and Gushue elected to play a double, hitting a German rock in the top 12-foot circle and rolling it perfectly into Germany's lone stone on the button to score three and take a 5-1 lead.
The big lead at the start of the game was the exact opposite of how Canada started its first round-robin game against Spain. In its first game, Canada scratched and clawed into the win column after falling behind 4-0.
"Team Canada got off to a much better start after being able to pick up on the ice in the earlier ends of this game. We maintained pressure on Team Germany, but they made some great runbacks to get back into the game," coach Pfeifer said.
Germany regrouped in the middle ends, scoring a deuce with the last rock in the fourth and took a 6-5 lead by stealing three in the fifth end. A missed takeout attempt by Gushue, combined with a missed draw from Einarson, resulted in the score of three and provided Germany with its first lead of the game.
But Canada remained resilient and efficient with its power play in the sixth end, scoring two on an open hit and taking the lead back. Germany attempted its own power play in the seventh, but Schoell's hit for one rolled out of the rings, and Canada stole another two points.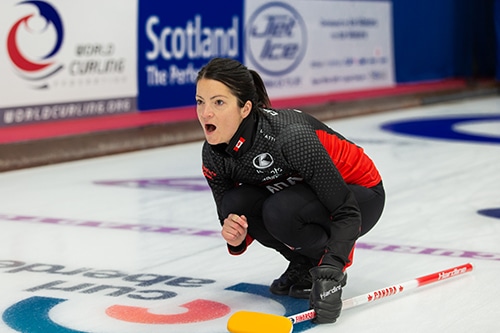 "Scoring a deuce in the sixth while using our power play gave us back control of the game on our way to a victory," Pfeifer said.
With a 9-6 lead heading into the final end, Canada ran Germany out of rocks for the win.
Canada's next game today is against Hungary's Dorottya Palancsa and Zsolt Kiss (1-1) at 11 a.m, which will be broadcasted on World Curling TV's YouTube channel.
TSN/RDS 2, the official broadcast partners of Curling Canada's Season of Champions, will provide live coverage of select Canada round-robin games, in addition to all playoff games. CLICK HERE for their complete broadcast schedule.
For Team Canada updates, go to www.curling.ca. Follow us on Twitter, @curlingcanada.
For live scoring, standings and team lineups from the 2021 World Mixed Doubles Curling Championship, go to https://worldcurling.org/events/wmdcc2021
The French version of this story will be posted as soon as possible at www.curling.ca/?lang=fr