A bounce-back win!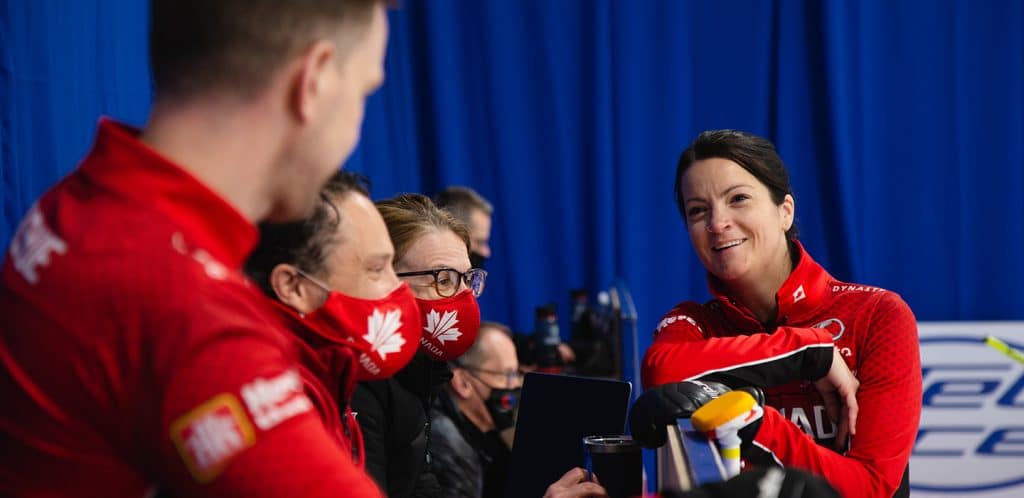 Canada finishes day with big win over South Korea at 2021 World Mixed Doubles Curling Championship
Canada's mixed doubles team capped its two-game day on Wednesday with an 8-3 win against South Korea at the 2021 World Mixed Doubles Curling Championship in Aberdeen, Scotland.
Canada's Kerri Einarson (Camp Morton, Man.), Brad Gushue (St. John's N.L.) and coaches Scott Pfeifer and Heather Nedohin have earned a combined 11 national men's/women's championships and four world men's/women's championships as players (no alternates).
Their opponents, South Korea's Ji Yoon Kim and Si Woo Moon, are 18 years old and have represented their country at the Youth Olympics Games in 2020.
But there's a particular equalizing element in the sport of mixed doubles curling. Those who are shooting well will not necessarily be running away with a game, and those who don't play as well can sometimes be one big shot away from stealing a game.
That seemed to the case for most of Canada's game against South Korea, but in the end, experience outplayed youth.
With the win, the Canadian team also let out a small sigh of relief as it bounced back from a loss earlier in the day against Australia.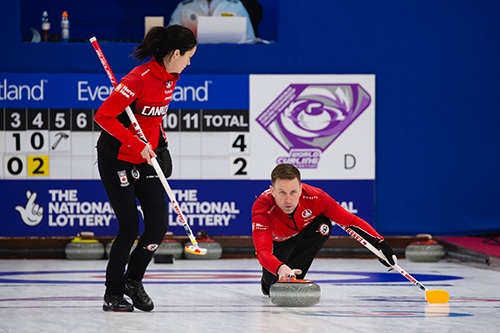 "It definitely feels good to bounce back from this morning. We made some really nice shots out there and put some pressure on them," Einarson said.
Canada opened the game with three consecutive scores in the first three ends, two in the first end followed by single steals in the second and third ends. South Korea fought back over the middle portion of the game. First, the team ran its power play in the fourth end and scored two. It also took advantage of a missed double by Canada in the fifth end to steal another point and only trailed by one.
But the experience of Einarson and Gushue prevailed during the final ends of the game. First, there was a score of three in the sixth end, set up by a superb double by Gushue and secured with a hit for three from Einarson.
South Korea offered handshakes after the seventh end when the team missed a raise attempt and gave up another steal.
"I missed a couple of shots there in the fifth end, which put us in trouble and then I was overly cautious on [Kerri's] line call on the last one, but I felt we both played a solid game and getting the three in the sixth kind of put that game away," Gushue said.
Canada's next two games on Thursday will be important ones against playoff contenders. Canada will play Italy's Stefania Constantini and Amos Mosaner (4-1) at 7:30 a.m (all times ET), and Scotland's Jennifer Dodds and Bruce Mouat (4-1) at 2:30 p.m., which will be broadcasted live on TSN.
"We've got a tough day ahead of us against two top teams tomorrow, so we wanted to make sure we got this one, which puts us in and 4-1, and now we're in pretty good shape," Gushue said.
TSN/RDS 2, the official broadcast partners of Curling Canada's Season of Champions, will provide live coverage of select Canada round-robin games, in addition to all playoff games. CLICK HERE for their complete broadcast schedule.
For Team Canada updates, go to www.curling.ca. Follow us on Twitter, @curlingcanada.
For live scoring, standings and team lineups from the 2021 World Mixed Doubles Curling Championship, go to https://worldcurling.org/events/wmdcc2021
The French version of this story will be posted as soon as possible at www.curling.ca/?lang=fr