Tough loss to Aussies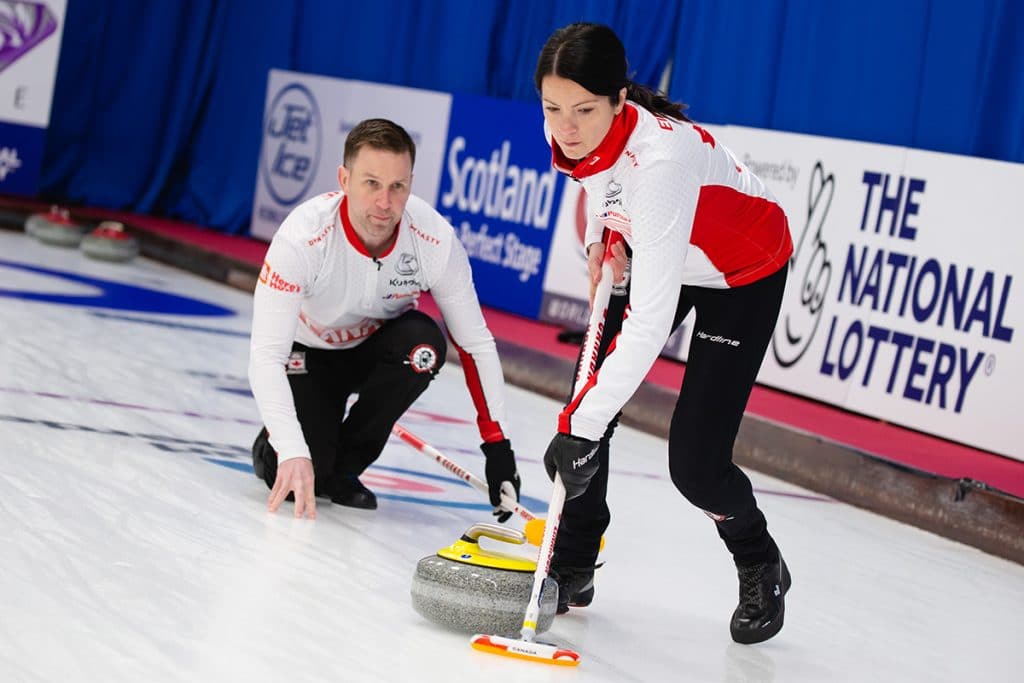 Australia serves Canada first loss at 2021 World Mixed Doubles Curling Championship
Canada's mixed doubles team was handed its first loss at the 2021 World Mixed Doubles Curling Championship in Aberdeen, Scotland. But Kerri Einarson and Brad Gushue were aided by some other results on the ice and remain in a tie for first place in Pool A.
Einarson (Camp Morton, Man.), Gushue (St. John's, N.L.) and coaches Scott Pfeifer and Heather Nedohin faced their first defeat on Wednesday morning at Curl Aberdeen in Scotland. Australia's Tahli Gill and Dean Hewitt defeated Canada 8-5 during their pool's fourth round-robin draw.
Australia was winless heading into the game, but that record is not evidence of what the Australians are capable of on the ice. At the last World Mixed Doubles Curling Championship in 2019, Gill and Hewitt took the competition by storm, advancing through the 48-team field to the bronze-medal game, which they narrowly lost in an extra end to the United States.
"Ultimately a tough loss for us because we realize that would have put us into a great position heading into the second half of the week. Full credit to Australia, though. They executed well on most of their shots and gave us our toughest game of the week so far," coach Pfeifer said.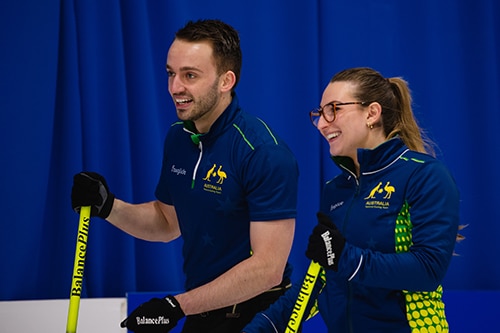 The teams exchanged scores of two for the first half of the game, entering the break tied at 4-4. Australia gained the upper hand in the fifth end after forcing Canada to take one point. Needing to seize the momentum Gill and Hewitt used their power play in the sixth end to play a relatively open strategy, resulting in a score of two and a 6-5 lead. But the most significant difference was still to come. In the seventh end on a Canadian power play, Australia forced Canada into a difficult raise attempt to score. The shot missed, and Australia had a two-point lead heading into the final end. Einarson and Gushue attempted to orchestrate a two-point end but couldn't muster it into fruition and Australia scored another point.
"Another strong start from Team Canada but couldn't manage to pull away from Australia after scoring 2 in the first end on a great draw by Kerri. We had a few missed chances to capitalize in the middle part of the game, leaving us two down playing the last end after a missed opportunity in the 7th power play end," Pfeifer said.
If there was an MVP named for this game, look no further than Australia's Gill. Her 89 per cent shooting average is outstanding for a mixed doubles game and can cause any opponent trouble when she's placing the first and last rocks of an end with that kind of efficiency.
The loss, while not ideal, was lessened by the end of the draw. Now at 3-1, Canada remains tied for first place in Pool A. Previously unbeaten Scotland lost to RCF 7-6, while the Czech Republic lost to Hungary 7-6. Both teams remain tied with Canada at 3-1 in the pool standings. However, Italy's mixed doubles team now joins the mix as a fourth team with a 3-1 record after defeating Germany this morning by score of 9-6. The top three teams advance to the playoffs.
Canada's next game is on Wednesday against South Korea's Ji Yoon Kim and Si Woo Moon (2-2) at 11 a.m. (ET), which will be broadcasted live on TSN.
TSN/RDS 2, the official broadcast partners of Curling Canada's Season of Champions, will provide live coverage of select Canada round-robin games, in addition to all playoff games. CLICK HERE for their complete broadcast schedule.
For Team Canada updates, go to www.curling.ca. Follow us on Twitter, @curlingcanada.
For live scoring, standings and team lineups from the 2021 World Mixed Doubles Curling Championship, go to https://worldcurling.org/events/wmdcc2021
The French version of this story will be posted as soon as possible at www.curling.ca/?lang=fr