Winning ways!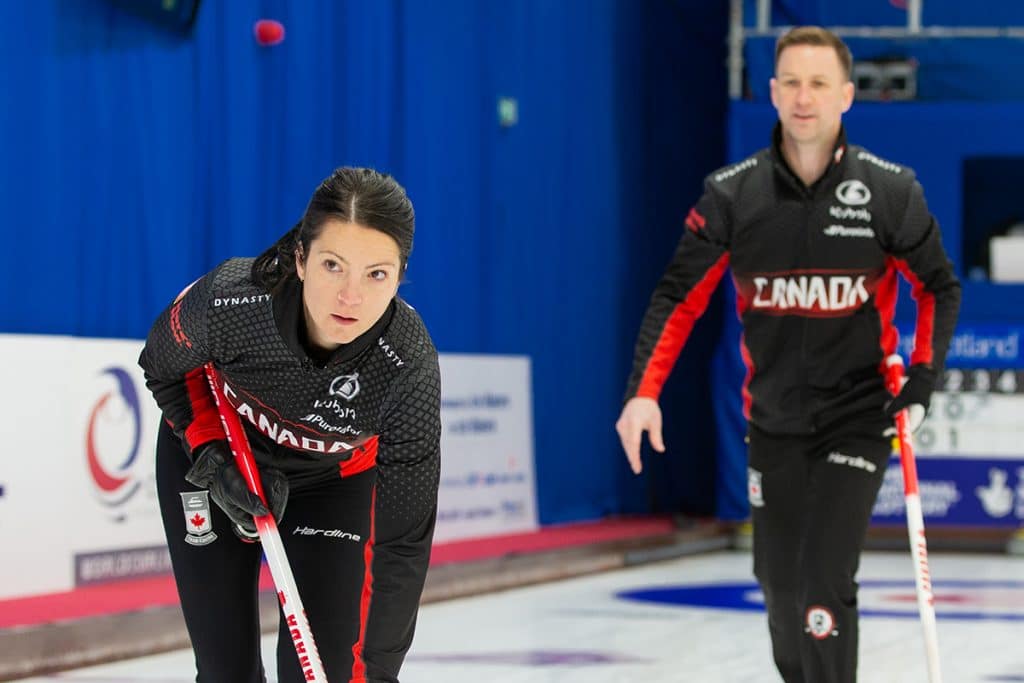 Canada comes back to best Italy at 2021 World Mixed Doubles Curling Championship
Canada battled its way to a significant 6-4 win against Italy on Thursday morning at the 2021 World Mixed Doubles Curling Championship in Aberdeen, Scotland.
Kerri Einarson (Camp Morton, Man.), Brad Gushue (St. John's, N.L.) and coaches Scott Pfeifer and Heather Nedohin picked up the crucial win against Italy's Stefania Constantini and Amos Mosaner at Curl Aberdeen.
The game had all the makings of a playoff game; two top teams played a quality game against each other with few mistakes. And while there would be no eliminations after this game, when both teams stepped on the ice they knew it would impact playoff positioning. With the teams tied at the top of the standings, Canada's win to improve to 5-1 will be a big benefit in any tie-breaking scenarios.
"There are no easy games here. They are making shots and putting pressure on us. We're having to do the same thing, and we've been doing that," Einarson said. "They were just so close here – they were perfect through the first four ends, so we just kept up the process and put the pressure on them. We're feeling really good. I've got my draw weight, and I'm feeling really confident out there and with the judging as well. This is all an adjustment – I don't do it very often, but my body is holding up alright!"
But a win wasn't always in the cards for the Canadians. After exchanging single points in the first two ends, Italy went on a run with back-to-back steals of one and a 3-1 lead at the fourth-end break. In the fifth end, both teams surrounded the four-foot, and by Einarson's final shot there were six rocks in the four-foot circle. She threw a hit-and-roll to score two and tie the game. In the sixth end, Einarson and Gushue stole a single point after Italy missed a double and provided Canada with its first lead of the game since the first end. Italy attempted to generate some offence in the seventh end by using the power play but were forced to one. This allowed Canada to use its own power play in the eighth end and score of two for the win after Italy failed to have shot rock after its last throw.
Constantini and Mosaner both represented Italy at their respective world men's and women's championships in Calgary's Hub City earlier this season.
Einarson and Gushue will now regroup for another important playoff-like game later today against Scotland's Jennifer Dodds and Bruce Mouat (5-1) at 2:30 p.m. (ET). TSN will broadcast the game live.
TSN/RDS 2, the official broadcast partners of Curling Canada's Season of Champions, will provide live coverage of select Canada round-robin games, in addition to all playoff games. CLICK HERE for their complete broadcast schedule.
For Team Canada updates, go to www.curling.ca. Follow us on Twitter, @curlingcanada.
For live scoring, standings and team lineups from the 2021 World Mixed Doubles Curling Championship, go to https://worldcurling.org/events/wmdcc2021
The French version of this story will be posted as soon as possible at www.curling.ca/?lang=fr