Playoff and Olympic Berth Secured!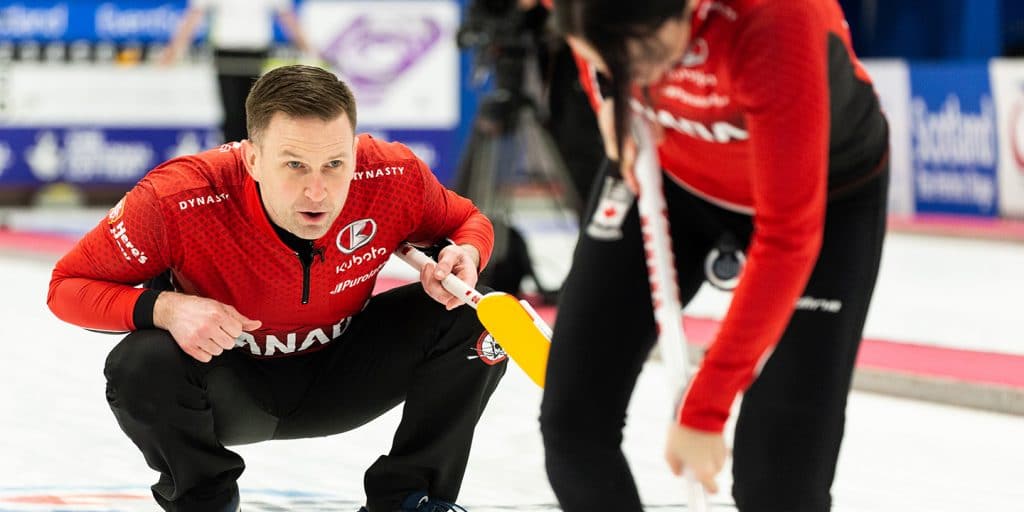 Canada earns playoff and olympic berth at the 2021 world mixed doubles championship with a victory over the Czech Republic
Canada has cemented their spot in the playoffs at the 2021 World Mixed Doubles Curling Championship with a tightly contested victory over the Czech Republic on Friday in Aberdeen, Scotland.
Canada's Kerri Einarson (Camp Morton, Man.), Brad Gushue (St. John's, N.L.) and coaches Scott Pfeifer and Heather Nedohin had captured early momentum but ended up being tested to their limits with a 7-6 win over the Czech Republic's Zuzana Paulova and Tomas Paul (4-4); a match which had massive playoff implications.
With one draw remaining in the round robin, Canada will now place either second or third overall in Group A and is guaranteed a quarterfinal berth. Their opposition is yet to be determined. Scotland (7-1) sits atop Group A and earns a direct bye to the semi finals with Canada (6-2) and Italy (6-2) rounding out the playoff picture. In Group B, Sweden (8-0) leads the pack and will have a direct bye to the semi finals with Norway (7-1) in second and Switzerland (5-3) in third.
The win also secures Canada a place at the 2022 Winter Olympics Games in Mixed Doubles.
"Securing the Olympic berth definitely takes the pressure off a bit," said Kerri Einarson. "We're still just focusing on ourselves."
"You try to not think about it but obviously it's still there," said Brad Gushue. "Now it's something we don't have to worry about from here on out and now it's just a matter of seeing if we can use tonight's game to build momentum going into the playoffs tomorrow."
Canada opened the match versus the Czech Republic with plenty of momentum thanks to keen execution resulting in consecutive steals of one in the first and second ends for an early 2-0 lead.
Canada was poised to steal again in the third, but a draw on Canada's last to lay two would come up short and give way to a well executed Czech Republic angle tap back for a single point.
With hammer in the fourth, Canada would already be laying two with their final stone still to come and with an opportunity to make a thin slash to promote a Canadian stone for a third point. Einarson would be close to executing the shot perfectly, but ended up hitting the Canadian stone a bit too thin. After a measure, Canada would still only be counting two, making the score 4-1 after four ends.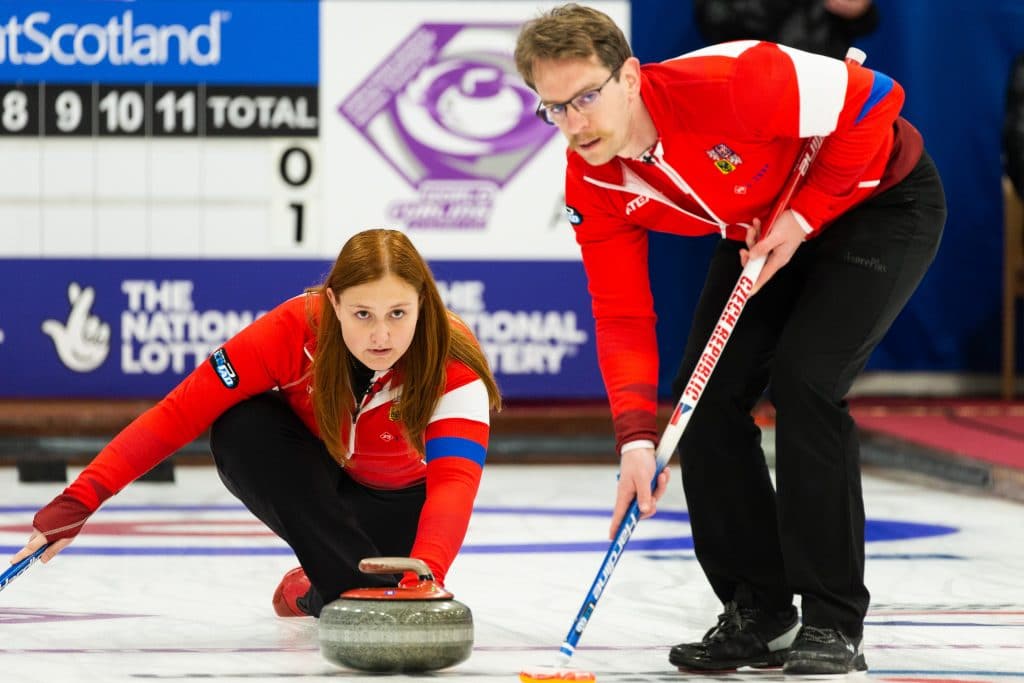 The Czechs, undeterred, would use their power play in the fifth end with hammer to turn the tide. With a few lingering Czech Republic stones in the 12-foot, a missed hit on Canada's final stone would allow the Czech Republic an open hit for four, making the score 5-4.
"I was a little bummed with that shot," said Einarson about the miss on her final stone. "I slid a little full of the broom and it ran there. Unfortunately, we gave up a four."
"On the positive side, we still hadn't used our powerplay and we knew we had a number of ends left," said Gushue. "The key was to come back in the sixth."
Canada would rebound in the sixth end with hammer. Sitting two Canadian stones in the top four, the Czechs would draw down for shot stone on the side of the button, applying extra pressure to the Canadians. Einarson would then execute an up-weight thin hit to secure the deuce and make the score 6-5 Canada.
After the Czech Republic would settle for a single in the seventh on a missed in-off for four, Canada would use their power play in the eighth end tied 6-6. Canada would employ a defensive strategy in the final end, keeping the house as open as possible. The Czech Republic would end up missing their final attempt at a double takeout, leaving a single Canadian stone in play for a 7-6 victory.
Canada will look towards their final round robin match versus RCF's Anastasia Moskaleva and Aleksandr Eremin (4-4) at 2:30pm (all times Eastern). The match will be broadcasted live on TSN.
TSN/RDS 2, the official broadcast partners of Curling Canada's Season of Champions, will provide live coverage of select Canada round-robin games, in addition to all playoff games. CLICK HERE for their complete broadcast schedule.
For Team Canada updates, go to www.curling.ca. Follow us on Twitter, @curlingcanada.
For live scoring, standings and team lineups from the 2021 World Mixed Doubles Curling Championship, go to https://worldcurling.org/events/wmdcc2021