Win by an inch!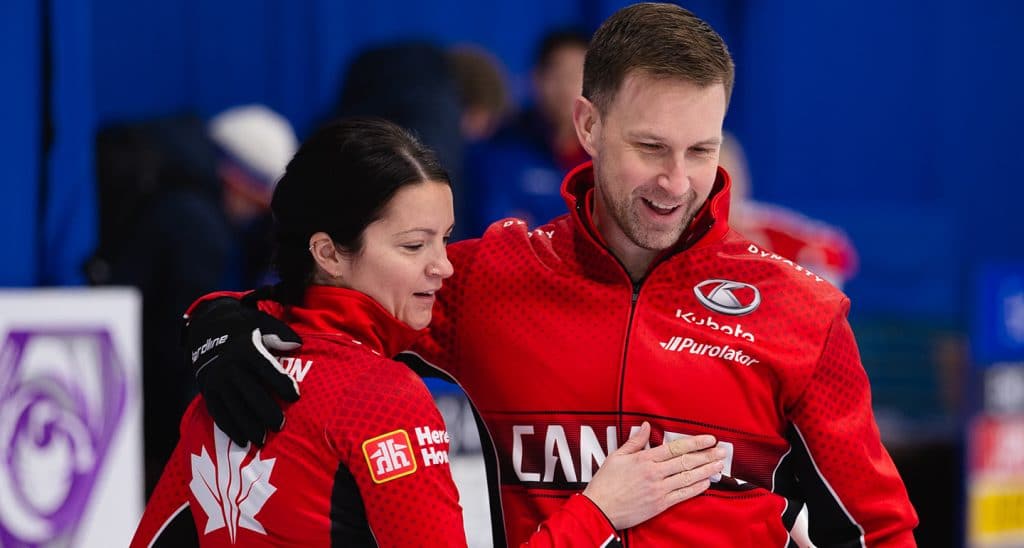 Canada advances to semifinal after extra-end steal at 2021 World Mixed Doubles Curling Championship
An inch was the difference for Canada during the playoff qualification game at the 2021 World Mixed Doubles Curling Championship in Aberdeen, Scotland. Canada stole a point in an extra end to defeat Switzerland 7-6 and advance to the semifinals on Saturday.
Kerri Einarson (Camp Morton, Man.), Brad Gushue (St. John's, N.L.) and coaches Scott Pfeifer and Heather Neodhin literally stole the qualification game away from Switzerland by an inch. Facing a draw for the win, Switzerland's Jenny Perret and Martin Rios were light on the weight and tight to the line. The pair made a valiant brushing attempt, but by the time the rock reached the house, it had barely over-curled, leaving Canada with the winning point.
But the Canadians would not have been in the position to steal had it not been for the game-saving, season-extending shot brilliantly thrown by Einarson in the eighth end. Facing three Swiss stones biting the button, Einarson threw a peel-weight shot at a set of staggered rocks in the eight-foot. The geometry and angles were just right. Canada nailed the essential quadruple takeout to score one, tie the game and force the extra end.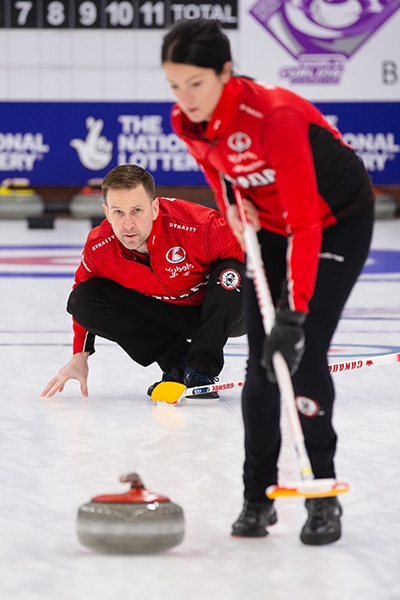 "I saw it the whole time. I was like, 'okay, there's a quad here if I can get these rocks going and if [Perret's] guard over curls.' It over curled and it left me it, so I was eyeing it up," Einarson said.
"It's one of the best shots I've ever seen," Gushue said. "You have to throw it really hard to make it, and she hit it absolutely perfect. And even then I wasn't certain it would roll quite far enough, and when I looked up it had rolled just a foot more than we needed. It was awesome and I was super impressed."
The final two ends were the culmination of a second-half surge by Canada. Up until the fourth end, Switzerland's Perret and Rios, the 2018 Olympic Winter Games mixed doubles silver-medallists, had complete control of the game, leading 5-1 at the break.
"We talked about in the fifth end coming out and trying to get two or three and put a little bit of pressure back on them. When you have a four-point lead, you feel pretty comfortable but, all of a sudden, if a team comes back and gets three, even with the power play, it puts a bit of pressure on and that was a big end for us to turn the momentum around," Gushue said.
And that's exactly what Canada managed. Einarson and Gushue used their power play set-up in the fifth end and took advantage of a missed double from Rios to maintain sitting three rocks in the house. Perret nearly executed a slash double which would have left Canada with a score for two, but instead, Einarson drew to the button for three and trailed 5-4.
Canada kept the pressure on in the sixth end to tie the game. On her last shot, Einarson threw a perfect freeze into a pocket. After Perret got into the hack, it was clear Canada would score this end; the only question was if it would be one or two. Switzerland nudged away Canada's second shot stone, leaving Canada with a score of one and tying to the game.
In the seventh end, Switzerland opted for the power play. Late in the end, Rios tried an angle-raise that would have opened up the side of the house and put Switzerland in a great position to score three. However, his team missed the mark and allowed Einarson to play a small tap to lay three, putting pressure on Perret. She didn't miss, but for the Swiss, a score of one was a disappointment and contributed to the remainder of Canada's comeback win.
Canada advances to the semifinal and takes on a familiar opponent in Scotland's Jennifer Dodds and Bruce Mouat. In the round robin Scotland defeated Canada 8-5. The game will be broadcasted live on TSN at 2:30 p.m. (all times ET) today.
The winner will advance to the gold-medal game on Sunday at 10 a.m., and the loser will play for bronze at 5 a.m.
TSN/RDS 2, the official broadcast partners of Curling Canada's Season of Champions, will provide live coverage of select Canada round-robin games, in addition to all playoff games. CLICK HERE for their complete broadcast schedule.
For Team Canada updates, go to www.curling.ca. Follow us on Twitter, @curlingcanada.
For live scoring, standings and team lineups from the 2021 World Mixed Doubles Curling Championship, go to https://worldcurling.org/events/wmdcc2021