Sparkes headed to Hall of Fame!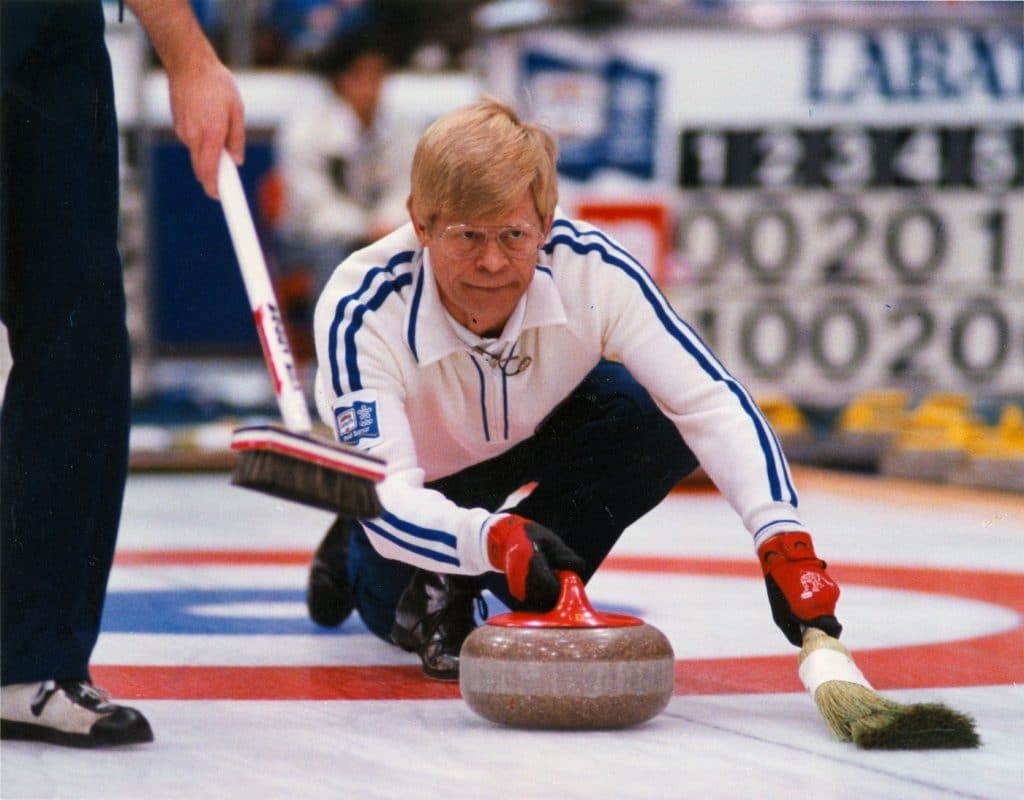 Bernie Sparkes inducted into World Curling Hall of Fame
One of Canada's most accomplished curlers, Bernie Sparkes, is one of three new inductees into the World Curling Hall of Fame, it was announced today by the World Curling Federation.
Joining Sparkes as 2021 inductees were Sweden's Team Anette Norberg and builder Johannes Arthur Jensen of Denmark.
"I'd like to extend my sincere congratulations to our World Curling Hall of Fame 2021 inductees," said Kate Caithness, president of the World Curling Federation. "Their contribution to our sport both on the ice in competition and behind the scenes to develop and grow curling around the world cannot be underestimated. They are worthy recipients of the highest honour we can bestow."
All three will receive the Elmer Freytag Award, which is emblematic of being inducted into the World Curling Hall of Fame.
"I look forward to having the opportunity to present each of them with the Elmer Freytag award, as well as our 2019 inductee, Scotland's Mike Thompson and the full 2020 class of inductees: Sweden's Team Elisabet Gustafson; Canada's Gordon Craig; and Sweden's Leif Öhman," said Caithness.
Sparkes, also a member of the Canadian Curling Hall of Fame, started winning curling championships in 1958 when still attending high school in Claresholm, Alta.
A 12-time provincial champion — six times as a skip — he would win three Brier and world championships (1966, '68, '69) throwing second rocks for the Calgary team skipped by Ron Northcott.
That team also won the Alberta men's title in 1967, and in all four Briers, Sparkes was named the all-star second.
A move to British Columbia didn't change Sparkes' winning ways, as he would go on to win eight B.C. men's championships (a record he held until Jim Cotter won his ninth in 2020). His last Brier appearance was in 1987 when he lost the final to Russ Howard of Ontario.
Sparkes also won a B.C. mixed and masters men's title, and was named to the B.C. Sports Hall of Fame in 1995.
Here's a look at the other inductees:
Team Norberg (Sweden)
Sweden's Team Norberg — skipped by Anette Norberg, with teammates, Eva Lund, Cathrine Lindahl and Anna Maria Svärd (Le Moine) — claimed multiple gold medals during their seven-year run together between 2003 and 2010.
The winning streak began with the European Curling Championships where they won gold in three consecutive years — 2003, '04, '05 — and once again in 2007. The team went on to win its first World Women's Curling Championship in 2005 in Paisley, Scotland, and successfully defended its title in 2006 at Grande Prairie, Alta.

At the Olympic Winter Games 2006 in Turin, the foursome defeated Switzerland in the gold-medal game to win Sweden's first Olympic gold medal in curling. Then, at the Vancouver Olympics in 2010, they became the first team to win back-to-back Olympic Games when they stole the win in an extra end against Canada.
Johannes Arthur Jensen (Denmark)
Johannes Jensen started curling in 1978 at a small club in Østerbro, which is in the centre of Copenhagen. Following a move to Tårnby in 1980, Johannes joined a club known as "KTISF" where ice hockey, ice skating and curling were played in an arena.
Johannes was one of the founding members of the Tårnby Curling Club, which was established in 1985, and he was elected president of the club in 1987, a position he still holds today.
Throughout the years he has invited many different countries – who are not so fortunate as to have their own dedicated curling ice – to come and practice for free at the rink. In addition to inviting expat curlers to enjoy the facility, the club has hosted 16 World Curling Federation events.
The Tårnby club now has 400 members and hosts the biggest Danish tournament – Tårnby Cup – where 38 teams from 14 different countries compete. Over the years the club has done so well internationally that it was agreed by the municipality that the rink could extend by two more sheets, which means the rink will be the biggest in Denmark.