First to two!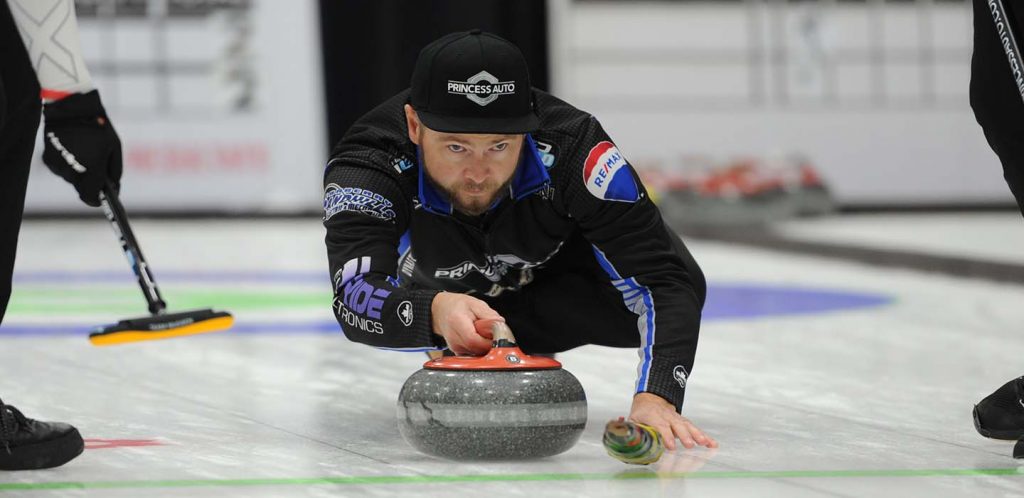 McEwen gains slight edge on competition in Ottawa
Mike McEwen and his crew from West St. Paul, Man. are happy to be the first team to achieve two wins during the modified round-robin at the Canadian Curling Trials Direct-Entry event at the RA Centre in Ottawa.
McEwen, vice-skip Reid Carruthers, second Derek Samagalski, lead Colin Hodgson and coach Rob Meakin improved to 2-1 at the event by toppling Jason Gunnlaugson (1-1; Morris, Man.) by a score of 8-4 on Thursday night.
With plenty of granite in play in the first end, Gunnlaugson had to throw an angle-raise on his final shot. The throw was unsuccessful, and McEwen surged forward to an essential steal of two in the first end.
Later in the game, McEwen had an opportunity to put pressure on Gunnlaugson in the seventh end. However, he missed his final shot, and it opened up an opportunity for Gunnlaugson to make a draw for two and reduce the deficit to 5-4. McEwen added a single point in the eighth end and provided the final nail in the coffin during the ninth end. Gunnlaugson was light on his draw against two McEwen counters, resulting in the win for Team McEwen.
In other Canadian Curling Trials Direct-Entry action, Colton Flasch (1-2) and his team from Saskatoon rebounded from an afternoon loss with a 9-0 drubbing of Penetanguishene, Ont.'s Glenn Howard (1-1). Flasch stole four points in the second end and followed up with another steal in the third for early control of the short game.
On Friday afternoon, Team McEwen has a bye and will be back on the ice against Team Howard for an important game at 8 p.m. (all times ET).
However, Gunnlaugson will get the first crack at Howard during the noon draw on Friday. Flasch, meanwhile, begins Friday with a game against provincial rival Matt Dunstone of Regina (1-1).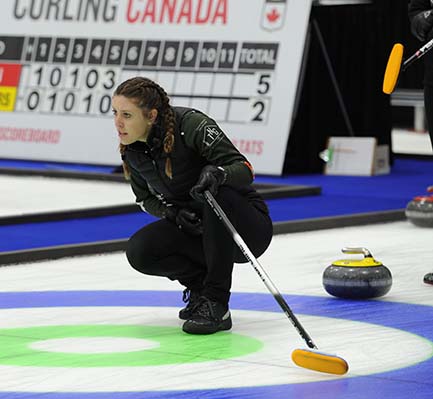 In the women's Canadian Pre-Trials Direct-Entry event, Kaitlyn Jones of Assiniboine, Man. (2-1) advanced through the B-event quarterfinal with a 6-5 win against Laurie St-Georges (1-2; Laval-sur-le-Lac/Glenmore, Que.). Jones will take on Ottawa's Lauren Mann (2-1) at 4 p.m. on Friday, with the winner advancing to the B-event final.
In men's action, Swift Current, Sask.'s Shaun Meachem (2-1) utilized a steal of four in the ninth end to pick up a 9-2 win against Winnipeg's Willie Lyburn (1-2).
JT Ryan of Winnipeg (2-1) defeated his old junior teammate Jacques Gauthier (1-2; Winnipeg) 8-7.
Meachem and Ryan will meet in the B-event semifinal at 4 p.m. on Friday.
Play at the Canadian Trials and Pre-Trials Direct Entry continues on 
Friday with draws scheduled for 8 a.m., noon, 4 p.m. and 8 p.m. (all times ET).
Live scoring and standings for the events are available here.
Live streaming for all draws is available on Curling Canada's YouTube page.
This story will be published in French as soon as possible here.