Rise of the North!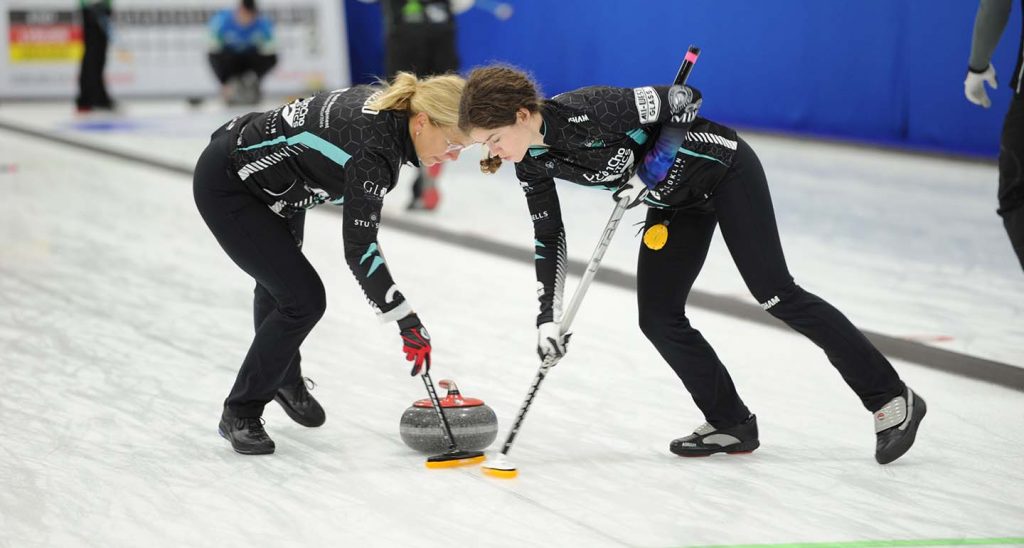 Galusha looks primed and ready for an historic Pre-Trials spot
After the last rock is thrown at the Canadian Pre-Trials Direct-Entry event, there's a good chance that Kerry Galusha can make history.
A team representing one of Canada's three territories has never qualified for the Home Hardware Curling Pre-Trials and compete for a chance to represent Canada at the Olympic Winter Games.
But Galusha, who proudly hails from Yellowknife in the Northwest Territories, aims to change that fact this week. Galusha and her team are already on the inside track to securing one of two spots to the Home Hardware Curling Pre-Trials in Liverpool, N.S., from Oct. 26-31.
Galusha, who throws lead stones and calls the game, fourth Jo-Ann Rizzo, third Sarah Koltun, second Margot Flemming and coach Shona Barbour, defeated Saskatoon's Ashley Howard 9-4 in the A-event semifinal.
"It's big for us. Everyone back home is really cheering us on. We're just excited to be here. There's no pressure and we're right where we want to be," Galusha said.
The victory was convincing in all aspects and a byproduct of the hard work the team has put into the 2021-22 curling season so far.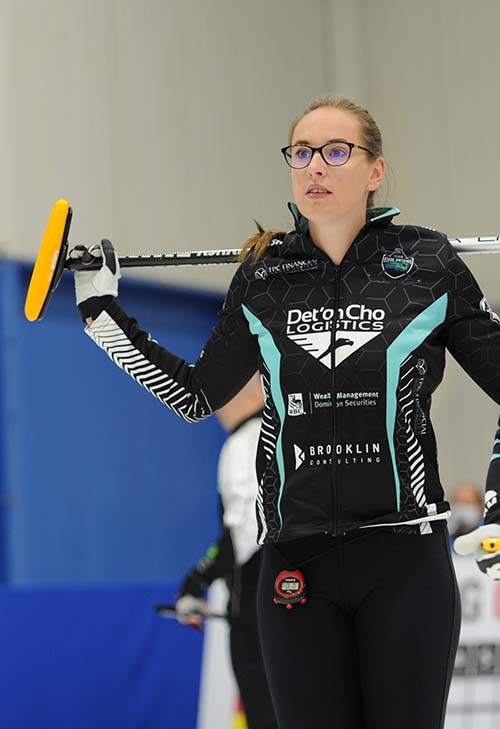 But it hasn't been easy for one of the most decorated northern curlers in the country. Galusha is throwing lead stones for her team this year because of a disc herniation in her lumbar spine.
After learning the team was invited to the Canadian Pre-Trials Direct-Entry event, the team started its season earlier than expected and Galusha is learning to manage the injury while performing to the best of her abilities.
"I can't say enough good things about my team. They're very positive with me. It's hard when your skip goes down, but they've all really stepped up," Galusha said. "Especially Jo-Ann, she's been throwing amazing. She got us out of trouble a couple of ends. We're going to keep doing what we're doing and hoping for one of those two spots."
Galusha's team picked up steam in the third end, with Rizzo making a double takeout for three points and a 3-1 lead at the time. Rizzo and the team followed it up with another double in the fourth end, which led to a one-point steal.
But it wasn't just how Team Galusha managed to control ends; it's also how it managed to take points away from the opposition. In the sixth end, Howard was in prime position to steal, sitting three after throwing her first shot, and Rizzo responded by locking a stone onto the button buried. Howard missed her last shot, and Rizzo put up the skip's deuce by drawing to the button again for a 6-2 lead and control of the game.
Galusha and her team travelled to Ontario in early September and have had a hot start with two finals appearances in two events played on tour.
At the Stu Sells Tankard in Oakville, Galusha lost the final to a team already qualified for the Home Hardware Curling Pre-Trials in Hollie Duncan. However, one week later, the teams met in the final of the KW Fall Classic, with Galusha winning the game and riding a wave of momentum into the RA Centre at Ottawa.
Now Galusha, with 14 Scotties Tournament of Hearts under her belt in addition to a handful of pre-qualifier and alternate appearances, is two wins away from realizing a dream of competing at a pre-trials event and representing Canada's north.
But even if a pre-trials spot isn't in the cards for Galusha, she still has a sunny disposition about the outcome.
"We're playing on arena ice and getting the games in for the Scotties because we don't get arena ice exposure ever," Galusha said. "There's no pressure on us. We're a team from the north. We're just going out there, trying to have fun and get better with every game."
Galusha (2-0) awaits the winner of the second A-event semifinal between Laurie St-Georges (1-0; Laval-sur-le-lac/Glenmore, Que.) and Jessie Hunkin (1-0; North Battleford, Sask.) at Noon. The winner advances to the qualifier round and will have two chances at securing a pre-trials spot.
In other Canadian Pre-Trials Direct-Entry women's action, Kaitlyn Jones (1-1; Assiniboine, Man.) advanced in the B-event with an 11-3 win against Sarah Wark (0-2; Abbotsford, B.C.); and Lauren Mann (1-1; Ottawa) defeated Jill Brothers (0-2; Halifax) 8-6 in an extra end.
On the men's side, Willie Lyburn (1-1; Winnipeg) bested Sean Grassie (0-2; Winnipeg) on the B-side of the draw and Jacques Gauthier (1-1; Winnipeg) needed an extra end to defeat Ryan Wiebe (0-2; Winnipeg) by a score of 8-6.
The Canadian Trials and Pre-Trials Direct-Entry events continue on Thursday with draws at Noon, 4 p.m., and 8 p.m. (all times ET).
Live scoring and standings for the events are available here.
Live streaming for all draws is available on Curling Canada's YouTube page.
This story will be published in French as soon as possible here.