A big step closer!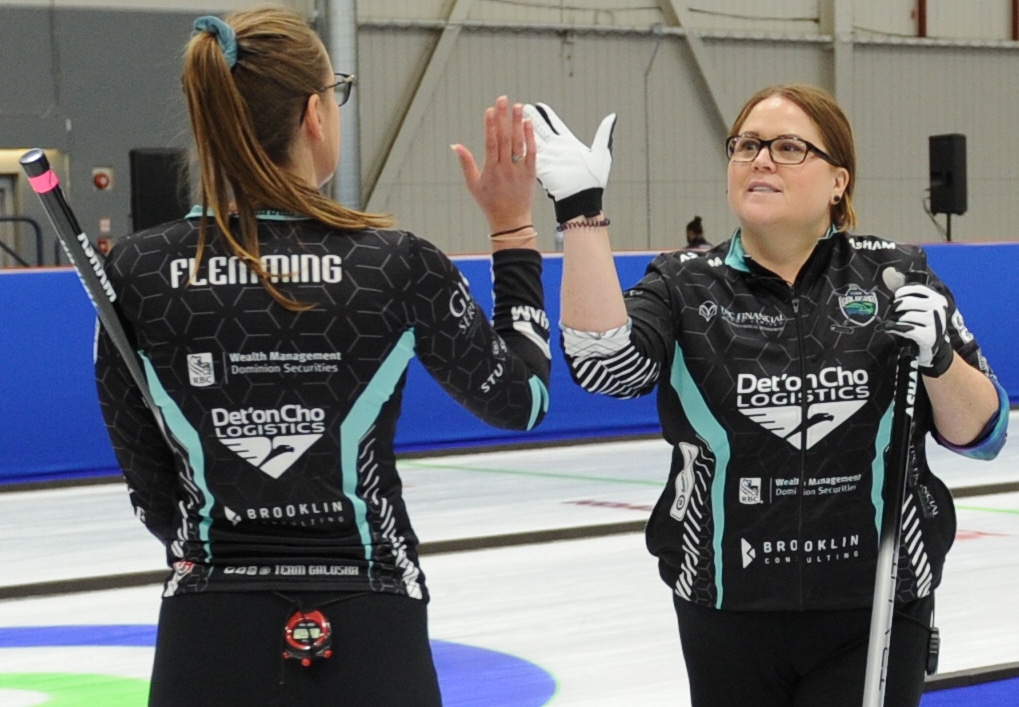 Team Galusha clinches Pre-Trials Direct Entry playoff berth
For all intents and purposes, Kerry Galusha is a one-legged skip throwing lead rocks for a team that, while beloved by Canadian curling fans, is considered a long-shot in just about every event it enters.
This evening, that team from Yellowknife is one of just 25 women's teams in the country that still has a chance to represent Canada at the 2022 Winter Olympics in Beijing.
Team Galusha's chances got even better Friday at the RA Centre in Ottawa after it locked down the first available playoff berth at the Canadian Curling Pre-Trials Direct Entry Event, beating Jessie Hunkin of North Battleford, Sask., 6-5 in the A-event final.
The win means Galusha, vice-skip (and last-rock thrower) Jo-Ann Rizzo, second (throwing third rocks) Sarah Koltun and lead (throwing second rocks) Margot Flemming will have two cracks at qualifying for the Home Hardware Pre-Trials next month in Liverpool, N.S.
This is, by far, the furthest Galusha, a 14-time participant at the Scotties Tournament of Hearts, has progressed on the trail to an Olympic Games.
"Well, I've never really had a chance; we never travelled enough," said Galusha. "It's exciting; we're rolling right now and we hope we have one more win under our belts. We know if we lose, we have another chance. So we're right where we want to be. Am I a little shocked? Maybe a little. But I have a good team this year. But it's all about teamwork and adapting to our new roles. Each game we seem to get a little bit better."
That was evident on Friday night against Team Hunkin as the northerners took control with a steal of two in the fourth end and clamped down from there.
That Team Galusha is the lone unbeaten women's team left in the Pre-Trials Direct Entry Event perhaps shouldn't have been surprising considering it arrived in Ottawa with a win at the KW Fall Classic in Kitchener-Waterloo, Ont., and a runner-up finish at the Stu Sells Oakville (Ont.) Tankard, and now riding a seven-game win streak.
Still, there was that bothersome injury — believed to be a herniated disc — that affected Galusha's left (sliding) leg and left her somewhat wobbly on her deliveries.
"We knew we had a good chance coming in. Oakville was great; I could barely slide, but my team put up with me," said Galusha. "I told the girls I would keep playing until I could no longer contribute. I can still contribute so I'm still out there. Tonight was the best I was sliding; every time I get on the ice it feels better. I'm doing the right things; I'm seeing a physiotherapist every day."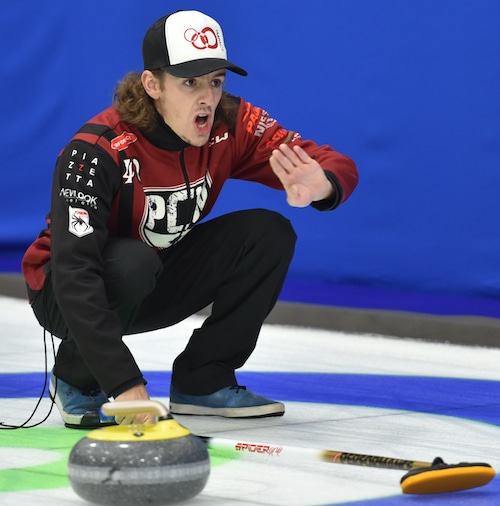 Team Galusha advances to the A-B playoff final against the B-event champion (Team Hunkin will take on Team Kaitlyn Jones Saturday morning in the B final) Saturday at 5 p.m. (all times Eastern). The A-B final winner will advance to the Home Hardware Pre-Trials, while the loser will play for the second available berth against the C-event champion.
"You know what? There's no pressure on us," said Galusha. "We're a team from the north; I mean, people know us, but we're still a team from the north, so there's no pressure. We're just having fun. That game was actually a little bit of a struggle for Sarah and I, and Margot and Jo-Ann picked us up.
"My team is amazing. They all stepped up, they took on new roles, everything is gelling — and Jo-Ann has really stepped up throwing last rock; she's doing amazing."
In B-event play, Team Jones (Assiniboine, Man.) scored a deuce in the 10th end for an 8-6 win over Team Lauren Mann (Ottawa).
In men's Pre-Trials Direct Entry action, Team Vincent Roberge (Etchemin, Que.) locked down the A-event title and a playoff berth with a 7-4 win over Team Corey Chambers (Winnipeg).
Chambers will play Winnipeg's Team JT Ryan Saturday at 9 a.m. for the B-event title after Team Ryan got by Team Shaun Meachem (Swift Current, Sask.) 7-5.
In C-event play, Team Sean Grassie (Winnipeg) stayed alive with a 7-6 win over Team Ryan Wiebe (Winnipeg).
Thursday's action at the Canadian Trials and Pre-Trials Direct Entry events concludes with a draw at 8 p.m.(all times ET).
Saturday, draws are scheduled for 9 a.m., 1 p.m., 5 p.m. and 9 p.m.
Live scoring and standings for the events are available here.
Live streaming for all draws is available on Curling Canada's YouTube page.
This story will be published in French as soon as possible here.