Happy to be back on the ice!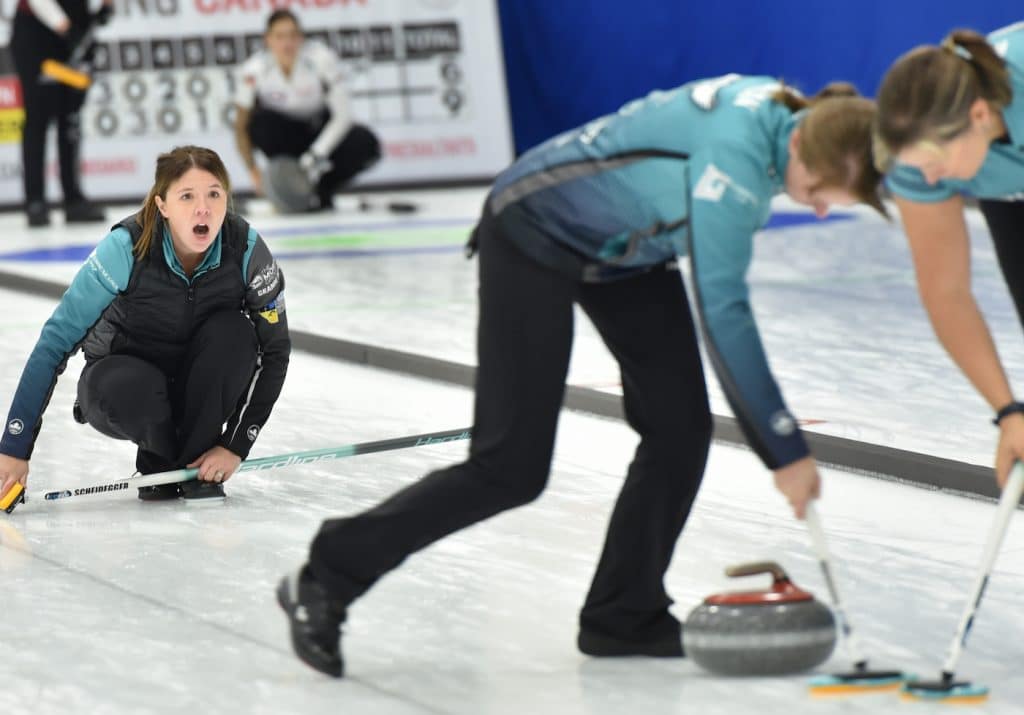 Team Scheidegger stays in hunt for Trials berth with win over Team Rocque
After a year away from curling — a byproduct of the COVID-19 pandemic — the sheer exuberance being displayed by Casey Scheidegger and her team from Lethbridge, Alta., is hardly surprising.
A fun-loving bunch to begin with, Scheidegger, vice-skip Cary-Anne McTaggart, second Jessie Haughian, lead Kristie Moore and coach Joan McCusker, could not be happier to be back in the competitive curling swing of things this week at the Canadian Curling Trials Direct Entry Event in Ottawa.
With an impressive 10-6 win over Alberta rival Kelsey Rocque of Edmonton (0-1) on Friday afternoon, the Scheidegger team is sitting with a 1-1 record and firmly in the hunt for one of the three berths into the Tim Hortons Curling Trials, presented by AGI, in November in Saskatoon, where Canada's four-player Olympic teams will be decided.
And just as importantly, Scheidegger is relishing the sensation of being an elite curler competing in a high-stakes competition.
"There's no feeling like it," said Scheidegger, who posted a 3-5 record in her first Trials appearance, four years ago here in Ottawa. "Pressure — you're nervous but you're excited. It's fun but it's scary — just a whole mix of emotions. And it's definitely a relief to have some sort of normal back in our lives."
Prior to competing earlier this month in a pair of Alberta events, Team Scheidegger hadn't played a competitive game since the fall of 2020; in fact, it would be the only game the team would play last season as the event in Okotoks, Alta., was cancelled on opening day as COVID numbers were on the rise.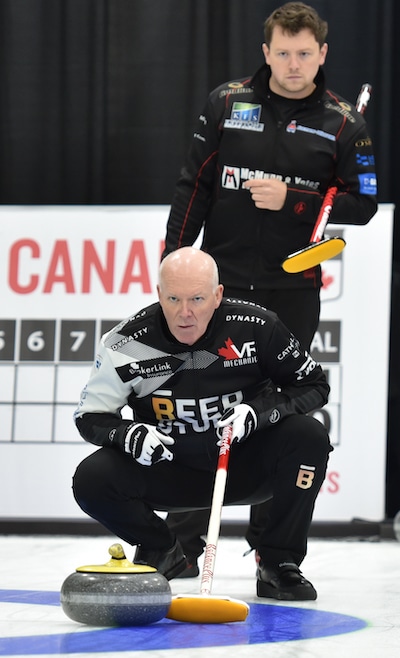 "We won our only game of the season, but we didn't have access to ice after that," said Scheidegger. I did miss it, but I will say that it was nice to have some extra time with the family. But it's also nice to get some sleep (when you're away from the family)."
After losing 9-4 to Team Laura Walker on Thursday in the opening game for both teams at the Trials Direct Entry Event, Team Scheidegger bounced back against Team Rocque, but it didn't come easily.
Rocque, the two-time world junior women's champ, scored her second deuce of the game in the seventh end to go up 6-4.
But a series of Team Rocque misses in the eighth would leave Scheidegger with a hit to score a game-changing five.
"They're a good team, and we knew they were going to be gunning to get a three-ender right back, so we had to stay tough," said Scheidegger. "(Getting five) is definitely a bit of a confidence booster, but I'll say I was just as nervous for the rest of the game."
She didn't need to be; Team Scheidegger added a stolen single in the ninth and ran Team Rocque out of stones in the 10th.
"I think we battled hard," said Scheidegger, whose team will be back in action in Friday's late draw against Team Suzanne Birt (0-1; Cornwall/Montague, P.E.I.) It would have been easy to give up after that second deuce (for Rocque), but we didn't. We kept fighting and it paid off."
In the other women's Trials Direct Entry game, Team Walker improved to 2-0 with a 9-6 win over Team Corryn Brown (1-1; Kamloops, B.C.).
In men's Trials Direct Entry action, Team Glenn Howard (2-1; Penetanguishene, Ont.) stole single points in the seventh and eighth ends en route to a 7-6 win over Team Jason Gunnlaugson (1-2; Morris, Man.); and Team Matt Dunstone (2-1; Regina) doubled Team Colton Flasch (1-3; Saskatoon) 8-4.
Three women's teams and two men's teams will advance to the Tim Hortons Curling Trials; the teams that don't earn Trials berths will get another crack at the Home Hardware Curling Pre-Trials next month in Liverpool, N.S.
Meanwhile, in Pre-Trials Direct Entry play, Team Ashley Howard (Saskatoon) staved off elimination in the triple-knockout competition, beating Team Sarah Wark (Abbotsford, B.C.) 9-7.
Play at the Canadian Trials and Pre-Trials Direct Entry events continues on Thursday with draws at 4 p.m. and 8 p.m. (all times ET).
Saturday, draws are scheduled for 9 a.m., 1 p.m., 5 p.m. and 9 p.m.
Live scoring and standings for the events are available here.
Live streaming for all draws is available on Curling Canada's YouTube page.
This story will be published in French as soon as possible here.