Patience persists!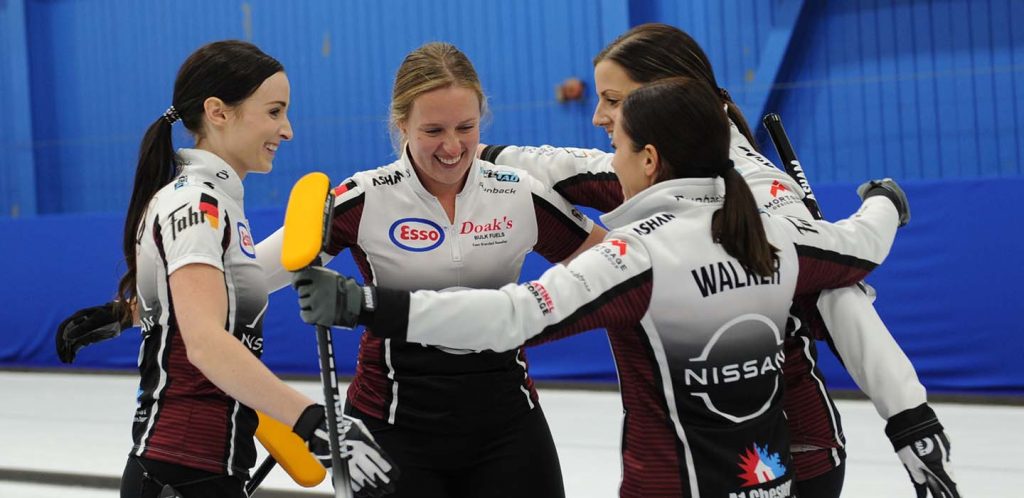 Walker claims final curling trials berth in Ottawa
Patience is a virtue. Good things come to those who wait. Rome wasn't built in a day. There are plenty of idioms that characterize the art of overcoming adversity and remaining diligent.
Team Laura Walker (3-3; Edmonton) had reason to repeat them during the final two days of action at the Canadian Curling Trials Direct-Entry event at the RA Centre in Ottawa.
Walker, vice-skip Kate Cameron, second Taylor McDonald, lead Heather Rogers and coach Shannon Pynn (along with regular lead Nadine Scotland who did not compete this week) had three attempts to qualify for the Tim Hortons Canadian Curling Trials, presented by AGI. After two unsuccessful tries, the team rallied and put together the necessary 8-4 win against Corryn Brown (2-4; Kamloops, B.C.) on Sunday night.
"We knew what we had to do. We started out really strong this week with two strong games right off the bat. We just kind of remembered what we have to do to be that team. We came out and did all of those things," Walker said.
First, Team Walker had an opportunity to clinch the spot during its final round-robin game against Suzanne Birt. Loss. After that, a chance earlier today to defeat Brown in a playoff game. Loss. But the sudden-death re-match tonight? The third time was the charm with the win.
Now, Team Walker can safely say it is one of nine women's teams in the country that will be competing for the right to represent Canada at the Olympic Winter Games in Beijing.
The automatic trials berth is the next progression in this Alberta-based team that has been on the rise since making its first appearance at the Scotties Tournament of Hearts in 2020. After missing the championship pool the first year, Team Walker become one of the most improved teams in 2021 and won the bronze medal.
"I hope that there are fans there. That would be really great to play a trials in front of a great crowd. Saskatchewan always has such great and knowledgeable curling fans," Walker said of the trials. "But if not, then we're just going to savour being able to go out there and play, especially after the last couple of years we've had here. We're grateful that we get the chance to play and try to represent our country."
Team Walker hit the ground running in the first end, making a draw to the side of the button for a score of three. Brown was light on a double-tap attempt in the second end and settled for a single.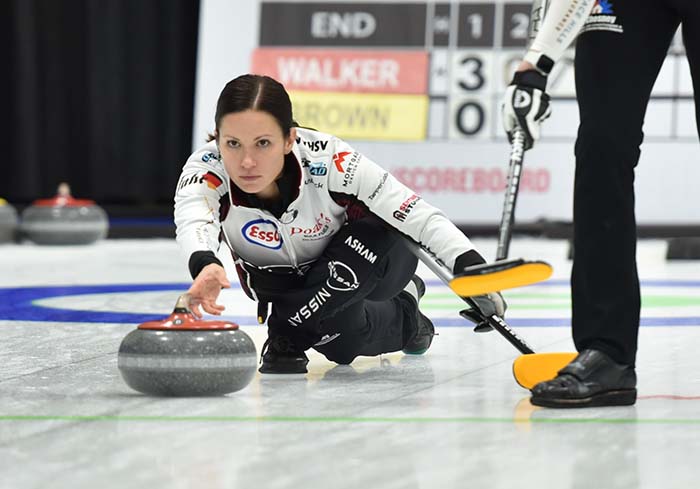 After nailing a dialled-in hit and roll for two, Team Walker added to the lead in the fourth. Her shot rolled over and bit a piece of the button for two more points.
After forcing Brown to a single point in the fifth end, Walker replied with a draw for two in the sixth for a five-point lead.
Brown attempted a comeback with two points in the seventh, but Team Walker warded off any comeback, eventually running Brown out of rocks in the 10th end.
Walker will bypass the pre-trials process for the first time in her career. In 2013, she skipped a team and played third for Kelsey Rocque in 2017. In 2017, Walker was one game away from advancing to the trials.
"Yeah, and I've lost a couple of those. So I'm really glad I don't have to go through that. It's a bit of a gruelling week. There's a lot of teams there, it's more games. So this feels really good," she said.
Brown's path to the Olympics has not ended. Her team will compete at the Home Hardware Curling Pre-Trials in late October in Liverpool, N.S.
Fourteen men's and women's teams will compete for the final two spots available for each gender in the Tim Hortons Canadian Curling Trials from Oct. 25-31.
This story will be published in French as soon as possible here.