More mixed doubles trials spots!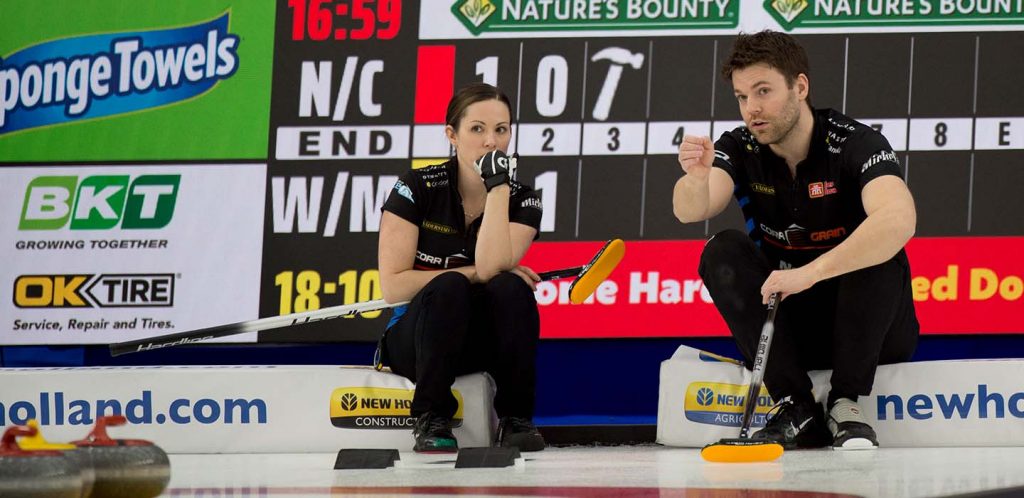 Mixed Doubles trials berth on the line for teams in Banff
The secluded mountain town of Banff, Alta., is known as a premiere destination for skiers, hikers, and golfers. This weekend, however, it's the hotspot for many of the country's top curlers as it hosts the Qualico Mixed Doubles Classic.
Thirty-six duos will play a round robin in six pools of six, after which 12 qualifiers will play for the prize purse of $30,000. Also on the line for the top Canadian team in the top-four is a berth to the Canad Inns Canadian Mixed Doubles Trials, the event that will determine Canada's mixed doubles team at the Beijing Olympics. If a team that has already qualified for the trials or no Canadian teams reach the top four, then no spot will be awarded.
While only seven pairs (such as Jennifer Jones and Brent Laing, or Rachel Homan and John Morris) have already earned their spot at the trials, many of this weekend's participants would love to punch their ticket to Portage la Prairie, Man., in late December.
Some notables who have not yet qualified include 2018 Canadian champs Laura Walker and Kirk Muyres, 2021 Canadian quarterfinalists Shannon Birchard and Catlin Schneider, and Emma Miskew & Ryan Fry (both national champions in four-player curling).
Following the Banff event, there will be one more play-in event in Brantford, Ont., in December before the rest of the Trials field is determined by Canadian Mixed Doubles Ranking points.
Games will be live-streamed on CBCSports.ca. Links can be found at mountaincurling.ca and curlingzone.com.
In four-player action this weekend, Edmonton is playing host to 32 teams (16 men's, 16 women's) in the Alberta Curling Series' Avonair event. South Korea's Unchi Gim headlines the women's field, which is mostly made up of local teams. On the men's side, Ted Appelman, a longtime tour veteran stands out in another Edmonton-heavy field. Again, South Korea has a strong representative in SooHyuk Kim. Each gender is playing for a purse of $8,200.
In Winnipeg, many top Manitoba men's teams are battling it out at the Atkins Curling Supplies Classic. Former world junior champs Braden Calvert (2015) and Jacques Gauthier (2020) headline the 16-team field which also includes Tim Hortons Brier winner Pat Simmons.
The women's field is also stacked with top-quality teams. 2020 World Junior Champion (and 2021 Scotties Tournament of Hearts skip) Mackenzie Zacharias opens her weekend against USA's Jamie Sinclair – a national champion and Grand Slam winner.
Winnipeg's Beth Peterson, Kristy McDonald, and Darcy Robertson bring Scotties experience to the field, while World Junior champ Kaitlyn Jones continues her Manitoba curling career with a new team that recently competed at the Pre-Trials Direct-Entry event in Ottawa.
For all scores and standings, please visit curlingzone.com.