Still hanging in there!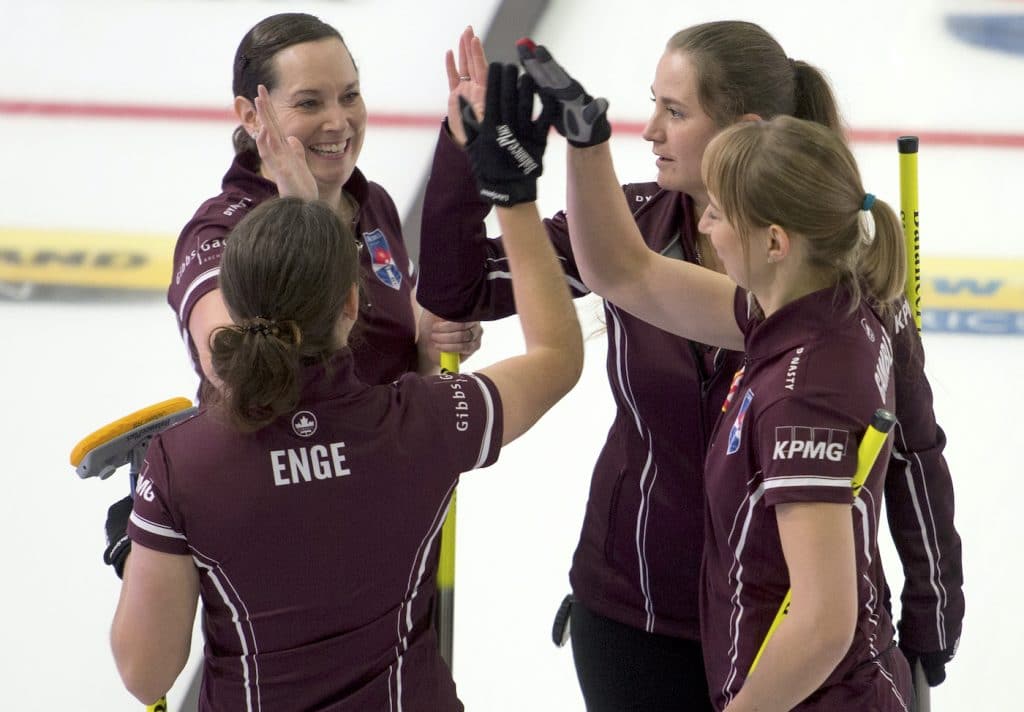 Team Barker rallies to stay in playoff hunt at Home Hardware Pre-Trials
As game plans go, giving up a steal of three coming out of the fifth-end break against a team you're chasing in the standings at the 2021 Home Hardware Canadian Curling Pre-Trials, presented by New Holland, would not be considered ideal.
But somehow, some way, Penny Barker and her team from Moose Jaw, Sask., made it work Thursday afternoon at Queens Place Emera Centre in Liverpool, N.S.
Barker, backed up by vice-skip Christie Gamble, second Jenna Enge, lead Danielle Sicinski and coach Mark Lang, rallied from sixth-end miss to pile up six unanswered points over the final four ends for a 10-7 win over Team Corryn Brown of Kamloops, B.C., leaving both teams with 3-2 records in Pool B.
Teams Barker and Brown were in a 4-4 tie through five ends, with Barker holding the hammer in the sixth, but her last shot draw attempt looking at three was heavy to gift-wrap the three.
"It's exactly the way we wanted to start the seventh end," said Barker with a laugh. "Joking aside, we've been there before. We just had to be resilient, keep making shots. We had done well earlier in the game; it was just a matter of putting that behind us and keep trucking."
That's exactly what transpired as Team Barker bounced back immediately with a three of its own in the seventh end, a stolen single in the eighth and another steal of two in the ninth.
"It was basically, 'Well, we just need a deuce back. We don't need to sell the farm on this end. Just relax, make shots, set up for that deuce and if a three comes, great,' " said Barker of the approach after giving up the steal. "It was just about keeping relaxed, keep making shots, and we'll just fight our way back into it."
Both teams are still alive at 3-2, with both teams also facing unbeaten Team Krista McCarville (4-0; Thunder Bay, Ont.) in their round-robin finales. Also in the mix for the three available playoff spots from the pool are Team Jacqueline Harrison (3-1; Dundas, Ont.) as well as a pair of 1-3 teams skipped by Beth Peterson (Winnipeg) and Kerry Galusha (Yellowknife).
"It's nice to be kind of in control of our own destiny at this point," said Barker. "We need to win that last one and hope that's enough to get us into the playoffs. Play well — that's all we can really do. Play well, make shots and put ourselves in a good position for the weekend."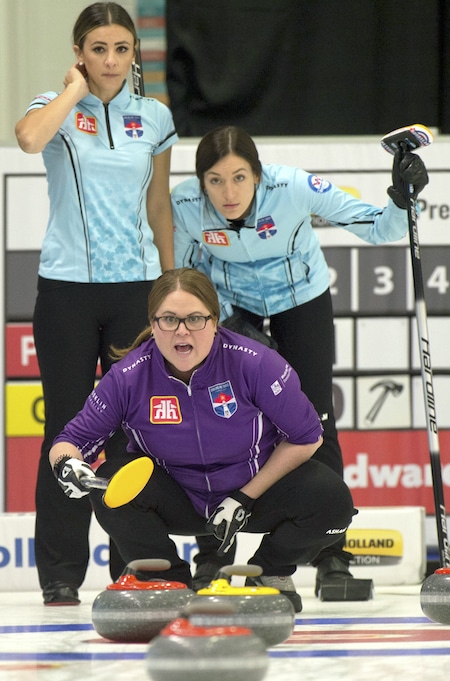 In other women's action on Thursday afternoon, Team Harrison was an 11-4 winner over Team Jestyn Murphy (0-4; Mississauga, Ont.); Team Darcy Robertson (3-2; Winnipeg) turned back Team Hollie Duncan (2-3; Woodstock, Ont.); and Team Peterson took two in the 10th end to beat Team Galusha 10-8.
In morning women's games, Team Sherry Anderson (3-1; Martensville, Sask.) bounced Team Mackenzie Zacharias (2-2; Altona, Man.) 10-2; and Team Danielle Inglis (2-2; Mississauga, Ont.) turned back Team Jill Brothers (0-4; Halifax) 10-4.
In men's games on Thursday morning, Team Paul Flemming (2-2; Halifax) knocked off Team Sean Grassie (0-3; Winnipeg) 5-2; and Team Colton Flasch (4-0; Saskatoon) beat Team Pat Ferris (0-3; Grimsby, Ont.) 7-3.
After the round robin, the top three teams from each pool advance to the playoffs beginning on Saturday. The first- and second-place teams cross over and meet in the first round of the A-side playoff bracket. The winners of each game meet in the A-side final for the first opportunity to qualify for the Tim Hortons Canadian Curling Trials, presented by AGI.
The losers of the first-round A-side games drop into the B-side playoff bracket and will play the third-place teams. The winners of the two games meet, with the winner taking on the A-side final loser for the last Tim Hortons Curling Trials berth.
The 2021 Home Hardware Pre-Trials will continue Thursday with draws at 4 p.m. and 8 p.m. (all times Atlantic).
Live scoring, standings and statistics for the 2021 Home Hardware Pre-Trials are available at www.curling.ca/scoreboard/
Round-robin games are being streamed on Curling Canada's YouTube channel, while TSN/RDS2, along with ESPN3 in the United States, will cover the closing weekend. CLICK HERE for the broadcast schedule.
This story will be available in French as soon as possible at www.curling.ca/2021pretrials/nouvelles/?lang=fr