One win away!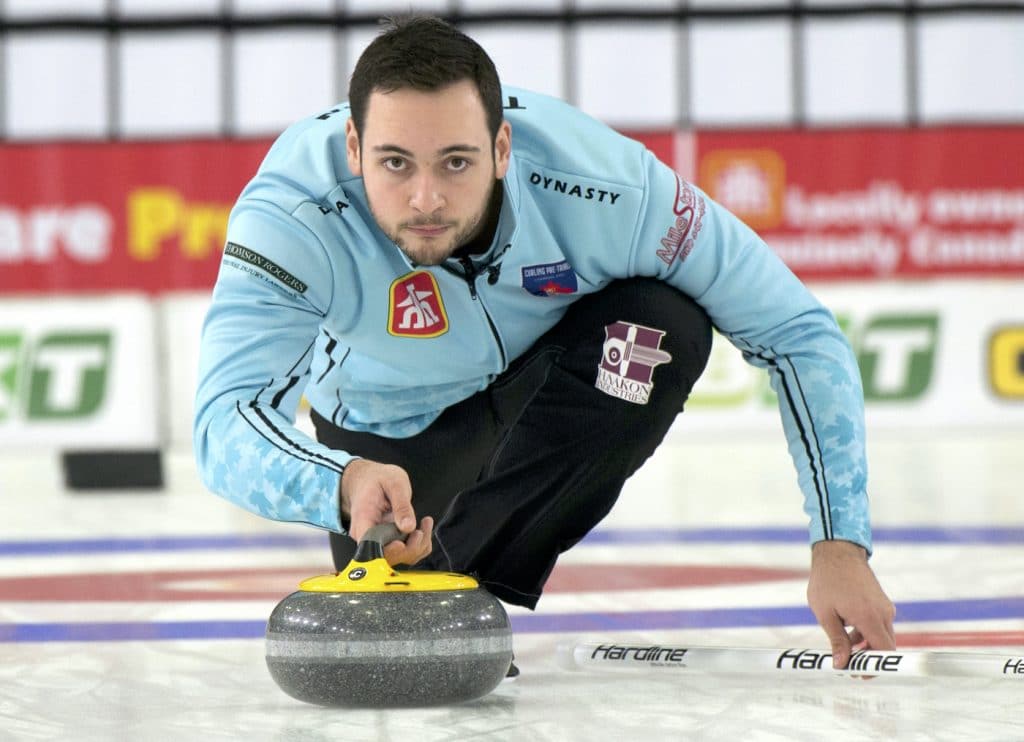 Team Horgan draws closer to berth at Home Hardware Pre-Trials
Another win, another spectacular shot, and now Team Tanner Horgan just needs another win to book a trip to Saskatoon to chase its Olympic dreams.
Horgan's team from Kingston, Ont. — vice-skip Jon Beuk, second Wes Forget, lead Scott Chadwick, alternate Jacob Horgan and coach Sean Turriff round out the squad — claimed its seventh straight victory on Saturday at the 2021 Home Hardware Canadian Curling Pre-Trials, presented by New Holland, opening the playoffs with a 6-5 win over Team Paul Flemming of Halifax.
With the win at Queens Place Emera Centre in Liverpool, N.S., Team Horgan advances to the first men's qualifying game to decide a berth into the 2021 Tim Hortons Canadian Curling Trials, presented by AGI next month in Saskatoon, where Canada's four-player teams for the 2022 Winter Olympics in Beijing will be decided.
Team Horgan will take on Team Jason Gunnlaugson (Morris, Man.) for that berth Sunday at 9 a.m. (all games Atlantic) after Team Gunnlaugson rallied late for an 8-6 win over Team Glenn Howard (Penetanguishene, Ont.).
Horgan's spectacular crosshouse double-takeout in the eighth end should have been the turning point in a tight 2-2 game. It left his team sitting two partially buried behind two corner guards. Flemming attempted to freeze to one of the counting stones to take away the end but bounced into the open, giving Horgan the open tap to score a go-ahead three.
An end later, though, Horgan had another attempt at a double-takeout that just missed, and Flemming was able to immediately bounce back with a game-tying tap for three.
In the 10th though, Horgan calmly drew to the four-foot for the victory.
"I think we played a great game," said Horgan. "We stuck to our game plan, right? We didn't want to take too many chances; we were patient and waited for an opportunity and then we took advantage of it. The boys and I had a chat after we gave up the three — if we could have picked a situation to be in, tied up coming home with hammer; we've been there plenty of times this week, so we were pretty confident in that situation."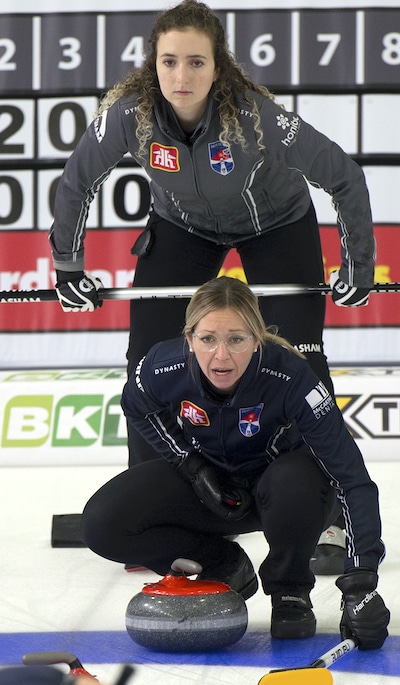 Horgan, just 23, was at his best in leading his veteran teammates against the home-province hopefuls led by Flemming.
It was in this building, in 2014, that Horgan made his debut at the New Holland Canadian Junior Men's Championships skipping Team Northern Ontario, and he would play in the following five Canadian juniors, racking up two silver medals and a bronze.
The graduation to men's play obviously has gone well as he replaced Scott McDonald at the helm of the veteran Kingston team prior to this season.
"He seems to make everything. I just have to stay in there and not screw up," said Beuk with a laugh. "We've been around Ontario for a while and saw Tanner coming up in juniors and knew what he was capable of. He's really progressed and gotten good, and we saw that potential. We're hoping long term that it'll pay off, but we know that short term we've got a really strong team (right now)."
And it's a team that is just one win away from the Tim Hortons Trials — something Horgan has been thinking about all week.
"To just put it out of your mind completely is foolish; to just hide away from it," said Horgan, whose older sister Tracy Fleury, will be skipping her own team at the Tim Hortons Canadian Curling Trials. "It's important to embrace it, and want it. I think it fuels you, right? As long as you don't let it consume you. You can really use it as fuel and ramp up the intensity in big games and perform well. We're definitely thinking about it, we definitely want it really bad. And we'll use it to come out swinging in the next game."
That next game will be against a Gunnlaugson team that trailed Team Howard 6-3 after six ends but rallied with a deuce in the seventh and stolen single points the next three ends.
"I think we just need to keep doing what we're doing," said Beuk, whose team shaded Team Gunnlaugson 6-5 in round-robin play. "Everything that we're doing seems to be working, the process seems to be working. We're not going to take Gunner's team lightly at all. I think we did them a favour by winning our last game (over Team Mike Fournier) to get them in (to the playoffs). I don't want to regret that."
Team Flemming has another playoff life and will play Team Pat Simmons (4-2; Winnipeg) later Saturday at 7:30 p.m. Team Howard also will get a second shot at a Trials berth and will be in action in the same draw against Team Tyler Tardi (4-2; Langley, B.C.).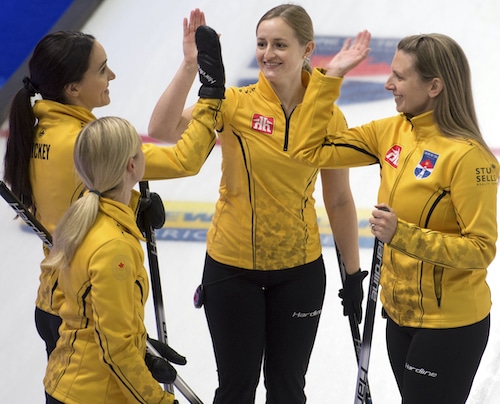 In women's play, Team Jacqueline Harrison (Dundas, Ont.) and Team Krista McCarville (Thunder Bay, Ont.) will play Saturday at 7:30 to decide the first women's berth into the Tim Hortons Trials after winning playoff games on Saturday.
Team McCarville was down 5-1 after six ends against Team Mackenzie Zacharias (Altona, Man.) but scored a stunning four in the 10th end and stole one in the 11th for an 8-7 win.
Team Harrison, meanwhile, scored back-to-back deuces in the ninth and 10th ends to close out an 8-4 victory over Team Suzanne Birt (Montague/Cornwall, P.E.I.)
Team Zacharias and Team Birt are back in action in loser-out games on Saturday night; Team Zacharias will face Team Corryn Brown (4-2; Kamloops, B.C), while Team Birt is up against Team Sherry Anderson (4-2; Martensville, Sask.).
The 2021 Home Hardware Pre-Trials will continue with Saturday's final draw at 7:30 p.m. Sunday, draws are scheduled for 9 a.m., 2 p.m. and 7:30 p.m.
Live scoring, standings and statistics for the 2021 Home Hardware Pre-Trials are available at www.curling.ca/scoreboard/
Playoff games are being broadcast in Canada on TSN/RDS2, and in the United States on ESPN3. CLICK HERE for the broadcast schedule in Canada.
This story will be available in French as soon as possible at www.curling.ca/2021pretrials/nouvelles/?lang=fr