Tied in Pool A!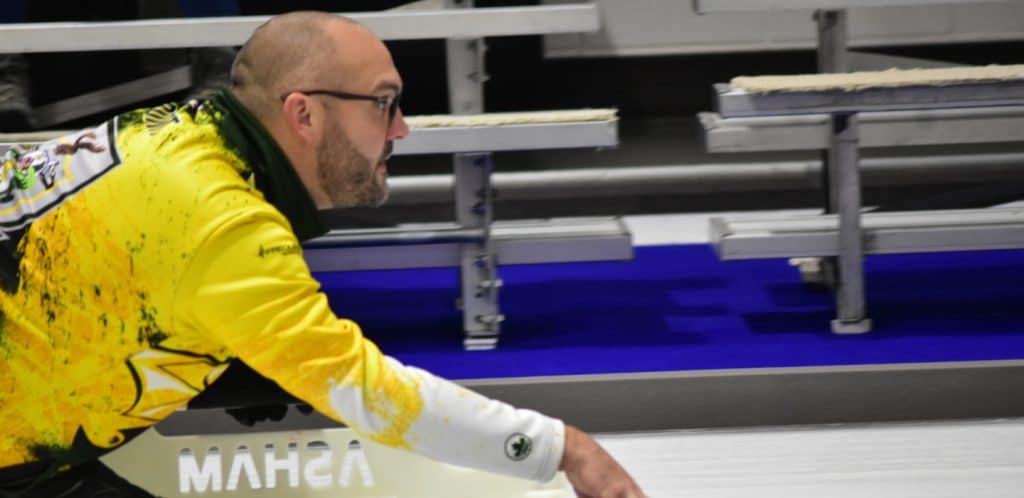 Teams continue to test their mettle on day 2 of the 2021 Canadian Mixed Curling Championship
A close battle for sole possession of first place atop pool A only grew tighter on Monday as four draws of action took place at the 2021 Canadian Mixed Curling Championship from Alberta's Canmore Golf & Curling Club.
The Northwest Territories' Jamie Koe (3-0; Yellowknife) rink, consisting of third Margot Flemming, second Cole Parsons and lead Megan Koehler, continued their strong campaign with two wins after passing a tough test in defeating Québec's Jean-Michel Ménard yesterday. Koe secured an 8-3 win over Nunavut's Peter Van Strien (0-3; Iqaluit) in draw 3 and followed it up with a close 7-6 victory over Nova Scotia's Craig Burgess (1-2; Truro) in draw 5.
Not to be outdone in pool A, 2017 World Mixed Silver Medallist and Northern Ontario representative Trevor Bonot (3-0; Thunder Bay) stayed perfect on day 2 to keep pace with Koe. The Fort William Curling Club's Bonot, alongside fellow 2017 World Mixed silver medallist third Jacqueline McCormick, second Mike McCarville, and lead Amanda Gates, never once had to play a full game in their matches; only needing six ends to defeat Nova Scotia 10-2 in draw 3 and Manitoba's Alex Forrest (1-1; Winnipeg) who conceded 8-1 in seven ends in draw 5.
The two teams won't face off until draw 13 where they'll both conclude the seeding portion of the round robin.
In Pool B, Ontario's Mike McLean (Ottawa; 2-1) and New Brunswick's James Grattan (2-1; Fredericton) both entered draw 6 with perfect records, but fell to Saskatchewan's Dean Grindheim (2-1; North Battleford) 8-4 and British Columbia's Sebastien Robillard (2-0; Kamploops) 5-3 respectively. Now Saskatchewan, Ontario and New Brunswick all remain tied for first in pool B at 2-1.
In other action not recounted above, draw 3 saw Manitoba take out Alberta's Craig MacAlpine (0-2; Edmonton) by a score of 9-6.
Draw 4 had New Brunswick downing Saskatchewan 5-4. Ontario would handily defeated Prince Edward Island's Jamie Newsom (0-3; Summerside) 10-3 while British Columbia bested Newfoundland and Labrador's Keith Ryan (0-2; Labrador City) 5-3.
Draw 5 also saw Québec defeat Nunavut 11-2.
Draw 6 featured the first win for the Yukon's Terry Miller (1-1; Whitehorse) defeating Prince Edward Island by a score of 6-2.
The 2021 Canadian Mixed Championship will continue on Monday with draws at 9:00 a.m., 12:30 p.m., 4:00 p.m. and 7:30 p.m. (all times Mountain).
Live scoring, standings and statistics for the 2021 Canadian Mixed are available at www.curling.ca/scoreboard/
Round-robin and playoff games are being streamed on Curling Canada's YouTube channel. CLICK HERE for the broadcast schedule.
This story will be available in French as soon as possible at www.curling.ca/2021mixed/nouvelles/?lang=fr