Call them Team Consistency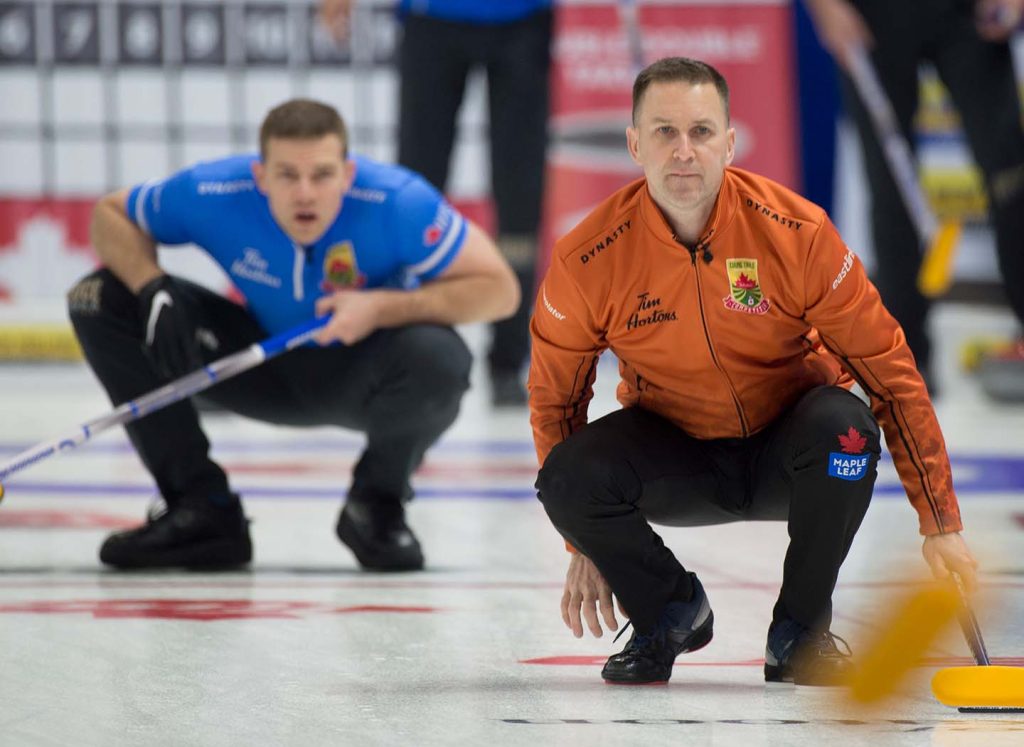 Team Gushue forever calm, cool and collected at 2021 Tim Hortons Curling Trials
Search for the word 'consistent' on your computer and you know what comes up? 'Team Brad Gushue'.
OK, so that's not true, but it should be. If there is a team in Canada that performs game in and game out, from event to event, big or small, it's the 41-year-old skip and his band of merry men from the RE/MAX Centre, St. John's Curling Club in St. John's, N.L. (vice-skip Mark Nichols, second Brett Gallant, lead Geoff Walker, alternate Jeff Thomas and coach Jules Owchar).
Gushue, the three-time Canadian men's champion and Olympic gold-medal winner, didn't build his men's team's resume by playing hot and cold hands. He's consistently good, and so is his team, and they continued to prove it at the 2021 Tim Hortons Canadian Curling Trials, presented by AGI, in Saskatoon.
Gushue, as he's done so often in his career, responded in a pressure-packed situation Saturday evening, in a much anticipated matchup against Team Brendan Bottcher (Edmonton). Gushue, who hadn't scored more than one point over nine ends, manufactured a brilliant 10th end, finishing it off with a hit to score three and finally subdue Team Bottcher 6-4.
"We played a great last end," said Gushue. "I haven't been that nervous on an open hit in so long. I got in the hack and said 'Oh my God, these are the Olympic Trials'.
"This is what we play for."
It was a clash between two curling heavyweights, the last two Canadian Tim Hortons Brier champions, and a coin-flip at best, but Gushue wrestled the win away late in his march to what he hopes is a second trip to the Games. He and Nichols, joined by Russ Howard, Jamie Korab and alternate Mike Adam, won men's Olympic gold in 2006 in Turin, Italy.
Gushue figures he hasn't seen the last of Bottcher, the 2021 Tim Hortons Brier champ.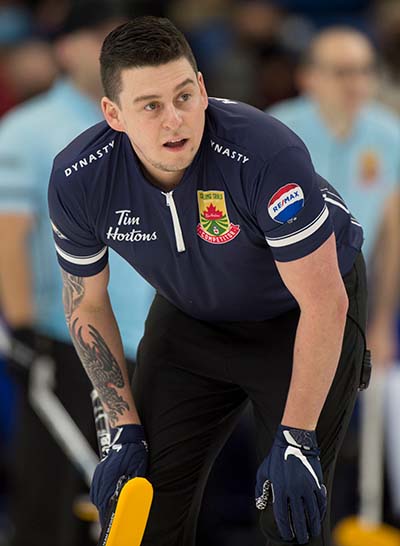 "To get a win on him puts us essentially two games ahead of him," said Gushue. "I know it's early but you have to think that way in this field."
Bottcher looked to the 10th end as the knife in the heart.
"There were likely three half shots right at the end of the end," he said. "That will kill you against a team like Gushue."
In the other games in the evening men's draw, Team Kevin Koe (Calgary) stormed to a 4-0 lead and cruised to a 9-2 victory over Team Tanner Horgan (Kingston, Ont.); Team Mike McEwen (West St. Paul, Man.) breezed past Team Matt Dunstone (Regina) 7-2; and Team Brad Jacobs, the 2014 Olympic gold-medal winner (Sault Ste. Marie, Ont.) dropped a four-ender on Team John Epping (Toronto) en route to a 9-3 win.
Gushue said it was great to have fans in the stands after playing before an empty arena during last season's 'bubble' atmosphere in Calgary, designed to ward off the ravages of COVID-19.
"It was great to play in front of them," he said. "There was nothing worst last year in the bubble making an incredible shot and you can't hear anything. Hearing the cheers tonight made it fun."
Live scoring, standings and statistics for the 2021 Tim Hortons Canadian Curling Trials are available at www.curling.ca/scoreboard/
All draws from the 2021 Tim Hortons Canadian Curling Trials are being broadcast in Canada on TSN and RDS. CLICK HERE for the broadcast schedule in Canada. As well, streaming coverage will be available on ESPN3 to fans in the U.S. with valid U.S. cable or satellite accounts.
This story will be available in French as soon as possible at www.curling.ca/2021trials/nouvelles/?lang=fr