First and foremost!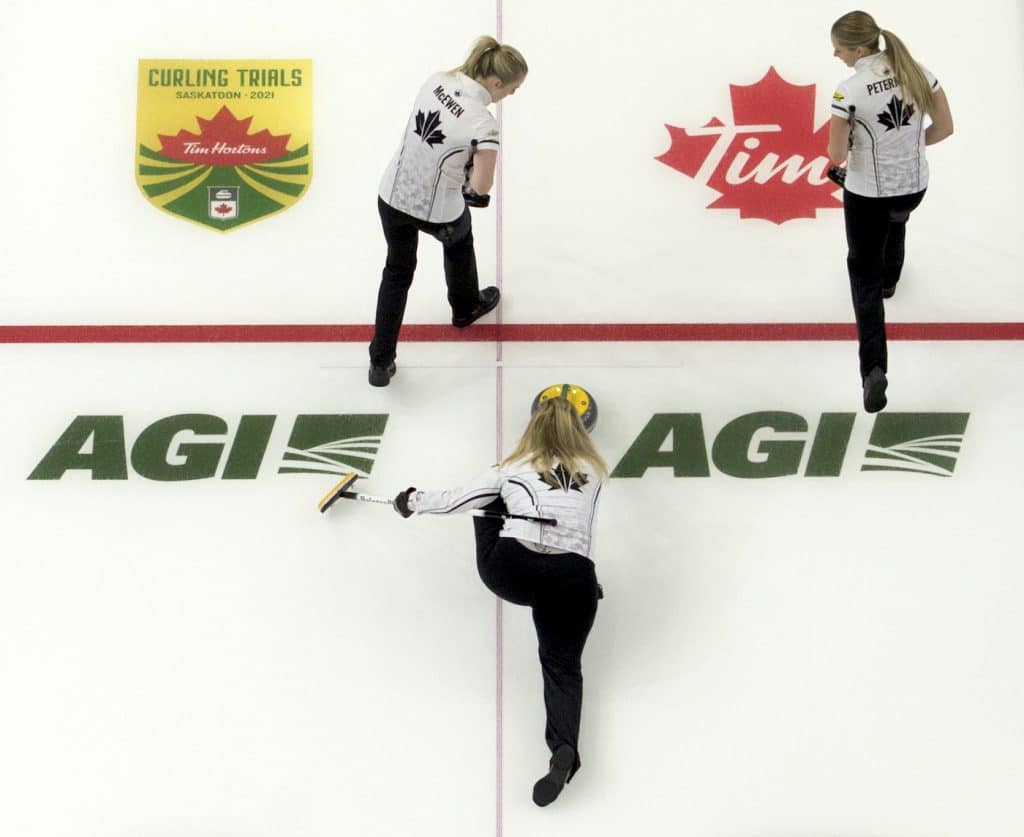 Team Jones off to hot start at Tim Hortons Trials
It will come to the surprise of absolutely no one that Team Jennifer Jones is 2-0 at the 2021 Tim Hortons Curling Trials, presented by AGI, in Saskatoon and looking as dangerous as ever on the ice.
The 2014 Olympic gold medallist skip and her team from the St. Vital Curling Club in Winnipeg has made it their mission to make it to another Olympics, and judging by the early returns, the team is on a six-lane highway to get there. Two women's draws are in the books and Team Jones has prevailed in both of them.
Jones — supported by a formidable lineup of third Kaitlyn Lawes, second Jocelyn Peterman, leads Dawn McEwen and Lisa Weagle and coach by Viktor Kjell — kept her slate clean Sunday morning at SaskTel Centre, defeating pesky Team Jacqueline Harrison (Dundas, Ont.; 1-1) 10-2.
Jones, of course, needs no introduction to the curling masses. She is already one of the most decorated curlers in history, with six national Scotties Tournament of Hearts titles, a world championship and that Olympic gold medal won in Sochi, Russia, on her resume.
And now she's sniffing around for more glory.
Jones was a bit surprised she is the only 2-0 team this early in the nine-team, round-robin competition, but will enjoy the first-place neighbourhood for as long as it lasts.
"You're likely not going to go through this competition undefeated," she said, "so you want to get as many wins as you can. It's nice to get two wins early but there are a lot of games left."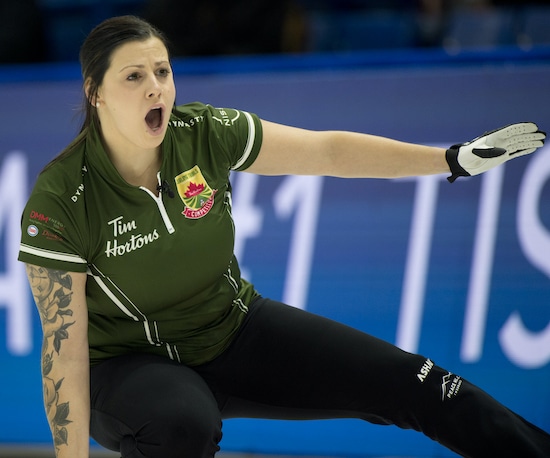 It was a comfortable win for Jones, who wasn't at her absolute best but still good enough to subdue Harrison, skipping the last team to qualify for Saskatoon through the Home Hardware Pre-Trials event in Liverpool, N.S. Team Harrison — comprising vice-skip Allison Flaxey, second Lynn Kreviazuk, lead Laura Hickey and coach David Mathers — opened with an impressive 6-5 win Saturday over Rachel Homan (Ottawa; 0-2).
But Team Harrison was no match for the experience of Jones and Co. Jones stole a single on the first end and was off to the races.
"I'm really happy with how we're playing," said Jones. "I feel like we're making lots of big shots when we have to. We're having tons of fun and the crowds have been fantastic. It's been awesome."
The schedule-makers did Harrison no favours, giving her Homan, Jones and two-time defending Canadian women's champion Kerri Einarson to start the proceedings.
But the 43-year-old skip, playing in her first Tim Hortons Trials, wasn't complaining.
"We had to face the top three teams, split the first two, so we're definitely satisfied with that," she said. "We looked at that (schedule) and said everybody is getting to know the ice early, so maybe playing these teams early is a good thing."
While Team Jones was moving to the top of the heap, Team Homan was headed in the other direction. Team Homan, Canada's representatives in the 2018 Olympics in PyeongChang, South Korea, struggled early against Team Kristin McCarville (Thunder Bay; 1-1), and after the 9-5 loss is in danger of not qualifying for the weekend playoffs. No team that started 0-2 in Tim Horton Trials history has qualified for the playoffs.
The top team in the round-robin secures a place in Sunday's final while the second- and third-place teams meet Saturday in the semifinal. Possible tiebreakers are slated for early Saturday.
The winners in both women's and men's brackets will represent Canada in four-player team competition at the Winter Olympics Games in Beijing, China, Feb. 4-20.
In the other games, Team Laura Walker (1-1; Edmonton) defeated Team Kelsey Rocque (0-1; Edmonton) 9-3; and Team Einarson (1-1; Gimli, Man) hung a five on the board in the sixth end to post a 10-5 win over Team Casey Scheidegger (1-1; Lethbridge, Alta.).
Team Tracy Fleury (1-0; East St. Paul, Man.) had the bye on Sunday morning.
The 2021 Tim Hortons Canadian Curling Trials will continue Sunday with draws at 2 p.m. and 7 p.m. (all times Central).
Live scoring, standings and statistics for the 2021 Tim Hortons Canadian Curling Trials are available at www.curling.ca/scoreboard/
All draws from the 2021 Tim Hortons Canadian Curling Trials are being broadcast in Canada on TSN and RDS. CLICK HERE for the broadcast schedule in Canada.
As well, streaming coverage will be available on ESPN3 to fans in the U.S. with valid U.S. cable or satellite accounts.
This story will be available in French as soon as possible at www.curling.ca/2021trials/nouvelles/?lang=fr