Disaster relief!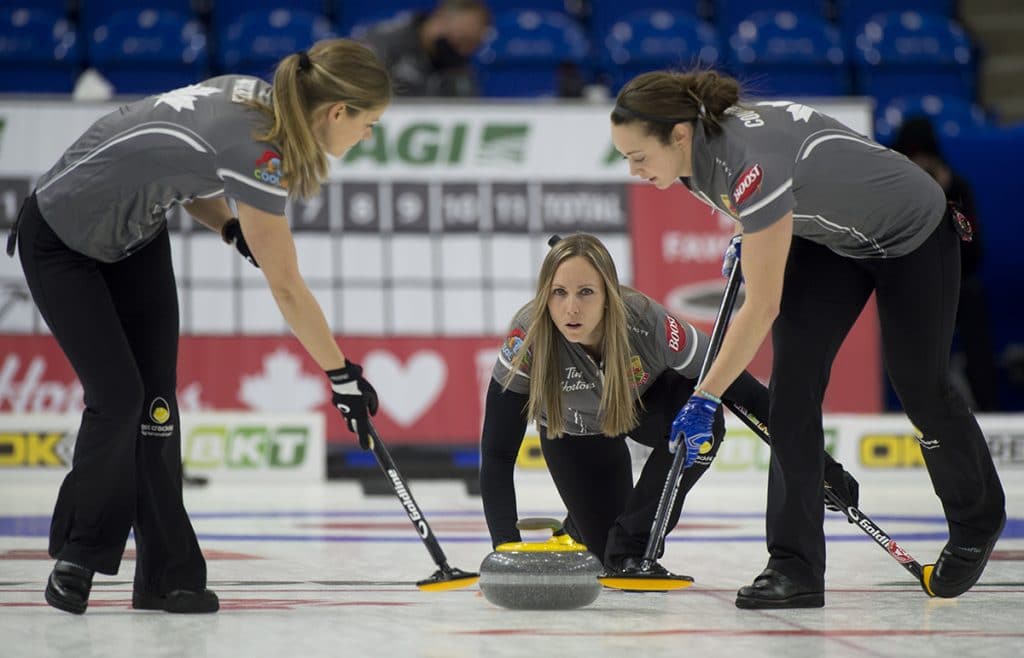 Team Homan finally notches win at Tim Hortons Trials
Skip Rachel Homan was as surprised as anybody with her team's underwhelming 0-2 start to the 2021 Tim Hortons Curling Trials, presented by AGI.
But Monday she was out of surprises.
Team Homan, in an act of sheer desperation, put it altogether on the ice at SaskTel Centre in Saskatoon, and handed Team Kelsey Rocque (0-3; Edmonton) a 9-6 defeat.
You could almost hear the sighs of relief coming from the Ottawa Curling Club, where Homan — backed up by vice-skip Emma Miskew, second Sarah Wilkes, lead Joanne Courtney and coach Marcel Rocque — call home.
How big was the win?
"We definitely needed a win under our belts," said Homan.
Exactly. Another loss and Team Homan, trying to repeat as Canada's women's team at the Olympics, and one of the pre-event favourites, may have seen its ship sunk even before it got out of the harbour.
Team Homan is not out of the woods yet, but a win on the board looks pretty good right now. At least the life support staff has been called off.
The win inched Team Homan to within sight of the leaders in the nine-team women's round robin, which rewards the top three teams passage into the weekend playoffs.
Team Jennifer Jones (Winnipeg) continued to slam-bang its way through the field, upping its record to 4-0. Jones played a nifty angle-raise takeout for two in the eighth en route to a convincing 7-5 win over Team Casey Scheidegger (2-2; Lethbridge, Alta.). And one sheet over, skip Tracy Fleury (East St. Paul, Man.) shot a spectacular 100 per cent to spark her team to a 9-2 thumping of Team Krista McCarville (1-3; Thunder Bay, Ont.). The win kept Team Fleury unbeaten at 3-0 and one game behind Jones in the standings.
It was the first time a skip at the Tim Hortons Trials had ever shot 100 per cent.
In the other game of the evening slate, defending Canadian women's champion Team Kerri Einarson (2-2; Gimli, Man.) climbed back in contention with a 9-5 win over a reshuffled Team Laura Walker (1-3; Edmonton). Team Walker was playing without regular vice-skip Kate Cameron who was out due to an illness not believed to be related to Covid-19.
Team Jacqueline Harrison (Dundas, Ont.) had the bye and sits third alone with a 2-1 record.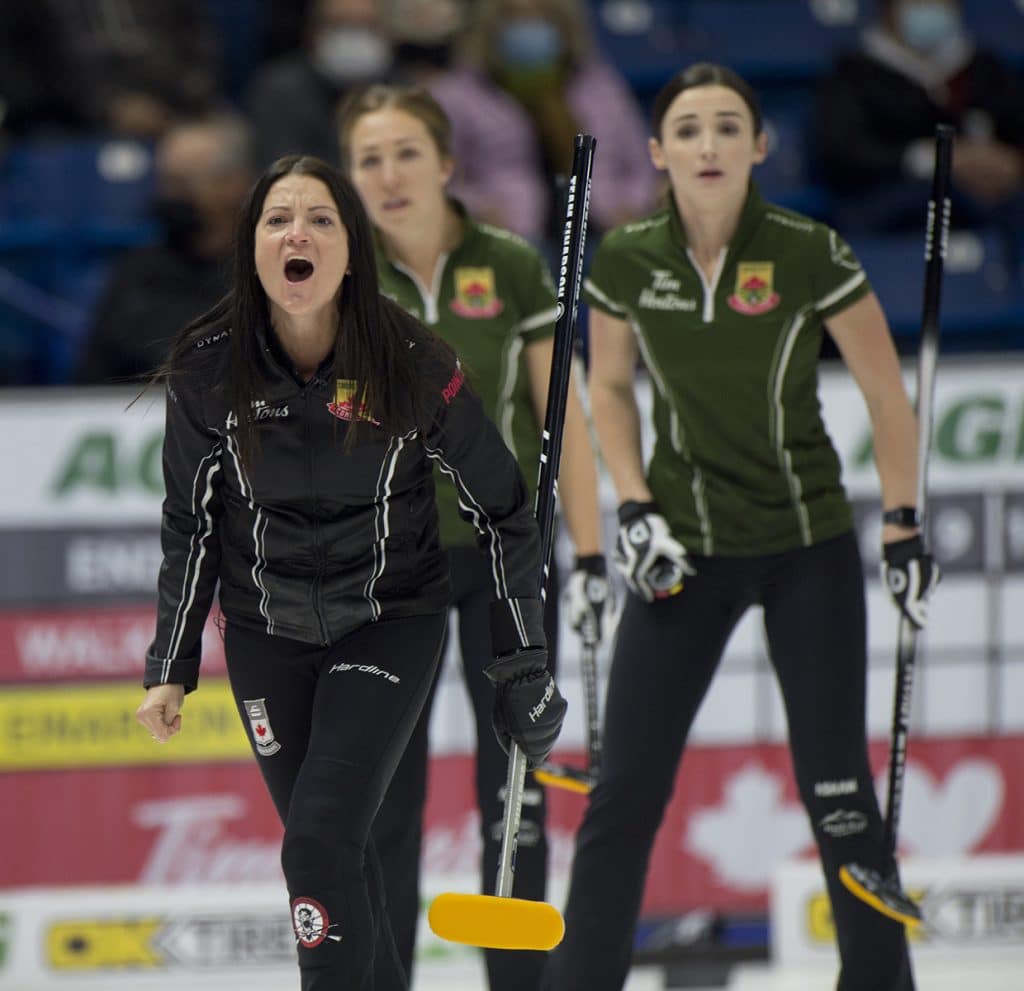 Homan, who finished out of medal-standing at the 2018 Olympics in PyeongChang, South Korea, knew going into the game there was only so much time to get things right, only so many setbacks a team could withstand.
So she put the pedal to the metal, scoring two in the first end, and kept the pressure on.
"It was a really tough battle," said Homan. "They played really well and it was one or two shots here and there."
Homan said the 0-2 start was a bit deceiving because there was only a shot here or there that made the difference in the losses.
"Those games could have gone either way," she said. "We were right there. We kept believing we were doing the right thing."
The first-place team advances directly to Sunday's championship game. The second- and third-place teams will meet in the semifinal Saturday.
The 2021 Tim Hortons Canadian Curling Trials will continue Tuesday with draws at 2 p.m. and 7 p.m. (all times Central).
Live scoring, standings and statistics for the 2021 Tim Hortons Canadian Curling Trials are available at www.curling.ca/scoreboard/
All draws from the 2021 Tim Hortons Canadian Curling Trials are being broadcast in Canada on TSN and RDS. CLICK HERE for the broadcast schedule in Canada. As well, streaming coverage will be available on ESPN3 to fans in the U.S. with valid U.S. cable or satellite accounts.
This story will be available in French as soon as possible at www.curling.ca/2021trials/nouvelles/?lang=fr