White-knuckle win!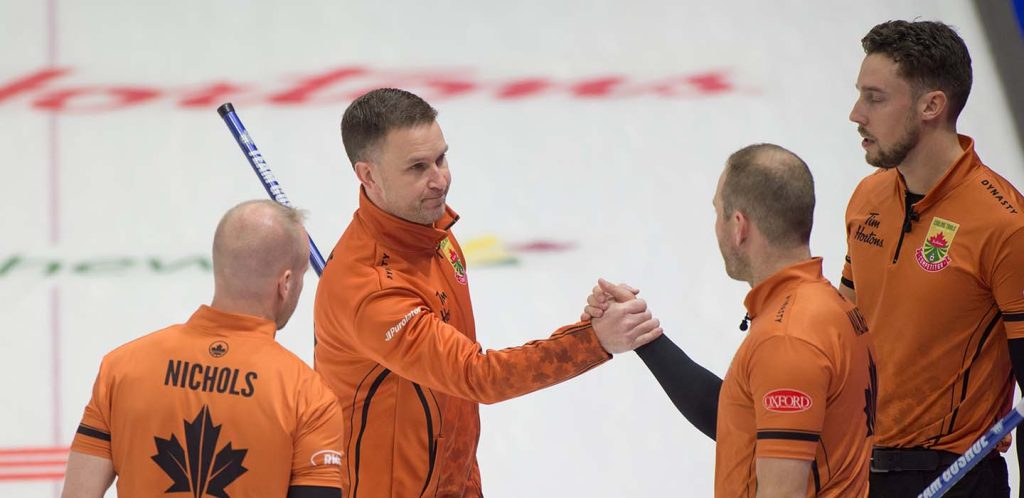 Gushue wins clash of the unbeaten at Tim Hortons Trials
What happens when an unstoppable force comes up against an immovable object?
Something's gotta give, right?
And it did, finally, when Team Brad Gushue (St. John's, N.L.) defeated Team Brad Jacobs (Sault Ste. Marie, Ont.) 7-6 in a thrilling extra end Tuesday at the 2021 Tim Hortons Canadian Curling Trials, presented by AGI, at SaskTel Centre in Saskatoon.
It was a clash of undefeated outfits in the men's bracket, and it was a game that everyone expected from two talented teams — well curled, tight, with a few missed opportunities to keep things interesting. If you were a fan of the double takeout, and extra-end action, you came to the right place.
But somebody had to win, and skip Gushue was overjoyed it was his team, which improved to a sparkling 4-0 record and moved atop the heap in the nine-team round-robin men's standings. Jacobs fell to 3-1 and sole possession of second place.
Gushue held a 6-4 lead after nine, but Jacobs had him on the run in the 10th, and squared matters with a deuce. Gushue needed a tension-filled draw to the four-foot, facing two, in the 11th to finally nail down the win.
Manitoba's Team Mike McEwen (West St. Paul, Man.) had a chance to also remain unbeaten Tuesday but ran into a reinvigorated Team Brendan Bottcher (1-3; Edmonton). Team Bottcher, trying to claw its way back from an 0-3 start, scored early and often on the way to a 10-2 win. Team McEwen's record dropped to 2-1.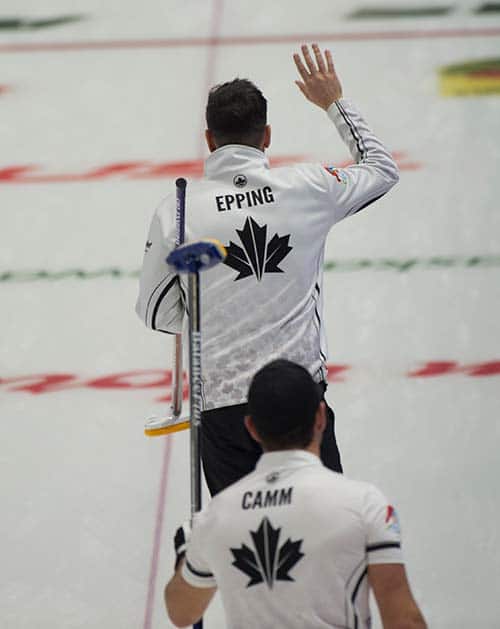 While there is a lot of curling left to play, Gushue's victory gives his team a leg up on the field as the combatants sort themselves out in the race to the weekend playoffs. The top team gets an automatic berth in Sunday's final while the second- and third-place finishers meet in Saturday's semifinal.
"You can't expect any different playing those guys," said Gushue, supported by vice-skip Mark Nichols, second Brett Gallant, lead Geoff Walker, alternate Jeff Thomas and coach Jules Owchar. "You want the advantage of last rock in the 10th end or extra end, and fortunately we did.
"It was probably our best game of the week. I think we're playing well and will give ourselves some chances at the end of the week."
Both teams knew the significance of the game and were keen to keep their slates clean, even though they had a couple of scares along the road to perfection. But a scare is not a loss, and their unbeaten records were a testament to how well they have played under pressure this week. So there was plenty of pre-game hype before the first rock was delivered.
"It was a heck of a battle, back and forth," said Jacobs, who won gold for Canada at the 2014 Winter Olympics in Sochi, Russia. "I was proud of my guys, the way they were able to stick in there. Not our sharpest, not our best. I think lots to build off. You've got to expect to lose a game or two, or even more, in a field like this. So chins up, and look forward to tomorrow."
In the other games in the afternoon slate of games, Team Jason Gunnlaugson (1-2; Morris, Man.) notched its first win after defeating Team Tanner Horgan (1-2; Kingston, Ont.) 11-6; and Team John Epping (2-2; Toronto) kept its playoff hopes alive by knocking off de facto home team Team Matt Dunstone (0-4; Regina) 9-7.
The 2021 Tim Hortons Canadian Curling Trials continue Tuesday with four games in the women's division at 7 p.m. (Central).
Live scoring, standings and statistics for the 2021 Tim Hortons Canadian Curling Trials are available at www.curling.ca/scoreboard/
All draws from the 2021 Tim Hortons Canadian Curling Trials are being broadcast in Canada on TSN and RDS. CLICK HERE for the broadcast schedule in Canada. As well, streaming coverage will be available on ESPN3 to fans in the U.S. with valid U.S. cable or satellite accounts.
This story will be available in French as soon as possible at www.curling.ca/2021trials/nouvelles/?lang=fr