World Juniors Qualifier Underway!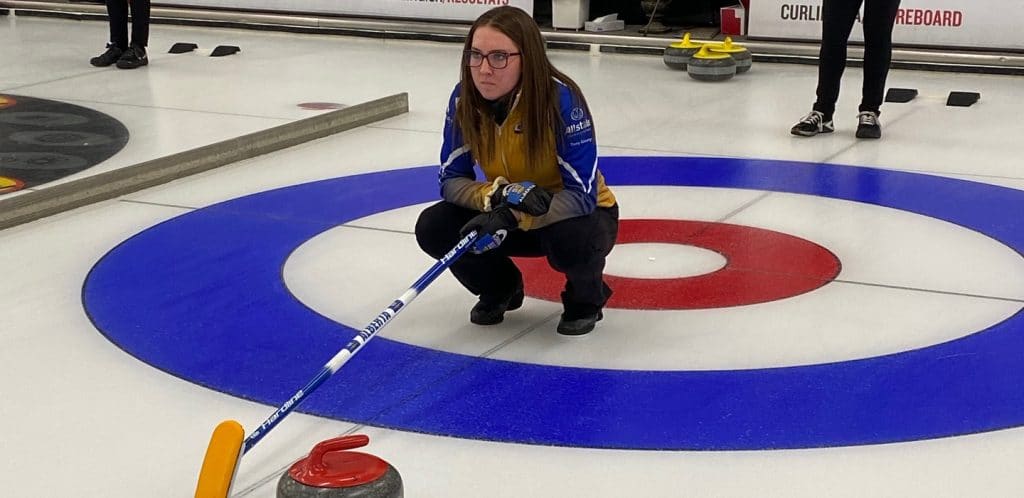 Alberta and Prince Edward Island women show strong resolve in draw 1 action at New Holland 2021 World Juniors Qualifier
Elysa Crough of the Crestwood Curling Club in Alberta made some of her best shots when they were most needed Monday night in her team's 5-1 win over Saskatchewan's Team Madison Kleiter in the first draw of the New Holland World Juniors Qualifying Event in Saskatoon.
The game was closer than the final score indicated.
Tied at 1-1 after six ends, and with Team Kleiter (0-1; Saskatoon) with the hammer, Team Crough (1-0; Edmonton) stole one on the seventh, one on the eighth and two on the ninth to put the home province away.
While there were a number of game-changing shots, a nifty hit and roll on the eighth end was perhaps the key shot of the game. Staring down a two- or three-ender, Crough — with third Quinn Prodaniuk, second Kim Bonneau, lead Julianna MacKenzie and coach Mark Johnson — hit a Saskatchewan rock and rolled behind cover in the four-foot.
Madison Kleiter's attempt to tap it back slipped past the shot rock. That put Team Crough up 3-1. A steal of two on the ninth sealed the deal.
In the aftermath, Crough didn't point to one shot as the game saver and/or changer.
"I wouldn't necessarily say there was one shot in particular," the Alberta skip said. "In the first half of the game, we were shaking off some nerves, and in the second half, we came together a little bit better.
"I think the game changer was making more team shots."
She did agree that the roll on the eighth was crucial.
"That was definitely a pressure shot; they were going to get a big end there. We communicated well and made that as a team."
She said it isn't typical to play a game with four blank ends.
"I don't think we have had that many blank ends before in a game. The first game in there, you try to play it a little simple. I think that was the difference there."
All in all, she said it was a good way to start the championship, especially given round robin in each of two pools consists of five games.
"I was nice to get a win off the first game, considering it's our first game in a national event."
She said it is a thrill to play in a national championship, with a shot at the worlds on the line.
"It's remarkable to think of the things that can come out at the end. I am concentrating on one shot at a time because it can get a little overwhelming."
In other games on the opening draw, Team Cassie Rogers (1-0; Yellowknife) defeated Team Cynthia St-Georges (0-1; Pointe-Claire/Laval) 8-6; Team Meghan Walter (1-0; East St. Paul, Man.) defeated Team Mackenzie Mitchell (0-1; St. John's) 8-2; Team Taylour Stevens (1-0; Halifax) defeated Team Emily Bowles (0-1; New Westminster) 8-3; Team Isabelle Ladouceur (1-0; Sudbury) defeated Team Erica Cluff (0-1; Fredericton) 9-6; and Team Rachel MacLean (1-0; Cornwall, PEI) defeated Team Adrienne Belliveau (0-1; Dundas, Ont.) 8-7.
Prince Edward Island gave up an early five-ender and battled back for the win, culminating with steals in the 10th and extra ends.
"It was something really big for us,'' Prince Edward Island third Sydney Howatt said of the win. "There are not a lot of us on the Island to compete, so we often have to go off Island. It's a lot of work and effort and travel that goes into it."
She said it was nice to beat one of the big provinces to start the competition, and is looking forward to the rest of the week.
"We hope we keep the same momentum going and we keep our heads up, the same communication and get steady, consistent results out of it."
There are two pools, with British Columbia, Nova Scotia, Ontario, Prince Edward Island, Alberta and Saskatchewan in one. The other has the Northwest Territories, Quebec, Newfoundland and Labrador, Manitoba, Northern Ontario and New Brunswick.
Three teams from each pool make the playoffs, with the top team in each advancing directly to the semifinals.
Live scoring, standings and statistics for the New Holland World Juniors Qualifying Event are available at www.curling.ca/2021worldjuniorqualifier/ and curling.ca.
This story will be available in French as soon as possible at https://www.curling.ca/category-all-posts-fr/?lang=fr