Measure of revenge!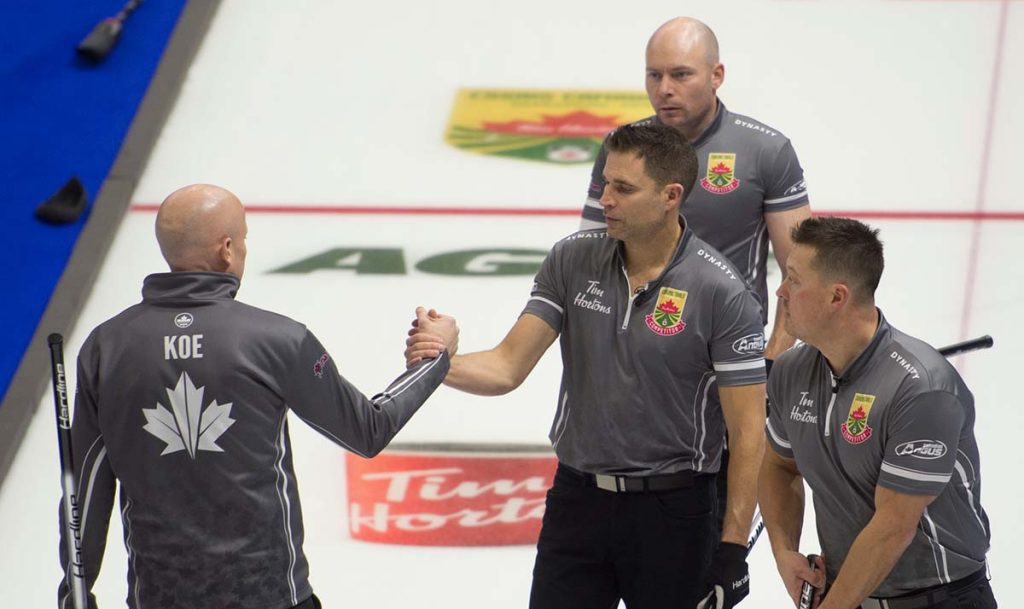 Team Koe dumps Team Bottcher in key Tim Hortons Trials game
Kevin Koe is a proud man. And his failure to pick up a medal as skip of Canada's men's curling team at the 2018 Winter Olympics still gnaws at him.
But he's also a quiet man. He doesn't like to talk about it much. He'd rather do his talking on the ice, and lately he's been a bit of a chatterbox at the 2021 Tim Hortons Curling Trials, presented by AGI, where his Calgary outfit from The Glencoe Club has been throwing its weight around.
Team Koe's latest win, a 9-7 triumph over Team Brendan Bottcher Wednesday morning at SaskTel Centre in Saskatoon, spoke volumes about his desire to get back to the Olympics with his teammates — vice-skip B.J. Neufeld, second John Morris and lead Ben Hebert, alternate Denni Neufeld and coach John Dunn — and right some wrongs. The win also was a measure of revenge for Team Koe, which lost to Team Bottcher in last season's Tim Hortons Brier final.
"The team played great today," said Koe, who finished fourth and off the podium at the 2018 Olympics in PyeongChang, South Korea. "The front end, especially, set us up nicely. I was happy with what I saw, for sure."
Koe stressed that it's a little early to start counting his chickens, even though his 3-1 record has him in good position. There's still plenty of road to pave and tough games ahead.
"You can't afford many losses and we've already got one," he said. "That was a big win and we gotta keep 'er going. We got another big one tonight."
Team Bottcher's playoff hopes were dealt a staggering blow after suffering its fourth loss in five games. No team that has suffered four losses has ever gone on to make the playoffs at the Tim Hortons Trials.
Bottcher was the architect of his own defeat, flashing on a double attempt in the fifth, and wrecking on a guard hunting another double in the eighth. Both miscues cost him three points per end, and against Koe, playing in his fifth Tim Hortons Trials, that spells disaster.
Koe admitted he was the recipient of a couple of misses from his arch-rival.
"I feel it was kind of even because I gave them a three, too," he said. "You need breaks like that. You gets skips like that, they hardly ever miss ever, so we'll take them."
Team Bottcher vice-skip Darren Moulding saw the latest loss as a huge missed opportunity.
"I feel like if we had won that game we could have been right in it," he said. "Obviously we would have to run the table but would have been that much closer, we would have been able to bring Koe back down to two losses and maybe had a chance. We felt this game would have gotten us right into the mix."
While Team Koe was taking care of business, Team Brad Gushue of St. John's, N.L., was continuing his domination, rolling to a fifth straight win without a loss to take a stranglehold on first place. Gushue and his lads from The Rock thumped hard-luck Team Matt Dunstone (0-5; Regina) 9-4 to keep the good times rolling.
Team Brad Jacobs of Sault Ste. Marie, Ont., stayed hot on Team Gushue's heels, improving to 4-1 after rolling to a 7-5 victory over Team Jason Gunnlaugson (1-3; Morris, Man.).
In the other morning game, Team McEwen (3-1; Winnipeg) stayed within close range of the lead with a 6-5 win over Tanner Horgan (1-3; Kingston, Ont.).
Team John Epping of Toronto (2-2) had the morning bye.
The first-place team advances directly to Sunday's championship game. The second- and third-place teams will meet in the semifinal Saturday.
The 2021 Tim Hortons Canadian Curling Trials will continue Tuesday with draws at 2 p.m. and 7 p.m. (all times Central).
Live scoring, standings and statistics for the 2021 Tim Hortons Canadian Curling Trials are available at www.curling.ca/scoreboard/
All draws from the 2021 Tim Hortons Canadian Curling Trials are being broadcast in Canada on TSN and RDS. CLICK HERE for the broadcast schedule in Canada. As well, streaming coverage will be available on ESPN3 to fans in the U.S. with valid U.S. cable or satellite accounts.
This story will be available in French as soon as possible at www.curling.ca/2021trials/nouvelles/?lang=fr