Impressive rebound!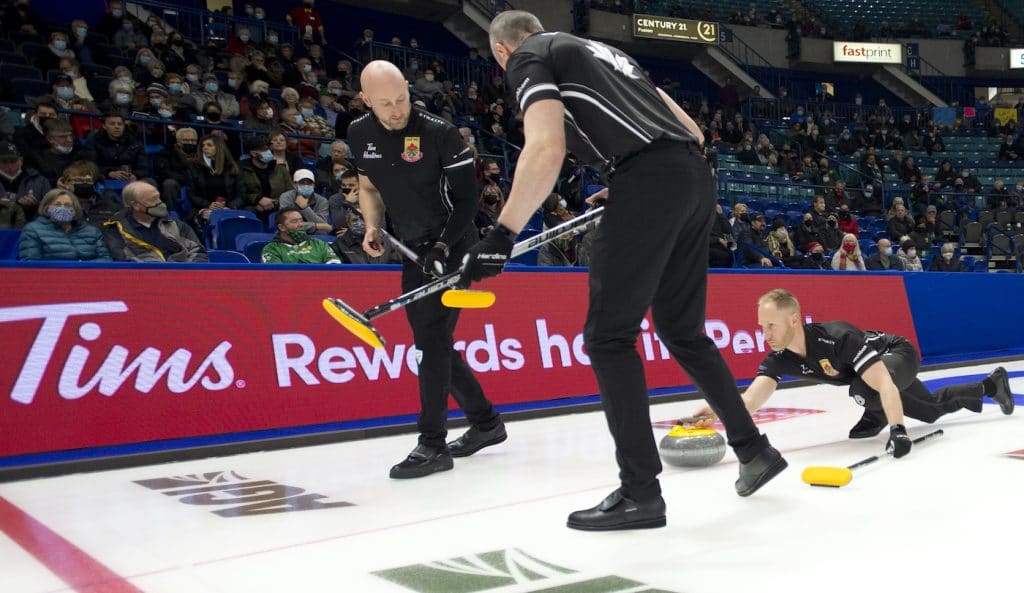 Team Jacobs rallies from big loss to key win at Tim Hortons Curling Trials
Sometimes a good butt-kicking can have positive results.
The last time Team Brad Jacobs played Team Kevin Koe it was a lopsided 8-1 win for Team Koe. But it was Team Jacobs who learned from the thumping and they used that for a crucial 7-3 win over Team Koe Thursday at the Tim Hortons Curling Trials at SaskTel Centre in Saskatoon.
In a battle of the most recent two Tim Hortons Curling Trials champions Team Jacobs, with third Marc Kennedy, second E.J. Harnden, lead Ryan Harnden and coach Caleb Flaxey, scored two in the second and three in the seventh to take the win. It was not only sweet revenge, but also a key victory that moved them to a 5-1 record and closer to a possible playoff berth.
"I think the event that we played in before the Trials, at Chestermere (Alberta), where we got our butts handed to us, sometimes those are the best things for a team," explained Jacobs, who converted the 2013 Tim Hortons Trials victory into the 2014 Olympic gold medal. "We've always been a pretty resilient group and we've proven that. We took what we learned from that event, and from others in the past and brought it all together so far this week."
Kennedy agreed the loss was the "best thing that could have happened" to the team.
"We were playing pretty good, but we were getting quite a few misses from other teams and at Chestermere it was teams playing really well against us," he said. "We knew we need to pick up our game, we need to prepare hard and we have to realize this is not going to come easy. It really put the focus on those 10 days in between to make sure we prepared as well as we could."
The preparation has them in second place in the round-robin standings, one win behind Team Brad Gushue (6-1, St. John's) who beat Team Tanner Horgan (1-5, Kingston, Ont.) 10-1.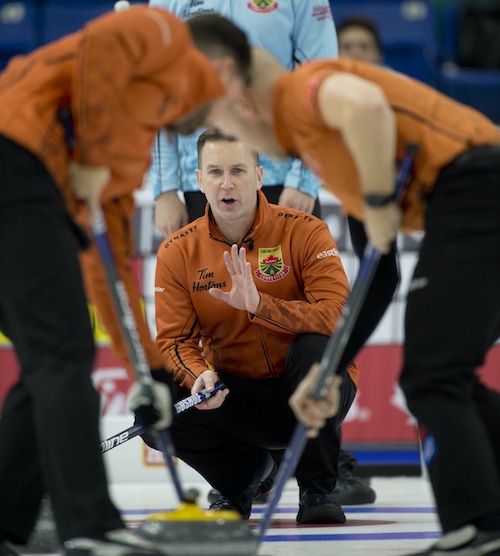 In the two other games Team Brendan Bottcher (2-5, Edmonton) got by Team Jason Gunnlaugson (2-4, Morris, Man.) 7-4; and Team Mike McEwen (4-2, West St. Paul, Man.) scored three in the eighth end to beat Team John Epping (3-3, Toronto) 6-2.
Team McEwen and Team Epping had four blank ends in a tight game that turned when Epping missed a last-rock takeout that allowed McEwen to draw for three and a 4-2 edge.
"We weren't trying to blank all those ends, but sometimes in curling that's jut the way it goes," said Team McEwen second Derek Samagalski. "We would try to get something set up and they would make a good shot. We were just trying to hang in there … in the eighth end we got a massive break and took advantage of it. To get a break like that, you don't get them too often so when we did we took advantage and got the three."
Of the nine teams only Team Gushue has assured itself of at least being a tiebreaker game. Five other teams are still in contention to get into a tiebreaker or the playoffs. The first-place team advances directly to Sunday's championship game. The second- and third-place teams will meet in the semifinal Saturday.
The winners in both women's and men's brackets will represent Canada in four-person team competition at the Winter Olympics Games in Beijing, China, Feb. 4-20.
The 2021 Tim Hortons Canadian Curling Trials will continue this evening with a draw at 7 p.m. CST.
Live scoring, standings and statistics for the 2021 Tim Hortons Canadian Curling Trials are available at www.curling.ca/scoreboard/
All draws from the 2021 Tim Hortons Canadian Curling Trials are being broadcast in Canada on TSN and RDS. CLICK HERE for the broadcast schedule in Canada.
As well, streaming coverage will be available on ESPN3 to fans in the U.S. with valid U.S. cable or satellite accounts.
This story will be available in French as soon as possible at www.curling.ca/2021trials/nouvelles/?lang=fr