Playoff bound!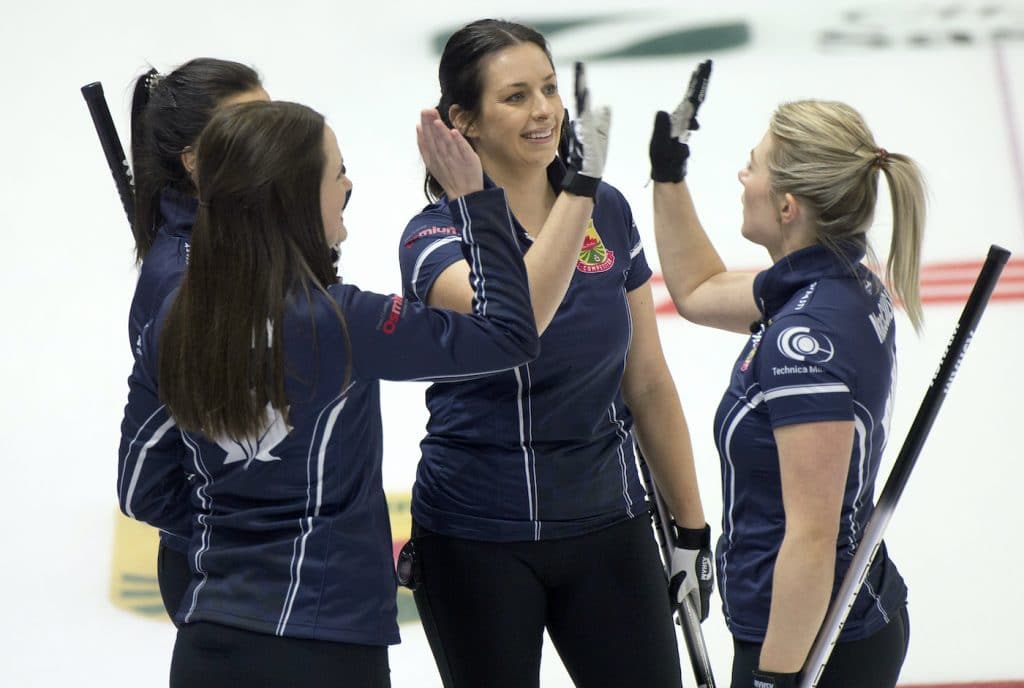 Team Fleury clinches playoff spot at Tim Hortons Trials
They've been front-runners all week and Thursday Team Tracy Fleury from East St. Paul, Man., was rewarded for its fine play at the 2021 Tim Hortons Curling Trials, presented by AGI, at SaskTel Centre in Saskatoon.
The reward: a playoff spot on the weekend.
Which position Team Fleury will finish in, and whether it clinches first place and a direct berth into Sunday's final, is still up for debate, but the players can breathe easier now knowing Job One has been accomplished.
"One big goal accomplished but still a lot of work to do," said Fleury, who nailed down the spot with an 11-7 victory over Team Laura Walker (2-4; Edmonton).
The win was the sixth straight for Team Fleury, the No. 1 ranked team in the world, with just two round-robin games remaining.
Team Jennifer Jones of Winnipeg had a chance to join Team Fleury in the playoffs but ran into a determined Team Rachel Homan, dropping a 7-5 decision and falling into second place with a 5-2 record.
Jones, obviously disappointed, was thankful her team had secured at least a tiebreaker spot.
"They're a tremendous team," said Jones, "and we expected them to be tough."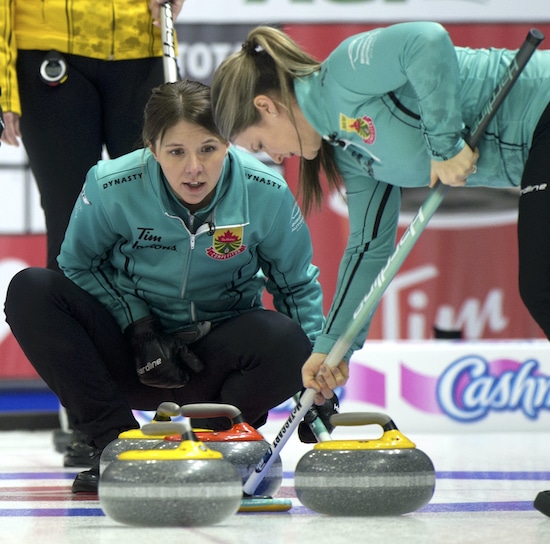 It was a rematch of their semifinal clash at the 2017 Tim Hortons Trials in Ottawa, which Homan won on her way to clinching the Canadian women's four-player team berth into the Olympics in PyeongChang, South Korea.
It was a huge win for Homan and her Ottawa-based team. They have been hanging off the building edge by their fingernails for most of the week, but they tightened their grip and improved to 2-4 Thursday.
"It was a really well-played game," said Homan. "I think that was our best performance this week and we just have to keep playing that way moving forward."
Fleury said the key to getting to 6-0 was staying calm and relaxed.
"Being in some tough battles and coming up with wins really helps our confidence," said Fleury, who is supported by vice-skip Selena Njegovan, second Liz Fyfe, lead Kristin MacCuish, alternate Chelsea Carey and coach Sherry Middaugh.
The question now is what teams will emerge from the smoke on Friday and claim the final two playoff spots, and there are plenty still in the hunt.
Team Krista McCarville (Thunder Bay, Ont.) and Team Casey Scheidegger (Lethbridge, Alta.) both won their games Thursday to improve to 3-3 and keep their playoff hopes alive. Team McCarville edged Team Kelsey Rocque (1-5; Edmonton) 8-7, while Team Scheidegger dumped Team Jacqueline Harrison (2-4; Dundas, Ont.) 7-6.
All teams with four losses are still hanging in there.
Team Kerri Einarson (3-3; Gimli, Man.) had the morning bye but is also in the playoff hunt.
The winners in both women's and men's brackets will represent Canada in four-person team competition at the Winter Olympics Games in Beijing, China, Feb. 2-20.
The first-place team advances directly to Sunday's championship game. The second- and third-place teams will meet in the semifinal Saturday.
The 2021 Tim Hortons Canadian Curling Trials continue Thursday with draws at 2 p.m. and 7 p.m. (all times Central).
Live scoring, standings and statistics for the 2021 Tim Hortons Canadian Curling Trials are available at www.curling.ca/scoreboard/
All draws from the 2021 Tim Hortons Canadian Curling Trials are being broadcast in Canada on TSN and RDS. CLICK HERE for the broadcast schedule in Canada.
As well, streaming coverage will be available on ESPN3 to fans in the U.S. with valid U.S. cable or satellite accounts.
This story will be available in French as soon as possible at www.curling.ca/2021trials/nouvelles/?lang=fr