Playoff Picture Shaping Up!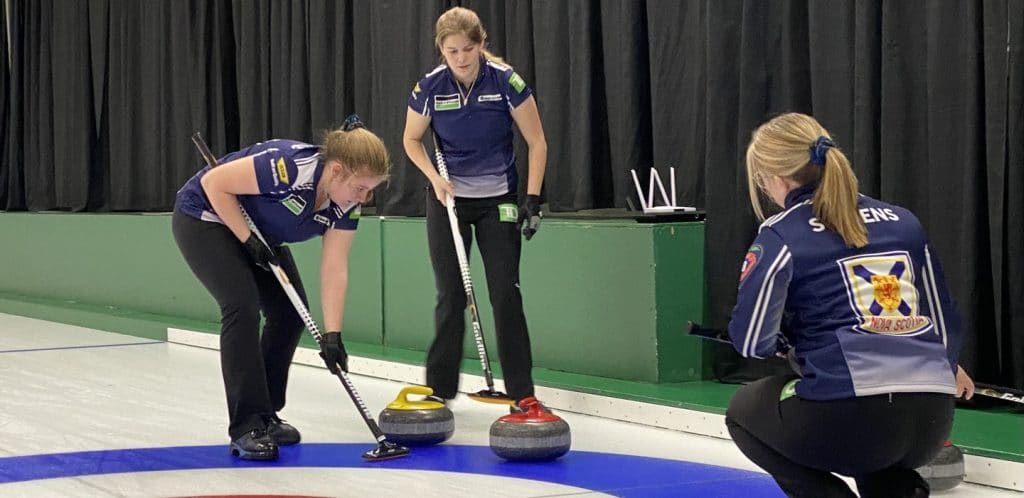 Women's Playoff seeds are being sewn with one draw remaining at 2021 New Holland World Juniors Qualifying
A battle of the Titans on the women's side at the New Holland World Juniors Qualifying Event at the Granite Curling Club in Saskatoon is looming large.
After the fourth round of five, Team Elysa Crough of Alberta and Team Taylour Stevens of Nova Scotia have curled their way to the playoffs. With both teams sitting at 4-0 and meeting in the final round-robin draw, there is a lot on the line.
One will go directly to a semi-final, while the other will land in a quarter-final.
Team Crough (4-0; Edmonton) defeated Team Rachel MacLean (1-3; Cornwall, P.E.I.) 9-5, and Team Stevens (4-0; Halifax) defeated Team Madison Kleiter (2-2; Saskatoon) 8-2.
Team Crough overcame an early 4-3 deficit with a four-ender on the seventh end and a steal of two on the eighth.
Team Stevens went on a scoring spree from ends four to six against Team Kleiter. They put six points on the scoreboard and coasted from there.
Stevens and Crough have been dominant throughout the championship.
"I think that means we punched our spot in the playoffs and that is very exciting," said Stevens, who is flanked by third Lauren Ferguson, second Alison Umlah, lead Cate Fitzgerald and coach Mary Mattatall.
She said she has cast an eye Alberta's way.
"We know they are going to be a tough opponent, but we are looking forward to a good game. We just keep playing our game; keep making shots and taking it one step at a time."
For her part, Crough, who is backed by third Quinn Prodaniuk, second Kim Bonneau, lead Julianna MacKenzie and coach Mark Johnson, said she is happy to be 4-0, with at least two more games to come.
When asked about Thursday's game against Nova Scotia, she said, "truthfully, we have been focusing on what we have to do and haven't been focussing on the other teams."
"It will be a big game, but I think it will be a good one. If we bring to the table how we've been playing so far and play the way we know we can, I think it will be a really good game, and we'll see what happens."
The third spot in the B Pool playoffs will be determined Thursday. Team Kleiter of the host province has the inside track.
In the other B Pool game, Team Adrienne Belliveau (1-3; Dundas, Ont.) defeated Emily Bowles (0-4; New Westminster) 8-5.
In the A Pool, Team Isabelle Ladouceur and Team Meghan Walter are tied at the top with 3-1 records.
Team Ladouceur (3-1; Sudbury) defeated Team Cynthia St-Georges (1-3; Pointe-Claire/Laval) 12-4, while Team Walter (3-1; East St. Paul, Man.) defeated Team Cassie Rogers (1-3; Yellowknife) 10-4.
In the other A pool game, Team Erica Cluff (2-2; Fredericton) defeated Team Mackenzie Mitchell (2-2; St. John's, Nfld.) 9-4. Cluff's win prevented Mitchell from clinching a playoff spot.
Team Ladouceur's only loss came against Newfoundland & Labrador, but the team bounced back in a big way against Quebec.
"They played lights out," she said of her loss to Team Mitchell. "We decided to take a break and decided to bounce back. I think we did that."
The top three teams from each pool will advance to the playoff round which begins Friday. The top team in each pool advances directly to the semi-final, while the second- and third-place teams collide to see which two advance to the semi-final.
The finals will be played Saturday.
The men will play a morning draw and another in the evening on Thursday. The women play in the afternoon.
The winners of the championship will advance to the worlds in March in Sweden, and get a trip to the Continental Cup.
Live scoring, standings and statistics for the New Holland World Juniors Qualifying Event are available at www.curling.ca/2021worldjuniorqualifier/ and curling.ca.
This story will be available in French as soon as possible at https://www.curling.ca/category-all-posts-fr/?lang=fr