Crunch Time!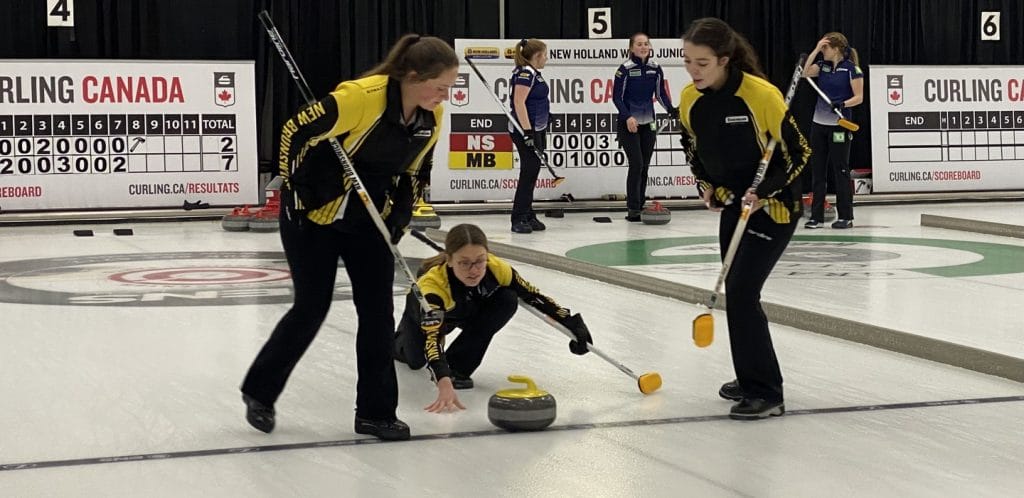 Field whittled down to men's and women's semi-finalists at 2021 New Holland World Juniors Qualifying Event
After New Brunswick's Team Erica Cluff (Fredericton) lost its first two games at the New Holland World Juniors Qualifying Event at the Granite Curling Club in Saskatoon, Cluff wasn't thinking she would be in a semifinal.
Then, Team Cluff won one, then two and then three games to earn a playoff spot.
The team then breezed to a 9-3 win over Team Adrienne Belliveau (Dundas, Ont.) in the quarter-final.
"Our first two games were, 'Well, we might not get there.'" said Cluff.
Their execution improved, as did their reading of the ice. Cluff, who is backed by third Ashley Cormier, second Rachel Brewer, second Meghan Beland and coach Charlie Sullivan, said the ice was tricky in her first two games, but the team adapted.
And here she is in the semifinal against unbeaten Team Elysa Crough (Edmonton).
The other semifinal on the women's side features Team Taylour Stevens (Halifax) and Team Isabelle Ladouceur (Sudbury).
Team Stevens defeated Team Meghan Walter (East St. Paul, Man.) 7-4 in her quarter-final.
Team Stevens sat back for five ends before pouncing on the sixth, when she got three and took control.
"We came off a tough loss last night (to Team Crough), so we wanted to come out strong, but not take too many chances at the beginning," said Stevens, who is backed by third Lauren Ferguson, second Alison Umlah, lead Cate Fitzgerald and coach Mary Mattatall. "I think we did that, and when we had a chance (on the sixth end) we took it."
The men's semifinals have Nathan Young (St. John's, Newfoundland & Labrador) against Team Scott Mitchell (Whitby, Ont.) and Team Daymond Bernath (Saskatoon) against Team Owen Purcell (Halifax).
Team Bernath defeated Team Johnson Tao (Edmonton) 8-5, while Team Young defeated Team Jordon McDonald (Winnipeg) 7-2.
Team Young got three on the first end and then four on the fifth on the way to beating Team Jordon McDonald (Winnipeg) 7-2.
"The start of the game is always important," Young said. "If you can score early in the game with a good two or three, it puts you in a position where you can defend, and the other team needs good shots to score, so that was big."
Young, who is backed by third Sam Follett, second Nathan Locke, lead Ben Stringer and coach Gerry Adam, said there are two sides to the five-rock rule.
In one, the team that is behind is going to have chances to get back into the game.
Young sees another side to it.
"The five-rock rule gives the team that is up a good chance to put pressure on the other team. If you put the first rock top four and then guard it, the other team is in a lot of trouble right off the start."
Typically, the team that is losing will throw a corner guard.
"It is hard for a corner guard to come into play, while the other team is stacking up rocks in the four-foot. That's why it is always good to get up early and put pressure on the other team."
A foursome that has somewhat quietly gone about its business is Team Bernath of Saskatoon.
"I think coming into this as the hometown team, everyone expects you to do well; you are on home ice and you have the fans behind you, so in that aspect we weren't flying under the radar."
"However, there are a lot of really well-known teams that have been to nationals in the past. All of us being rookies, in that sense, we flew under the radar a little bit."
Bernath, who is backed by third Bryden Tessier, second David Baum, lead Jack Reid and coach Darren Camm, said it was in Game 3 when the team kicked it up a notch.
"We started feeling really comfortable with the ice. There were a couple of tricky paths and we were getting on top of that and draw weights were coming along."
"Sometime in there, we started feeling a lot more confident and took a few more risks because we knew we could draw the four-foot to get ourselves out of it. We were good to go."
And off they went and are now in a semifinal, and will be playing in front of a packed house.
Bernath said he has enjoyed being the hometown team.
"There are a lot of family and friends and sponsors that are able to come out and watch us and see what we do. We get to show our appreciation for them and all the time they put in. So, being the hometown team is awesome. It's so nice to be able to do it in front of everybody."
The winners of the championship will advance to the worlds in March in Sweden, and get a trip to the Continental Cup.
Live scoring, additional news, standings and statistics for the New Holland World Juniors Qualifying Event are available at www.curling.ca/2021worldjuniorqualifier/ and curling.ca.
This story will be available in French as soon as possible at https://www.curling.ca/category-all-posts-fr/?lang=fr