Finalists Declared!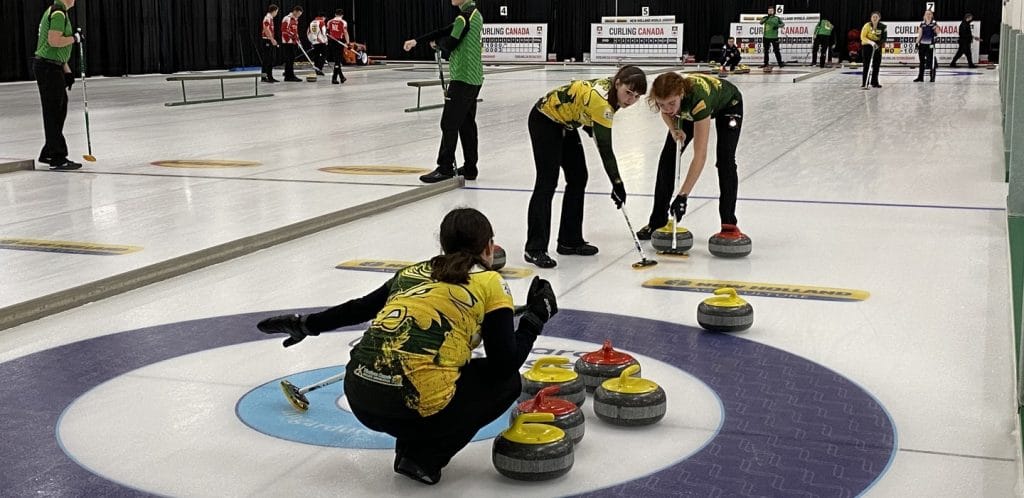 The finalists have been decided at the New Holland World Juniors Qualifying Event at the Granite Curling Club in Saskatoon
The two teams that went unbeaten in the round robin will be in finals. Team Elysa Crough (Edmonton) will be in the women's championship game, and Team Owen Purcell (Halifax) will be in the men's final. Both had perfect 5-0 records in the round robin and scored victories in the semi-finals Friday night.
Team Crough will meet Team Isabelle Ladouceur (Sudbury) in the women's final, and Team Purcell will face Team Nathan Young (St. John's, Newfoundland & Labrador).
Teams Crough, Ladouceur and Purcell cruised to victories, while Team Young made a last-rock draw to the button to secure his spot in the men's final.
Team Purcell defeated Team Daymond Bernath, the hometown favourite, 7-2, while Team Young downed Team Scott Mitchell (Whitby, Ont.) 5-4.
In the women's semis, Team Crough had little trouble with Team Erica Cluff (Fredericton), winning 10-4. In the other game, Team Ladouceur defeated Team Taylour Stevens (Halifax) 6-3.
Ladouceur, backed by third Jamie Smith, second Lauren Rajala, lead Katie Shaw and coach Katy Lukowich, played a near-perfect game against Team Stevens, never letting her opponent get into the game.
"My team definitely played really well and were carrying me a little," Ladouceur said humbly after the game. "That's why we are a four-person team; we can pick each other up."
"I thought we had some good setup ends, which is very helpful when we are precise on shots."
Before looking to tomorrow's game with Team Crough, she said the team would debrief and nitpick the things that could be improved. The team has won four straight games, heading into the final.
"Alberta is really good, and we don't want to take it lightly, even though we are on a hot streak. It's important that we focus in and polish up the little things."
She said the team would rest before the final.
"The most important thing is we are going to stick together, do some activities together, whether it is playing some cards or relaxing, and refresh for tomorrow."
Young had to make a cold draw to the button to win his game.
"I need to sit down; I need to rest," Young said moments after making his final-stone draw. "That was a great game. They put some pressure on us. We made some shots; we missed some shots. They made some shots; they missed some shots. I am glad we were able to figure out that draw to the button."
"Teams are so good and so evenly matched in this qualifier that what you hope for is to be tied and have hammer in the last end. We were lucky to have that today."
Young, who is backed by third Sam Follett, second Nathan Locke, lead Ben Stringer and coach Gerry Adam, said he is looking forward to the final with Team Purcell.
"All we can do is put ourselves in a position to win and we are in the final tomorrow."
He said the team plans to get some rest before the biggest game of his young life.
"We'll make sure we eat some good food, stay loose and hang out as a team, and remind ourselves why we are in this situation. We have put in the work and we're ready."

The winners of the championship will advance to the worlds in March in Sweden, and get a trip to the Continental Cup.
Live scoring, standings, additional news and statistics for the New Holland World Juniors Qualifying Event are available at www.curling.ca/2021worldjuniorqualifier/ and curling.ca.
This story will be available in French as soon as possible at https://www.curling.ca/category-all-posts-fr/?lang=fr